Last week, Monsanto (NYSE:MON) announced earnings that underscored its growth in a market sector that promises to continue to expand. I predicted upside in Monsanto shares last month. Quarterly results, which the company itself had forecast to come in at $0.16 per share net income, excelled by some way to $0.23 per share – up from $0.02 per share for the same period last year. These results prompted the company to increase the lower end of its forecast for the full year, from $3.34 - $3.44 per share to $3.39 - $3.44 per share.
Revenues surged, thanks in large part to demand for genetically modified (GM) corn seeds in Brazil and Argentina, as the two countries struggle to cope with the increasing demands for food from an increasing population. Purchases of cotton seeds was strong too, as Australian farmers moved to purchase early. This is all good news for Monsanto, whose traditional markets are in the Northern Hemisphere. Indeed, along with the results, the company announced that sales in North America were in excess of last year's numbers, and in line with its targets for the region.
Monsanto shares are currently trading around $77.50, up some 7% since the announcement on Thursday. Twelve-month earnings are now $3.18 per share, and the shares are trading on a trailing price to earnings ratio of 24.39. Company estimates for full year earnings place the shares on a full year price to earnings ratio of 22.66. Analysts' estimates centre around $4.07 for the full year next year (ending August 2013), which places the shares on a forward price to earnings ratio of 19.04.
These numbers are in excess of competitors such as Terra Nitrogen (NYSE:TNH), which trades on a trailing price to earnings ratio of 12.90, and Du Pont (NYSE:DD), which trades on a multiple of 12.50. I would normally be reticent to be long of a company whose shares trade at such a high premium to its peers, but Monsanto shares look to be a good value for several reasons.
Firstly, the earnings performance for what is traditionally a weaker quarter shows that its expansion into new markets is starting to have a positive effect. Its stronger quarters for seed sales are approaching, and it would not surprise me to see the company's earnings overshoot its own estimates. Though some countries are challenging the GM technology – notably Peru and Hungary – and refusing to allow Monsanto access to their markets, the readiness of larger economies like Brazil and Argentina to buy its products in increasing quantities is proof positive that demand is there and growing.
The company announced on January 5 that it has a large range of innovations in the pipeline that are aimed at increasing agricultural productivity, and therefore profitability, for farmers. The UN has forecast that world population will continue to grow through to 2075, when it is expected to peak at 9.22 billion, up from the current 7 billion. This will mean many more mouths to feed from a decreasing pool of available land to grow crops on.
Shares have been volatile, with a 52-week range from a low in October of $58.89 to today's price that is a fraction below the 52-week high of $78.71. Looking at the chart, should the shares move through $80 a further rise toward $90 could be on the cards.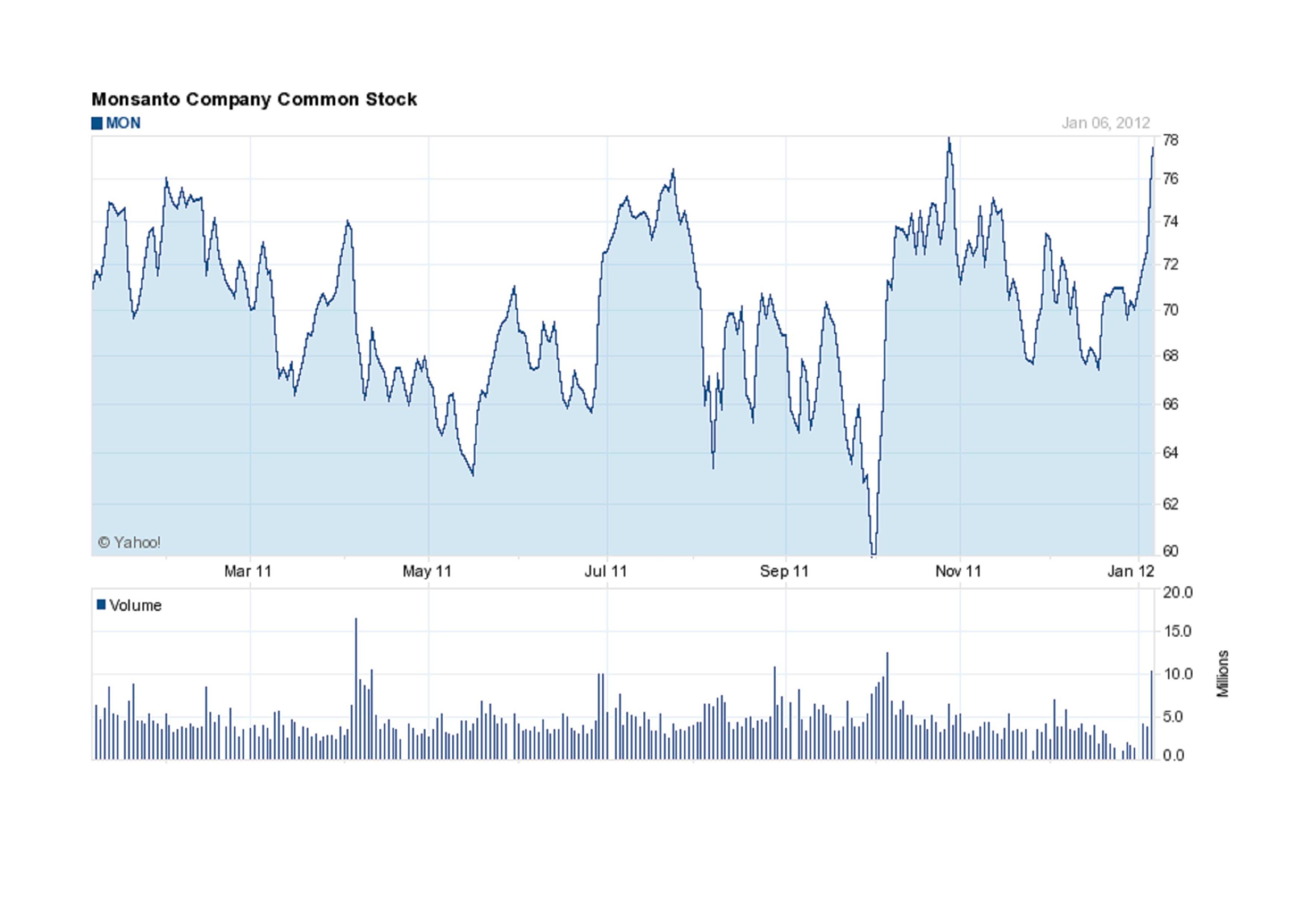 While GM technology will continue to court controversy, world population growth will drive the need for such innovative progress. People need to eat. As farmers drive to grow their profits, this will also create demand for Monsanto's products. The market cannot be bucked, and countries such as Peru may be forced to accept GM technology on a cost basis if for no other reason (for sure, this may take a few years, but it is hard to see this not happening).
With all this in mind, I feel that Monsanto's premium price to earnings ratio is fully warranted. Clearly Susquehanna thinks this way too, having raised its price target for Monsanto shares to $90 after the earnings announcement. This is a growth stock I would recommend for inclusion in a well-diversified portfolio.
Disclosure: I have no positions in any stocks mentioned, and no plans to initiate any positions within the next 72 hours.