Like many middle-aged men, brimming with testosterone, I tend to pound my chest and howl at the moon when I get things right. Despite just realizing that I am, hopefully, on the front end of "middle age," I tend not to get too down when I am wrong.
In fact, to a certain extent I like being wrong. I don't mind being wrong when I go through a worthwhile learning process getting there. Last year, I started out pretty bullish on the electric vehicle (EV) market and, in turn, direct and fringe plays on EVs. By the time the year ended, I was still relatively bullish, but for different reasons.
Fellow Seeking Alpha contributor John Petersen deserves a lion's share of the credit for swaying me. Even if you're the biggest EV fan boy in the universe, it's difficult to, at the very least, not put stock in Petersen's convincing and well-written arguments. Just look at his history writing about the space on Seeking Alpha.
In this article, I review the performance of the eight stocks that make up the core of the basket of EV and EV-related stocks I put together last May. Then, for each, I note whether I would - as of today - buy, sell or wait and see, detailing the reasons why. This discussion sheds light on how my views on the EV space shifted over the course of 2011.
Performance Of Electric Vehicle Basket Of Stocks
| | | | |
| --- | --- | --- | --- |
| Company (Ticker) | 05/16/2011 Close | 01/09/2012 Close | % Change |
| NRG Energy (NYSE:NRG) | $24.69 | $17.54 | -28.9 |
| AeroVironment (NASDAQ:AVAV) | $28.59 | $30.23 | +5.7 |
| Ecotality (ECTY) | $4.02 | $1.17 | -70.9 |
| American Electric Power (NYSE:AEP) | $37.72 | $40.98 | +8.6 |
| Tesla (NASDAQ:TSLA) | $26.60 | $27.25 | +2.4 |
| Ford (NYSE:F) | $15.13 | $11.80 | -22.0 |
| Nissan (OTCPK:NSANY) | $19.77 | $17.47 | -11.6 |
| Best Buy (NYSE:BBY) (5 to 10% Fringe Play) | $32.13 | $24.62 | -23.4 |
TSLA - Speculative BUY.
I start with Tesla because it best reflects my position on the EV space.
As somebody who does not even own a car, I've never been of the mind that EVs would save the world. Fewer cars of any flavor and less driving would go a long way to improving our quality of life in many areas, but I digress. While some of the cars look pretty cool, even to a non-car guy, the main object of my bullishness has always been riding the allure certain EVs, particularly the forthcoming Tesla Model S, will have on the affluent segments of our population.
People in places like the ones where I live - Santa Monica - and lived before that - San Francisco - will buy the Model S just like they bought Tesla's Roadster and will buy its next vehicle, the crossover Model X.
They'll buy it because they have the money to throw away on something cool that will turn heads. They'll buy it because they can and it's the next big thing. They'll buy it because it will make them feel good about themselves. They can be anti-war, non gas-guzzling (or so they think), non noise-polluting good citizens of the world. When you have lived or spent considerable time in places like this - and I love living in them, don't get me wrong - it's not too difficult to see the logic in this thesis.
Because Tesla does not need to sell 100,000 cars a year, but a mere fraction of that, it will sell out the Models S and X as it did the Roadster, creating pseudo pent-up demand, which could lead to increased production. This will supply momentum to the stock. On the less cynical side, Tesla has done an excellent job executing. The company deserves credit for staying on schedule and generating additional meaningful revenue by supplying other companies with EV components.
TSLA had an incredible run during much of the last half of 2011, touching a 52-week high of $35.00 at one point, only to come back down to earth. Like many of the stocks in this EV basket, you have to approach TSLA from one of two ways.
You can only be passive with it, if you have a strong, long-term conviction that the stock will be a winner over the next two to 20 years. In that case, you buy it on the dips and, presumably, on the way up. If you're not that bullish, you're more likely to trade in and out of the position, which I did a bit of in 2011, as it climbed to its highs.
NRG, AVAV, ECTY- SELL.
AEP - BUY.
Each stock represented a play on the emerging EV charging station market. And each company had some issues that rendered them not the best places in the world to put your money. Simply put, it's probably a bit too early to jump into what amounts to a sub-sector within EVs.
Other than ECTY, which relies heavily on government money, these stocks do not represent pure plays on the EV charging station market. In the quarter ended October 29, 2011, AVAV, for instance, generated only $13.4 million of its $80.4 million in overall revenue from the business segment - Efficient Energy Systems - that accounts for charging station and other EV-related revenue. Its bread and butter remains its Unmanned Aircraft Systems segment. While it's not necessarily a bad stock to own, you're likely not going to see considerable upside as a result of its involvement with the EV market.
By the same token, I am long AEP, but it's not because of its barely-on-the-radar involvement in the EV charging market. I am long AEP because I was looking for relatively stable, but growing dividend-paying stocks. AEP passed muster. And it's been a pretty good buy so far, just pulling back slightly from its 52-week high.
F - BUY.
It's interesting how investors seem so willing to give Ford the benefit of the doubt as the stock promptly fell off of the impressive cliff it had climbed and then keep falling throughout 2011.
Click to enlarge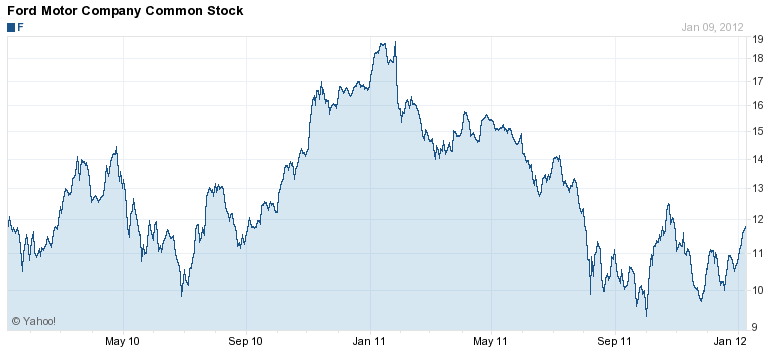 The stock got hammered last year, yet there has been no shortage of bulls. I think that's what happens when a stock comes back from the dead. If you bought near the bottom, you feel a sense of gratitude to the stock, which leads you to defend and wish for more upside.
That said, the time might have finally come for F to break out. The bull case - hold your breath-- could be coming into its own. So far, so good in 2012. If the stock can move through $12 and sustain, we might have a repeat of late 2010 on our hands.
I'm starting to feel good again about my June 2012 and January 2013 F calls. If the stock can continue to rebound, the strategy I advocate in my basic options strategy eBook gets some empirical support behind it. I'm like to go with long-dated calls for this very reason. If my conviction takes longer than expected to play out, time decay will not eat me alive straight away.
NSANY.PK - WAIT AND SEE.
Nissan, of course, took a hit as a result of the earthquake and tsunami in Japan. The company has done an excellent job ramping things back up. I'm impressed not only by Nissan's plans to grab more U.S. market share, but to build more of the vehicles it sells in North America in North America.
I've been watching the stock for some time, but I'm not buying yet. I'm not ready to rely on anecdote, but, at least where I live, you used to see a ton of Hondas (NYSE:HMC); now if it's not a luxury brand, it's a Ford or a Nissan. Versas and, increasingly, Leafs are all over the place in Southern California. I've noticed the same thing when traveling north to San Francisco. The numbers support this trend - Honda struggles, while Ford and Nissan continue to grow - but I'm moving forward with caution. If Nissan continues to execute, there's a ton of upside; I will not be late to the party.
BBY - SELL.
Granted BBY was little more than a 5-10% allocated fringe play on EVs, but I still probably overblew its presence and commitment to the space. Even if it went in headfirst, the revenue from EV programs would contribute very little, if anything, to the company's bottom line. I feel a bit bad about turning bearish on Best Buy because the people I have interacted with there are among some of the nicest folks around. That said, I call it like I see it.
While I have to give Best Buy CEO Brian Dunn credit for coming out and taking on his company's critics, I cringed a bit when reading his blog entry. He's right. We're not dealing with a company that has an awful balance sheet and stores with tumbleweed blowing through them. They're not going anywhere, anytime soon.
The problem, however, is you can say that about the two most important directions - up and down. Unless somebody can come up with some serious innovation (not Best Buy Express kiosks), and fast, you have a stagnant company largely reliant on a business model it cannot seem to reinvent.
I tend to think big picture. And, via that lofty scope, I don't blame Best Buy for botching holiday Internet orders or getting stuck with discounted tablets. Things happen. I do blame them and 95% of brick-and-mortar retail for acting as if they deserve the benefit of the doubt, despite their inability to vision the future like Amazon.com (NASDAQ:AMZN) did and act accordingly.