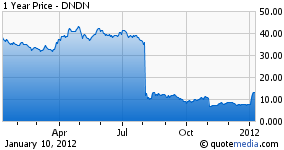 The presentation by Dendreon's (NASDAQ:DNDN) management at the JPMorgan Healthcare Conference on January 9, 2012 was, of course, eagerly anticipated by Wall Street and retail investors alike. In the days leading up to the conference, the stock had risen meteorically from just under $8 to the low teens, the result of the company's pre-announcement of fourth quarter 2011 revenues and an update on commercialization for its lead product, Provenge, for end stage prostate cancer. I'll have more to say about the technical analysis of the stock's behavior below. First, however, I want to discuss the essence of one of the slides that caught my attention during the JPMorgan presentation.
Specifically, buried down in the stack was one slide that highlighted three scientific papers that will be presented at future conferences.
Two of these papers deal with something that has been of concern to the medical community and investors for quite some time. That is, finding some indication as to whether or not Provenge is "working." Here's how Dr. Mitch Gold framed the issue during his presentation:
"As we've learned more and more about Provenge, one of the key questions that we've got asked is, 'I understand the survival benefit, I've seen it in three Phase 3 clinical trials, but I really want to better understand the mechanism of action. Help me better understand how this drug actually works. It doesn't lower PSA, so how is this drug actually working in vivo within the patient.'

"So we began a study called the Neu-ACT (sic) study. It was a study that administered Provenge to patients prior to radical prostatectomy, prior to having their prostates removed. Then once we removed their prostate, we were able to look at the cell that infiltrates into the prostate to see if we were able to generate a mononuclear cell infiltrated in the process that was indicative of immune response against the prostate tissue, that's what you'd want to see.

"Now, that data will be presented by Larry Fong at two meetings this year, both GU ASCO and the annual ASCO meeting later on this year. That will be an important data set, I think, to educate physicians on the potential mechanism of action of the product."
I have already discussed the NeoACT study in my recent Seeking Alpha article, Dendreon: NeoACT Phase 2 Trial Data Appear Interesting. There, Gold said, "We have a study called NeoACT that looks at the use of Provenge prior to radical prostatectomy, in other words prior to patients having surgery, and that was really designed to help us better understand the mechanism action, how Provenge works and to educate physicians exactly with what's going on in the tissue and we've seen some very interesting data start to come out of that study." (emphasis added)
To say that we will be waiting on Fong's presentations with eager anticipation is understatement.
Also of interest to both the Street and retail investors alike will be a paper to be presented at ASCO discussing the use of Frovenge in the placebo arm of the pivotal Provenge Phase 3 trials. As you know from another of my recent publications on Seeking Alpha, Dendreon: New Trial To Examine Understatement Of Provenge Life-Extension Benefits, the fact that almost 80% of the patients in the placebo arm had been given Provenge, a frozen version of Provenge, almost sunk the trial. As concluded by Gomella, et al.* in a 2011 ASCO poster presentation, "(P)ost-progression treatment with APC8015F may have extended survival of subjects, potentially reducing the magnitude of survival difference observed between sipuleucel-T and controls in randomized controlled trials." Put another way, the life-extension value of Provenge may have been significantly underestimated by the manner in which the trial was designed. (You can view the entire poster here.**)
From my article:
"The inescapable conclusion is that the Phase III trial designs almost "did in" the results of the trails and put the approval of Dendreon's revolutionary immunotherapeutic treatment "at risk." As David Miller of Biotech Stock Research would say, "The trials (almost) failed the drug." That said, however, a reviewer of this article prior to submission noted that Frovenge was allowed because (1) the early trial design was focused on obtaining approval on progression, not survival (the former being faster and less expensive), and (2) the availability of Frovenge was seen as an inducement for getting patients enrolled quickly. That is, they would get some treatment, regardless of how they were randomized. Remember, when Dendreon began running its Phase III trials, Taxotere had not yet been approved either."
My belief, by the way, is that the true life extension benefits of Provenge lie somewhere between eight and 12 months, something that will be examined this year in a trial Dendreon will conduct when Provenge faces off against a true placebo.
It will be interesting to see what additional information this new paper on Provenge uses in the placebo arm of the Provenge trial and adds to the body of literature on Dendreon's immunotherapy as well as on how data should be handled in cases where crossover is permitted between the two arms of the trial.
Technical Analysis
The daily chart, courtesy StockChart.com, is below. The stock is overbought, and is consolidating following a major move in the wake of the company pre-announcing 4Q11 results. The Daily MACD line has turned positive. The weekly chart is positive, showing the stock coming out of its oversold condition. The weekly MACD line has turned positive.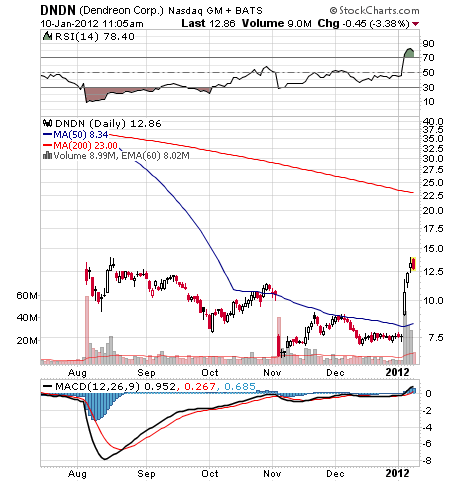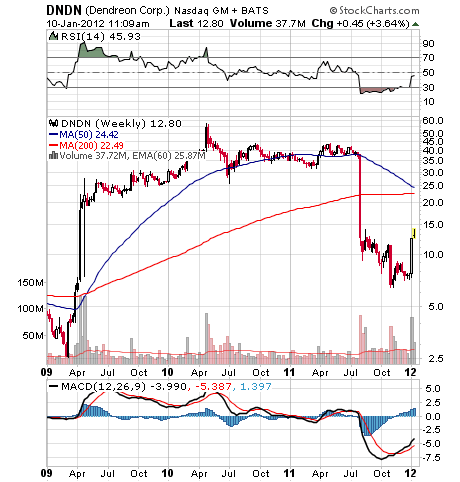 *L. G. Gomella, C. Nabhan, J. B. Whitmore, M. W. Frohlich, D. J. George; The Kimmel Cancer Center at Jefferson, Philadelphia, PA; Advocate Lutheran General Hospital and Oncology Specialists, S. C., Park Ridge, IL; Dendreon Corporation, Seattle, WA; Duke Cancer Institute, Durham, NC
**Reproduced with the permission of Dr. L. G. Gomella, personal communication, November 17, 2011
Disclosure: I am long DNDN.
Additional disclosure: I am long DNDN and will not alter my position within 72 hours of the time of publication of this article.