It's quite evident that SIRIUS XM Radio (NASDAQ:SIRI) attracts a lot of interest, with huge volume in the tens to hundreds of million shares trading hands every day. It isn't hard to find people who certainly believe it's an incredible bargain, with the company having turned profitable, and yet seemingly still trading at a rock bottom price of just $2. And the stock is certainly having a strong performance lately, being up 12.71% in just the last week.
So, is SIRI an incredible bargain?
The first thing that people need to understand, is that although the absolute share price seems low historically, with SIRI having traded well above the current quote in the past, there has been a LOT of dilution in the meantime. Yes, SIRI's fundamentals are much better than they were back when it traded at $5 or $10. But there's also a lot more shares out there. This chart showing SIRI's market capitalization makes this obvious:
(Click charts to expand)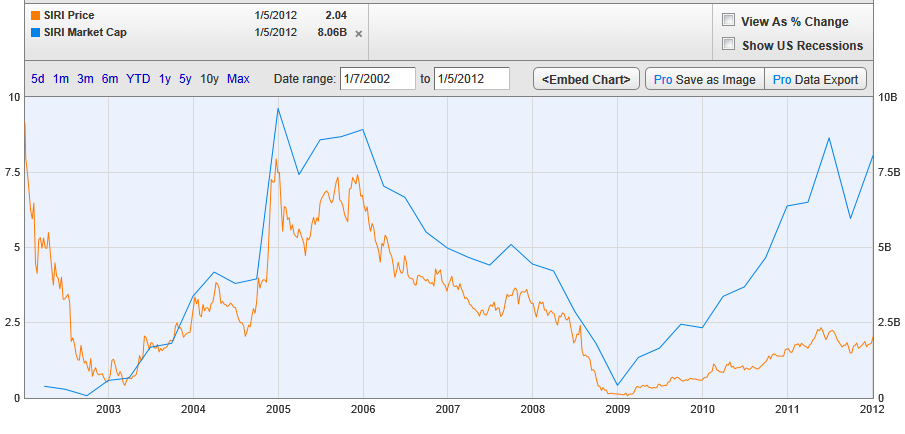 Discussion of SIRI's numbers
As we can see, SIRI's market cap is close to an all-time high even though the share price is just a little above $2, but taking into account the fully diluted 6.5 billion shares, SIRI has never had such a large market value. SIRI is usually shown to have a market capitalization of around $7.7 billion, like in the chart above – but that's just counting the outstanding shares!
SIRI is trading at a TTM P/E of 51 and a forward P/E 29.1. The TTM P/E means SIRI trades at a premium to the S&P500 TTM P/E of 13.0. The PEG (Price/Earnings Growth) stands at 2.27, which suggests some overvaluation. The Price/Book is very high at 13.60. Although the forward P/E is high, it too also underestimates the overvaluation - this happens because SIRI is still paying low taxes on its income, due to loss carry forwards.
The ROE is high at 62.03% but this is both due to very low book value, since the stock is trading at a Price/Book of 13.60. It's also a function of the low income taxes explained above.
Now, in spite of some clues as to it not really being that cheap, one should also acknowledge that SIRI has never done better on fundamental terms, as both cash from operations and earnings clearly show: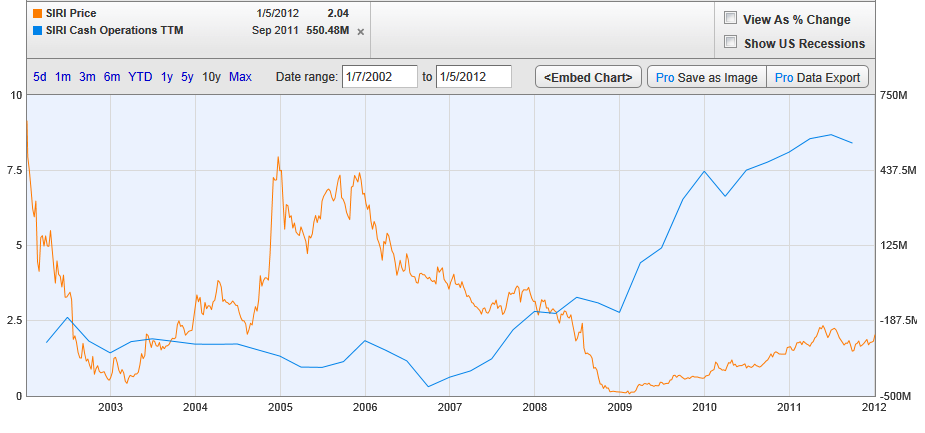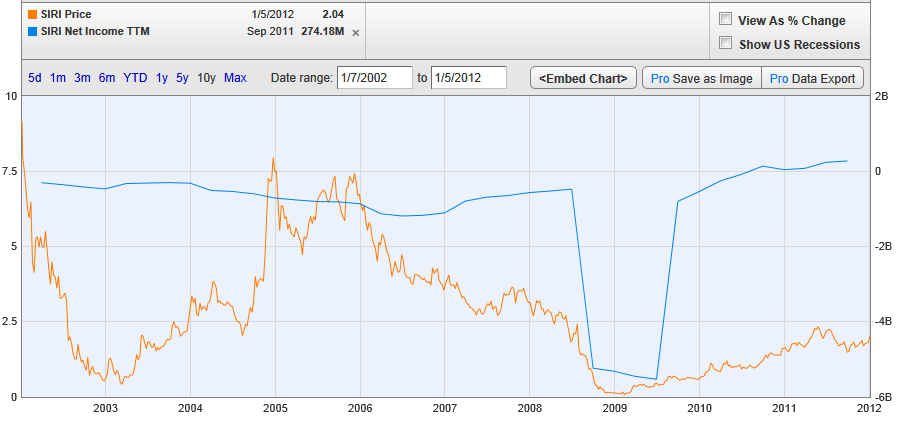 Compares badly
However, SIRI doing better than it has ever done, doesn't necessarily mean it's cheap or an obvious opportunity. For starters, it's valued at close to the highest market capitalization ever (or at the higher capitalization even, if we take into account fully diluted shares).
Also, SIRI is trading in a market where there are a lot of cheaper alternatives, both large and small. For instance, Microsoft (NASDAQ:MSFT) is growing revenue at rates comparable with SIRI's, yet trades at half the EV/EBITDA or forward P/E. Intel (NASDAQ:INTC) does the same, trading at half the forward P/E and an EV/EBITDA that's less than half. Dell (NASDAQ:DELL), while stagnated in terms of revenue, is even cheaper, with an EV/EBITDA and forward P/E that are just a third of SIRI's. And of course, there are tons of cheap, small-capitalization stocks, where the differences are even more pronounced, while growth prospects are actually stronger.
Threats
The problem with SIRI does not stop at its relative valuation level. SIRI faces at least three significant threats on the short to medium term.
Capex needs
Those satellites have limited lives and have to be substituted. SIRI already carries significant debt and yet will shortly have to send up a few more of those expensive birds. It might well mean dilution.
SIRI already has one satellite under construction (FM-6), but as we can see in SIRI's latest 10-K, two of SIRIUS's five satellites are already nearing the estimated end of their useful lives (FM-1 and FM-2, 2013). The same applies to the XM satellites, with XM-1 and XM-2 nearing the end of their useful lives (2013). So it wouldn't be much of a surprise if SIRI sees dramatically increased capex needs in the near future.
Increased competition
SIRI always faced competition from (free) terrestrial radio. Such competition has the chance of migrating to digital radio, which might make it more of a problem.
However, lately the main problem is the emergence of many internet-based radio and music services, many of which have free components as well. Services like Pandora (NYSE:P) or Spotify are not only accessible in fixed locations, but are increasingly mobile and are now entering the very market SIRI dominates - New automobile instalations (this is from July 2011).
Pandora, which creates personalized radio stations for users based upon their favorite artists or songs, was founded in 2000.

Currently offered in selected BMW, Ford, Mercedes-Benz, Mini and Scion vehicles, Pandora said it was expanding its ties with Ford Motor Co. and would be available in 10 Ford vehicles and two Lincoln vehicles.

Pandora will also soon be available in General Motors' Buick, Chevrolet and GMC, as well as in Hyundai and Toyota models, it said.
This threat is clear and there will be an unavoidable impact to SIRI's growth, while it might also tilt the negotiating power further into the car markers' hands, impeding the lowering of the very significant subscriber acquisition costs (14.2% of revenue in the last nine months ending September 30).
Cost of content and impact on margins
Perhaps most importantly, SIRI, like every other content distributor out there - Netflix (NASDAQ:NFLX) comes to mind - is facing huge pressure toward higher content costs. Some of it is already incorporated in rule making and it's flowing through the profit and loss at increasing rates, as seen in the latest 10-Q:
We expect our revenue share and royalty costs to increase as our revenues grow and as a result of statutory increases in the royalty rate for the performance of sound recordings. Under the terms of the Copyright Royalty Board's decision, we paid royalties of 7.5% and 7.0% of gross revenues, subject to certain exclusions, for the nine months ended September 30, 2011 and 2010, respectively, and will pay royalties of 8.0% for 2012
This pressure, however, is not expected to abate any time soon. A very good article on this particular theme has been published on Seeking Alpha: "SiriusXM Vs. Artists' Rights And Royalties." I would particularly want to draw attention to this paragraph, meaning that the CRB will probably be pressuring for still higher content costs beyond 2012:
The CRB determined that the appropriate market rate should be 13% but decided on artificially lowering the rates due to economic conditions and the specter of bankruptcy, which was a real possibility at the time of the decision. The 5 year period was finally negotiated to be 6% of "Gross revenues" starting in 2006 and escalating each year to the 8% figure in 2012
So SIRI is facing an increase in content costs from 7.5% on these particular royalties going from 7.5% in the last 9 months of 2011, to 8% of revenue during 2012, and quite probably up to 13% of revenue in the following years, as it can no longer wave the specter of bankruptcy. It's impossible to underestimate the impact of this on profitability - we are talking about an increase of 5.5% of revenue. Currently, SIRI's EBT (Earnings Before Tax) margin, in the nine months up to September 30, 2011, comes to 16.4% of revenue. If SIRI were to take a 5.5% hit to those margins, this would mean that a full 33.6% of SIRI's EBT margin was at risk. A full third of its margins., which coupled with SIRI having to pay income at some point, could mean a full 50% or so hit to net margins. (source: latest 10-Q, September 2011)
Conclusion
SIRI is no bargain. There are many cheaper stocks, with similar or higher growth rates and less obvious threats. A full third of SIRI's EBT margin might be at risk due to increased royalties on content, and a full 50% or more might be at risk due to both content and income tax costs. Also, its car OEM market is now subject to competition, with internet radio companies trying to get a foothold on that market as well.