Lately there seems to be a lot of noise being made by certain pundits (who shall remain nameless) about making big contrarian plays in the financial stocks. The SPDR finance ETF (NYSEARCA:XLF) dropped about 17% throughout 2011 while the S&P traded roughly flat for the year. Clearly, there has been a disconnect between the broader market and our financial sector, but why?
We've recently seen much improved macroeconomic data to support our new bull market since the 2009 lows. Indeed, unemployment has finally dropped to a more relieving 8.5%. Best of all, the growth was coming from the private sector, which ultimately implies the healthiest kind of improvement in the labor market (as in, untouched by the government). Is the next logical step an improvement in the housing market?
Hypothetically, yes. All these newly employed people should begin to demand better living conditions at some point. Most of the remaining foreclosed homes from the great recession should eventually become rentals or find buyers. As a result, American banks will finally be able to work their profit machine with the loan markets and generate income for shareholders. But how come this hasn't happened yet? The 30-year mortgage has, amazingly, hit a fresh low this year despite all the optimism that has fueled a fresh rally approaching 1300 on the S&P 500.
It might end up being the case that we've jumped the gun on an economic recovery yet again going into 2012. Not only is the housing market still in outright contraction, but the unemployment statistic that had us so excited last Friday is flawed. As you may know, it doesn't account for two important detriments to the economy: discouraged workers and the underemployed. We're not accounting for people that gave up on finding work, nor are we considering the indebted college graduate working in an unrelated job in retail. This might explain how we can see such a discrepancy between the housing market and the labor market. Simply put, the labor market is probably not nearly as healthy as we think.
As a result, we've seen some dismal numbers being reported by the banks in recent quarters. Wells Fargo (NYSE:WFC), one of the biggest commercial lenders out there, reported revenue declines within its Wholesale Banking unit in Q3 (4.4% down) relative to the prior quarter. Wells Fargo Home Mortgage managed an uptick in mortgage originations (up to $89 billion from $64 billion in Q2 2011) but it seems like the money being made through interest rate differentials remains too weak to impress. Much of the boosts in EPS statistics have simply resulted from reductions in workforce and other efficiency measures.
Citigroup (NYSE:C) told the same story, with its regional consumer banking branch in North America suffering a 9% drop in declining revenue in Q3 2011 relative to 2010. The company attributed these losses in part to weak income from mortgage lending.
Bank of America (NYSE:BAC) did even worse with a 22% decline in its Consumer Real Estate Services unit. Clearly this bank in particular will continue to have issues because of its self destructive purchase of Countrywide. BAC's consumer banking unit will require a much stronger flow of revenue in the future to offset the continuing litigation expenses.
JP Morgan (NYSE:JPM) had slightly more peculiar results last quarter. Revenue for their retail services increased almost 11% in Q3 2011 relative to the same period in 2010. This was despite a 10% decline in revenue in their mortgage business, which suffered alongside the rest of the industry.
As important as the mortgage industry is to the financial world, there are plenty of companies that don't have to worry about it nearly as much. Take the non-traditional financial services firms Goldman Sachs (NYSE:GS) and Morgan Stanley (NYSE:MS). Their problems are entirely different - a weak macro environment and weak demand for financial services. Morgan Stanely has recently been undergoing downsizing efforts as a result, vowing to drop 1,600 names. While Goldman hasn't announced any recent downsizing efforts, the few employees it does have will be assured long hours and lower bonuses if macro trends continue.
The biggest threat to the industry as a whole is the government, specifically through regulatory measures like Dodd-Frank and the Basel accords which are part of what some like to call "The Great Deleveraging". The lawlessness and lack of strong regulation in the financial world has allowed the industry to expand too rapidly since the World War II era alongside our GDP. Below is a measure of the financial industry's share in GDP of the United States.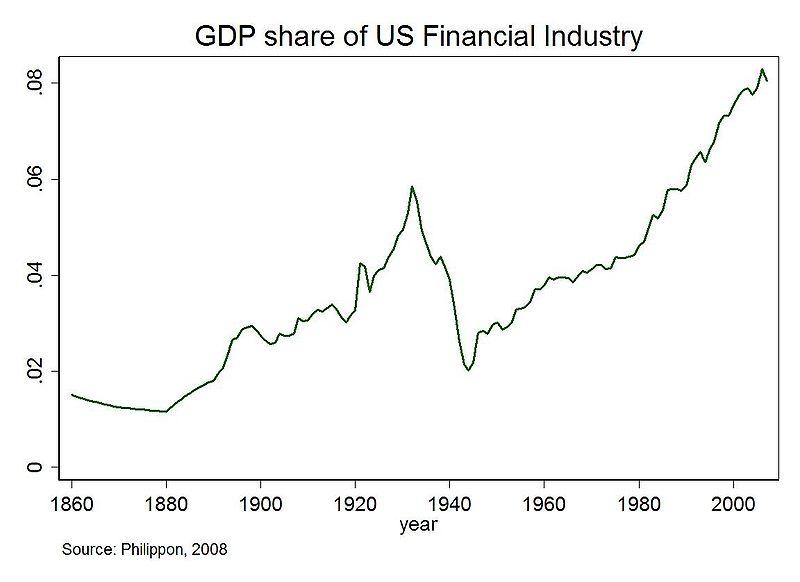 In the last downturn in the US economic supercycle (The Great Depression), we saw a much larger contraction of the financial industry. I would argue that since this graph is a percentage of the GDP, there's no reason to assume that finance itself should grow faster than technology or healthcare. In fact, the more the government sticks its fingers into the economy the less room there is for financial firms to take the risks they need to generate outsized profits. How do we, as investors, expect financial services to keep pace with other high-margin businesses?
To answer the question brought up in the title is complicated, but I will sum it up as follows: I'm no buyer of the banks with mortgage industry exposure until the rates break their freefall. With government regulation, more damage will be done to the other sections of the industry as leverage is reduced and "safe" capital becomes a bigger necessity. The party might be back in a few years time, but it's better to arrive late than to show up early and find an empty room.
Disclosure: I have no positions in any stocks mentioned, and no plans to initiate any positions within the next 72 hours.