This is the 4th article in my series on Canadian REITs. Information sources are identified in Part I. Again, our goal is to build a universe of Canadian real estate trusts and companies, in order to identify high-yield, moderate risk investments. The residential sector provides some of the lowest yields. Many Canadian investors view the larger-cap residential securities as some of the safest in the real estate sector. Boardwalk (OTCPK:BOWFF), Canadian Apartment (OTC:CDPYF), and Killam (OTC:KMPPF) are viewed as very conservative real estate investments.
Names, tickers, and US stock exchange prices follow, to help non-Canadians find these securities on US exchanges when possible (click tables to enlarge):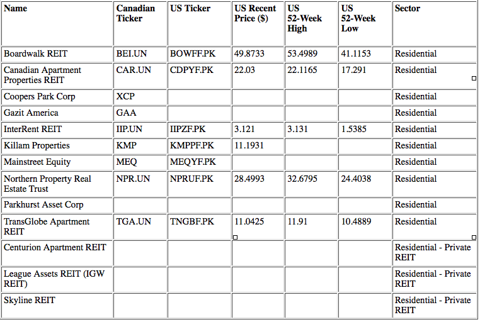 Some of the REITs are private REITs. A private REIT is not listed on a stock exchange. Therefore, there is less liquidity, lower volatility, and less transparency, of your investment. Private REITs in Canada may or may not provide for syndicated property ownership. Syndicated ownership means that you own a share of one specific property.
In my mind, this defeats some of the risk mitigation of owning a REIT instead of buying a commercial or retail property. Some offer diversified funds, but you will need to perform your own research on the quality and risk of the investment, as there are no analysts and limited publicly available information. Nonetheless, I have provided a starting point of a brief description and their respective websites.
The following is a table of statistics based on the Canadian stock exchange activities. The US sources do not typically carry this data, which may be important to your investment decision.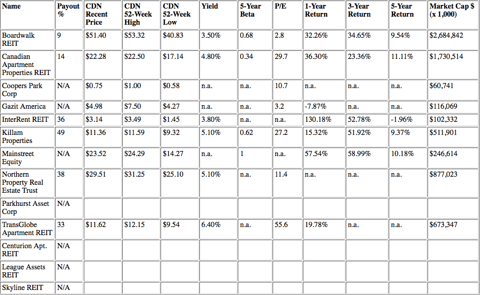 The following provides a description and financial results. This will help you identify and understand the company activities and results.
Boardwalk REIT is the owner/operator of multi-family rental communities. As of December 31, 2010, the Company owned and operated in excess of 225 properties with 35,277 rental units totalling approximately 30 million net rentable square feet. Boardwalk REIT's portfolio is concentrated in the Provinces of British Columbia, Alberta, Saskatchewan, Ontario and Quebec. The Company's properties are located in Calgary, Alberta; Edmonton, Alberta; Fort McMurray, Alberta; London, Ontario; Montreal, Quebec; Quebec City, Quebec; Red Deer, Alberta; Regina, Saskatchewan; Saskatoon, Saskatchewan; Vancouver, British Columbia, and Windsor, Ontario. During the year ended December 31, 2010, the Company disposed of 1,142 apartment units consisting of 12 selected property assets.
Q2/11 Results: Boardwalk REIT's (BEI.UN-SP) Q2/11 FFO was $0.66/unit, up 1.5% from $0.65/unit a year earlier and slightly ahead of our $0.65/unit estimate. Same portfolio
NOI grew +0.1% in Q2, as rental growth (higher occupancy) of 1.8% was offset by a 5.1% increase in operating costs (increased labour costs for onsite maintenance and personnel staff). Average occupancy in the quarter was a high 97.5% compared to 97.3% last year and 96.9% for Q1/11.
Canadian Apartment Properties REIT (OTC:CDPYF)
CAPREIT owns interests in multi-unit residential properties, including apartments, townhomes and manufactured home communities located in and near major urban centers across Canada. As of December 31, 2010, CAPREIT had ownership or co-ownership interests in a portfolio that included 27,172 residential suites (CAPREIT's share 26,017 suites), diversified by geographic location and asset type, and two Ontario MHCs consisting of 1,325 land lease sites. Subsequent to December 31, 2010, CAPREIT completed the acquisition of a mid-tier townhome complex consisting 83 suites, located in Burlington, Ontario. On March 29, 2011, CAPREIT sold a property consisting of 143 suites. During the year ended December 31, 2010, CAPREIT acquired 668 residential suites and 23 additional MHC land lease sites at its Bowmanville, Ontario and Grand Bend.
Q3/11 FD NFFO was $0.38/unit, up from $0.37/unit last year and in line with our $0.38/unit estimate, as +3.7% same-property NOI growth (on higher occupancy and rents, while expenses increased at a much slower pace) and the contribution from net acquisitions were partially offset by the dilutive impact of a $131.5 million equity financing (7.6 million units at $17.30/unit) completed in December 2010.
Coopers Park Corporation invests in multi-family residential condominium developments and in the information sector. The Company, through its subsidiaries has completed the construction and sale of 327 (99%) of the 331 units in three residential condominium buildings on Building Sites acquired from One West Holdings Ltd, with one unit under contract for sale, and markets the remaining three units. Coopers Park has completed three hi-rise projects in downtown Vancouver on the False Creek waterfront and has also acquired shares in a select group of technology companies. The Park Place development project in Surrey consists of approximately 700 units in two 36-storey towers and as of December 31, 2009, was under construction.
Gazit America is focused on entrepreneurial real estate opportunities including the acquisition and development of income-producing properties, investments in public and private real estate entities, investments in joint ventures and other structured acquisitions and investments in commercial and residential mortgage-backed securities. Gazit America currently owns approximately 12.5% of Equity One, Inc. (NYSE:EQY), which trades on the New York Stock Exchange, and has interests in thirteen properties totalling approximately 1,083,000 square feet of rentable space located in Longueuil and Montreal, Quebec, Cambridge, London, Mississauga, Toronto, Kitchener and Ottawa, Ontario, and Edmonton and Calgary, Alberta.
2011-12: completed the acquisition of three properties, two located in Calgary and Edmonton, Alberta and a third in Kitchener, Ontario, for an aggregate purchase price of approximately $53.7 million.
InterRent REIT was created to invest in income producing multi-family residential properties within Canada, initially through the acquisition of InterRent International Properties Inc. and of the Silverstone Group by the way of a plan of arrangement (the Arrangement). InterRent REIT generates revenues from rental operations and from the sale of properties. As of December 31, 2010, InterRent REIT's entire portfolio was situated in the province of Ontario. During the year ended December 31, 2010, InterRent REIT sold four properties totalling 35 suites and had 17 properties totalling 482 suites classified as discontinued operations. As of December 31, 2010, the Company's properties totalled 3,516 suites.
Q3/2011: Operating revenue for the quarter increased $0.9 million to $9.7 million, an increase of 9.9% over Q3 2010. Average monthly rent per suite increased to $829 (September 2011) from $797 (September 2010), an increase of 4.0%. Economic vacancy decreased to 3.4% (September 2011) from 6.7% (September 2010). · Net Operating Income (NOI) increased by 24.6% to $5.6 million for the quarter compared to $4.5 million for Q3 2010. As a result of the capital investments of over $20 million in 2010, the REIT began a process of preparing applications for above guideline increases (AGIs) to rental rates. The applications submitted in Q2 to the Landlord and Tenant Board, represented approximately 67% of the portfolio. The AGIs rolled out to tenants to date amount to an increase in monthly rental revenue of approximately $15,000. Funds From Operation for the quarter increased to $1.6 million (or $0.05 per unit) compared to $0.7 million (or $0.02 per unit) for Q3 2010. Distributable Income for the quarter was $1.3 million (or $0.04 per unit) an increase of $1.4 million over Q3 2010.
Killam Properties Inc. is a residential landlord, which owns and operates properties across Canada. As of December 31, 2010, the Company owned and operated 9,726 apartment units and 9,290 manufactured home communities sites. As of December 31, 2010, it owned and operated 181 properties having a combined total of 19,016 units. As of December 31, 2010, it operated in two rental segments. The second segment is the ownership, management and expansion of MHCs, also referred to as land lease communities, or trailer parks. During the year ended December 31, 2010, it completed acquisitions of 769 apartment units. During 2010, it acquired apartment buildings in Ontario, the 137-unit Richmond Hill apartment in London, Ontario and 225 units at 100 and 200 Eagle Street North in Cambridge, Ontario.
Q3/11 fully diluted funds from operations were $0.215/share compared to $0.207 last year and our $0.20 estimate. The +4% growth in per-share FFO was due to acquisitions and solid internal growth. Same-property NOI rose +1.4% in Q3/11 as a 3.0% increase in same-property revenue more than offset a 6.0% increase in property expenses. The rise in same-property total operating expenses was driven by a 7.8% increase in utility and fuel expenses (mostly due to a 37% rise in heating oil), a 6.7% increase in property taxes (partly due to a tax refund received in Q3/10), and a 4.8% rise in other operating expenses. During Q3/11 Killam completed 18 home sales and one home sale placement compared to seven home sales and seven home sale placements last year.
Mainstreet Equity Corp. focuses on the acquisition, redevelopment, repositioning and management of mid-market rental apartment buildings in five Canadian markets, which include Vancouver/Lower Mainland, Calgary, Edmonton, Saskatoon and the Greater Toronto Area. Mainstreet specializes in multi-family residential housing. During the fiscal year ended September 30, 2010, the Company increased its portfolio of properties by 480 units. As of September 30, 2010, Mainstreet portfolio included 6,419 residential units consisting of townhouses, garden-style apartments, and mid-rise and high-rise apartments. One of these properties (22 units in Calgary) is being held for resale. Subsequent to the year-end, Mainstreet acquired an additional 510 units, bringing its portfolio to 6,929 units. As of December 13, 2010, it acquired a total of 990 units in Western Canada, which include 49 in Saskatoon, 411 in Surrey and 530 in Edmonton and Calgary.
2011-12: Funds from operations before financing were up 47 per cent from 2010. FFO including financing costs was up 44 per cent from 2010, Most importantly, net operating income climbed 23 per cent from 2010 to $41 million, while same asset NOI increased by 11 per cent. NOI margins increased to 64 per cent in 2011 to 63 per cent in 2010. Mainstreet's portfolio of assets continued to grow in 2011. It added 943 residential apartment units in its core geographic locations and an office building (Calgary head-office) for a total consideration of $81 million. The size of the portfolio increased by 15 per cent to 7,362 units. Subsequent to the year-end date Mainstreet purchased an additional 436 units for $42 million. As of December 8, 2011, Mainstreet's total portfolio included 7,797 residential apartment units and one office building (Calgary Head-office) with a total appraised value of over $950 million. It is very important to note that Mainstreet achieved this growth - over $120 million of acquisition in total - without any equity dilution. Instead, it funded this organic growth through refinancing matured mortgages and financing properties after stabilization.
Northern Property Real Estate Trust (OTC:NPRUF)
NPR invests in, and owns a portfolio of residential and commercial income producing properties. NPR operates in British Columbia, Alberta, the Northwest Territories, Nunavut and Newfoundland. NPR has two business segments: residential and commercial income producing properties. The residential properties comprises three components: apartments, townhomes and single family rental units; execusuite apartment rental units, where the rental periods range from a few days to several months; and seniors' properties where the properties are leased on a long term basis to qualified operators who provide services to individual residents. The commercial business segment comprises office, industrial and retail properties in areas where NPR has residential operations. It is the largest residential landlord in the Northwest Territories, Nunavut, and Newfoundland. The REIT owns 1,514 seniors suites (554 units in 10 properties in Newfoundland, 746 units in five buildings in Alberta, and 214 units in one facility in British Columbia), which have an estimated aggregate value of approximately $190 million.
Northern Property reported fully diluted funds from operations of $0.63/unit in Q3/11 compared to $0.60/unit last year, in line with our $0.63/unit estimate. Q3/11 FFO growth was primarily driven by strong +3.6% same-door NOI growth (+4.3% 9M/11) on improved residential occupancy (+50 bps) and higher rents, refinancings at lower interest rates, and previously closed acquisitions , partly offset by slightly higher heating costs. Same-door revenue growth was 2.9% in Q3/11. Residential vacancy loss was 4.8% in Q3/11 compared to 5.3% in Q3/10 and 5.0% in Q2/11. Commercial vacancy was 2.6% at Q3/11 compared to 2.7% at Q2/11 and 2.5% last year.
Parkhurst Asset Corp (Private REIT)
Parkhurst Asset Corp. is the asset manager and general partner for a growing number of Limited Partnerships focused on multi-family & retail strip mall properties in Alberta.
TransGlobe Apartment REIT (OTC:TNGBF)
The REIT's portfolio is consisted of residential rental properties containing approximately 20,300 suites principally located in urban centres in Alberta, Ontario, Quebec, New Brunswick and Nova Scotia. As of December 31, 2010, it owned a portfolio of 94 properties comprising an aggregate of approximately 12,870 residential suites and five townhouse complexes. The objectives of the REIT are to generate stable and growing cash distributions on a tax-efficient basis; enhance the value of the REIT's assets and maximize long-term unit value through active management, and expand the asset base of the REIT and increase adjusted funds from operations. In 2011, it acquired Moncton Properties, Samuel Holland Property and Murphy Property. In October 2011, the Company acquired a portfolio of 23 apartment and townhome properties aggregating 1,261 suites. Controlled by DrimmerCo. (20.5% interest) - Daniel Drimmer is Chairman of the Board.
Q3/11 FD FFO was $0.26/unit, unchanged from a year ago and in line with expectations. Q3/11 same-property NOI increased ~1% year-over-year (Y/Y), as same-property occupancy rose 60 basis points (bps) Y/Y to 97.3%, and average monthly rents improved 1% Y/Y to $909 per apartment suite. Leasing strength in Kitchener, Cambridge & Guelph, Southwestern Ontario, and Quebec was partly offset by weakness in Atlantic Canada and Alberta. Q3/11 NOI margin was 57.3%, down from 60.0% a year ago. Management is forecasting an annualized NOI margin of 55% for its property portfolio.
Centurion Apartment REIT (Private REIT)
A diversified portfolio of rental apartments in Canada. With interests in a portfolio of 1,918 apartments located in 24 separate apartment properties.
League Assets REIT (IGW REIT - Private REIT)
A portfolio of Canadian commercial and residential properties with combined assets approaching $300 million.
Skyline REIT (Private REIT)
Skyline Apartment REIT is currently ranked as the 10th largest owner & manager in the country (ranked by Canadian Apartment magazine, May 2011 issue). With a current portfolio valued at approximately $625 million that is made up of 101 properties with an 85% multi-residential and 15% commercial mix, Skyline's primary business is apartment real estate.
Disclosure: I am long CDPYF.PK, KMPPF.PK.