This winter, the incredible U.S. snow drought has greatly hurt ski resorts and other industries that rely on snow and cold. But it has been a benefit for housing starts, lowered consumer's energy bills and helped certain retail sectors of the economy.
A particular part of the economy that got a "shot in the arm" from the warm weather, has been the construction industry. A lack of snow and cold has allowed road building to go uninterrupted over at least 80% of the U.S. This is something that has not occurred in modern history. For example, officials in Portland, OR, estimate 450 km of expressway will be completed this winter, compared to just 240 km a year ago. According to new federal employment data released by the Associated General Contractors of America, construction employment benefited from the warm winter with an increase of 17,000 nonresidential construction employment in December alone.
Below we briefly discuss the present U.S. snow drought, look at Vail Resorts' (NYSE:MTN) stock price action and discuss natural gas prices and something called "weather futures" traded at the CME.
UNITED STATES SNOW DROUGHT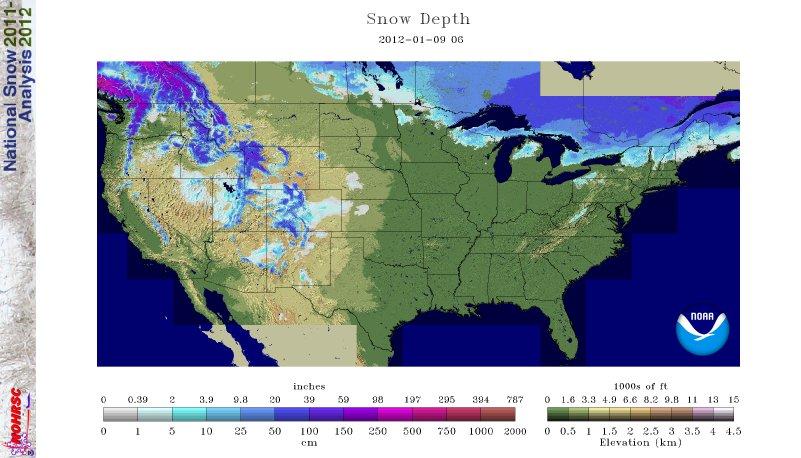 SOURCE: NATIONAL OPERATIONAL HYDROLOGICAL REMOTE SENSING CENTER/NOAA
The Sierra Nevada area ( a region that saw record snowfall last winter) is having one of the driest winters since the late 1800's. This could have a negative impact on California's water supply and agriculture if timely snows do not fall by spring. This is because California is heavily dependent on snow melt for irrigation and currently snow-pack is only 19% of normal.
Ski companies, such as Vail Resorts may see their stock price hurt this winter. Vail Resorts, Inc. owns and operates Vail, Beaver Creek, Breckenridge and Key Stone in Colorado, all of which are having major snow problems.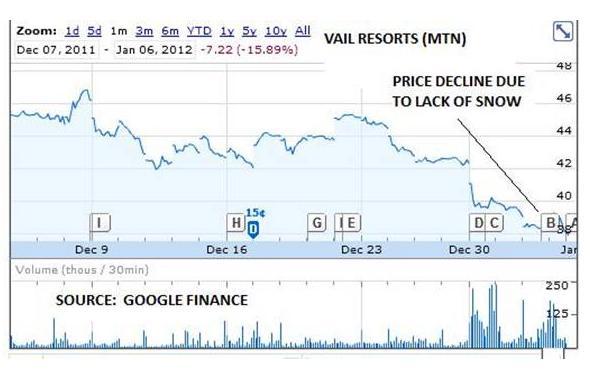 A main core of the companies' business is in real estate (Jackson Hole, Vail, etc.), which may help to offset losses at many ski areas suffering from drought. Nevertheless, the stock price has begun to take a bit of a hit because of the lack of snowfall this winter and for the moment, I do not see any appreciable big improvement in snowfall for ski areas from California to Colorado.
Commenting on the ski season to date, Rob Katz, Chief Executive Officer said, "We have had some very unusual weather so far this season. For the first time in 30 years, a lack of snow has not allowed us to open the back bowls in Vail as of January 6, 2012 and, for the first time since the late 1800s, it did not snow at all in Tahoe in December. Despite these conditions, we were very pleased that season to date our total lift ticket revenue was up 0.6% and ski school revenue increased 0.9% compared to the prior year when record snowfall was reported across our resorts. Our performance in these conditions highlights our strong season pass program, the full experience and comprehensive set of activities and amenities that we provide at our resorts, and the investments we have made across our resorts in constantly improving and broadening the guest experience. This is most apparent in Tahoe, where our investment in snowmaking has allowed us to open up more terrain than all the other resorts in the area combined. At this point, with three quarters of the ski season still remaining, we are not revising the earnings guidance we issued in September 2011. However, we would acknowledge that those targets will be more difficult to achieve given the results over the holidays."
NATURAL GAS PRICES
The natural gas market has of course been in the doldrums for years due to shale production (fracking) and just overall over-production. Even in the face of a cold early winter two years ago, and a hot summer last year, which we forecasted early, natural gas futures trading strictly on weather, is not what is used to be.
An abundance of new capacity coming online this year has added to the woes in this market. However, natural gas is gotten to be a cheaper fuel than coal and we are beginning to see an increase use in the industrial sector. Throw in some cold weather (which I see ahead) and a heavy short position in this market, as one could make the case that natural gas prices may bottom shortly.
Many speculators hoping to cash in on the expected boom in clean energy and ideas natural gas might be the fuel of the future, have seen the UNG ETF---fall more han 90% drop from its 2008 highs. Longer term, this may be a great buying opportunity, especially if the weather forecast turns colder and hopefully when the U.S. takes on more clean energy initiatives. However, it could be years before an appreciable price rise in natural gas will be noted due to the present supply glut.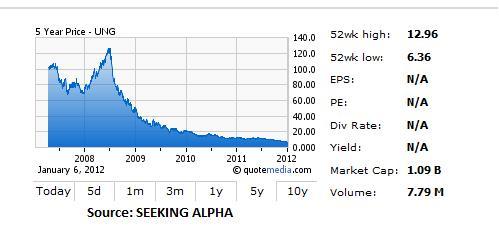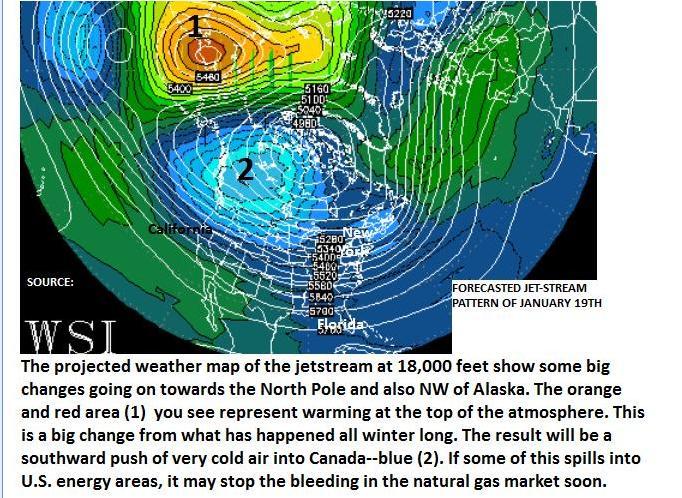 HEATING DEGREE DAY FUTURES
Buying call options in heating degree days for cities like Chicago or New York for the rest of the winter, might be a better way to play the arrival of colder weather, than perhaps the natural gas market.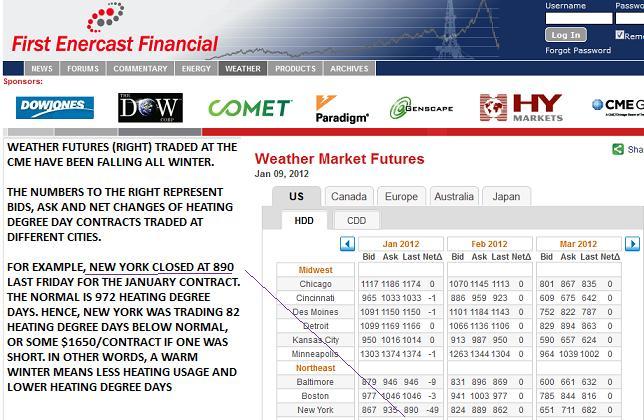 Disclosure: I have no positions in any stocks mentioned, and no plans to initiate any positions within the next 72 hours.