With so much global uncertainty facing the markets, many savvy watchers are calling for investors to stick to stable, blue-chip stocks with good dividends. I can't argue with that advice but I must add another requirement to satisfy my value-investing criteria: a cheap share price. These criteria formed the basis of this stock screen:
Market cap > $1B
Free cash flow (FCF) as a percentage of market cap > 10%
PEG ratio < 1
Dividend yield > S&P 500 average
I screened out smaller-cap stocks since smaller companies often lack the size, scale and financial resources to provide stability in a tough economic environment. The FCF-to-market-cap requirement ensures the stock is generating copious cash flow and is cheap relative to its FCF. A PEG ratio below 1 signifies two things: first, analysts expect the company to grow and second, its price relative to that expected growth is underpriced. Judging by some of the names that were turned out, the screening data may not be fully updated as it relates to the PEG ratio. No matter, we are merely looking for starting places for further research, which will give a clearer picture of a specific company's future prospects. Finally, I included a healthy dividend requirement in case stocks go nowhere again in 2012 so we are paid to wait. Here are 13 names that came out of this screen:
(Click chart to enlarge)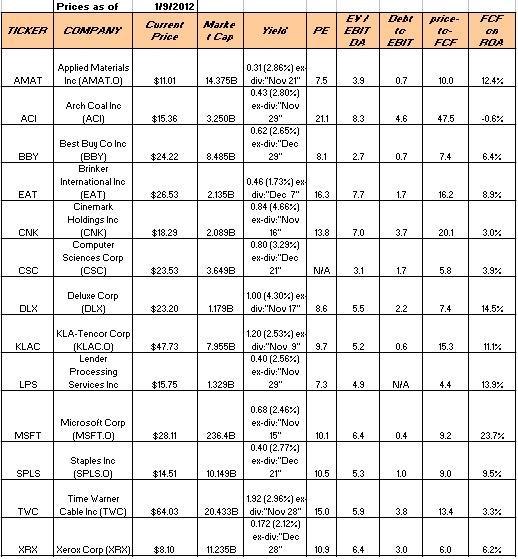 This screen turned up a nice mix of names. Retail giants, Staples (NASDAQ:SPLS) and Best Buy (NYSE:BBY), along with tech stalwarts like Microsoft (NASDAQ:MSFT), Applied Materials (NASDAQ:AMAT) and Xerox (NYSE:XRX) seem to offer solid value with below-average risk. More speculative investors could possibly win big on Arch Coal (ACI), Deluxe Corporation (NYSE:DLX) and Lender Processing Services (NYSE:LPS).
A summary of this screen follows below but readers can also view the results of this screen in spreadsheet format.
Applied Materials provides manufacturing equipment, services and software to the global semiconductor, flat panel display, solar photovoltaic (PV) and related industries. With returns of 24% ROE and 20% ROI exceeding peers by 11 and 9 points, respectively, AMAT is top of class in its industry. Add in a net cash position totaling more than 20% of its stock price and shares look to be a bargain, which is why I went long AMAT last month.
Arch Coal, Inc. is a coal producer company, with a heavy metallurgical coal base. As December 31, 2010, its ROE and ROI of 5% and 2% badly lagged the industry's 39% and 37%. Perhaps its acquisition of International Coal during a time of heady coal prices accounts for this underperformance. Like many commodity companies, ACI generates little FCF so its valuation may be better reflected by evaluating its asset value, which of course is dependent on the price of coal. Trading near 52-week lows, ACI may be worth a look here.
Best Buy is a multinational retailer of consumer electronics, home office products, entertainment products, appliances and related services. Retailing is a tough business but Best Buy generated returns of 19% ROE and 14% ROI, beating its industry peers. BBY also shows an impressive 20% insider position and based strictly on FCF, I would conservatively value shares at $35 so investors may have a 30% margin of safety at today's prices. However, this view makes no assumptions about Best Buy's business going forward and a 9% short interest suggests some smart money may be pessimistic on this front.
Brinker International owns, develops, operates and franchises the Chili's Grill & Bar and Maggiano's Little Italy restaurant brands. Brinker must be doing something right judging from its returns vs industry: 28% ROE vs 13% and 12% ROI vs 10%. However, the stock pays the lowest dividend in the screen and my evaluation found shares to be trading near fair value. Additionally, a 13% short interest signals some caution may be warranted.
Cinemark Holdings, Inc. is a motion picture exhibition, with theatres in the United States, Brazil, Mexico, Chile, Colombia, Argentina, Peru, Ecuador, Honduras, El Salvador, Nicaragua, Costa Rica, Panama and Guatemala. It generated returns of 15% ROE and 5% ROI vs 3% and 2% for the industry. CNK may be one of the better players in the industry but I find shares to be fairly valued at this point and would look toward Regal Entertainment Group (NYSE:RGC) if I wanted to invest in the movie theater space as that stock offers a higher yield and seems to be trading at a sizable discount to FCF.
Computer Sciences Corporation is engaged in the information technology (IT) and professional services industry. CSC turned up in a screen back in October 2011; since then, the stock has fallen on hard times, dropping ~20% as the company withdrew earnings guidance and was placed under review for a possible ratings downgrade. My cursory examination back in October was somewhat promising based on FCF but not enough to sway me to dig further ... for the better, it turns out. Shares may be a bargain at this point but as far as seeking stable stocks to weather a rough economy and/or market, CSC does not fit the bill at this point.
Deluxe provides a wide range of personalized printed products and services to small businesses, financial institutions and consumers. The company's two largest product groups are checks and business forms. Deluxe also offers fraud prevention services, computer forms, promotional printed items and customized documents. DLX is a name I had not come across before but that hasn't stopped it from delivering impressive returns: 57% ROE and 13% ROI, far outpacing the 5% and 1% returns generated by peers. Deluxe appears to be a cash flow cow, averaging $179M FCF annually (its market cap is $1.2B) for an astounding 14.5% FCF yield on its asset base -- only Microsoft had a better figure in this screen. Like many other business, Deluxe's business model is threatened by the transition to digital and DLX shows a 12% short interest as a result. However, DLX shares may already reflect this possibility, thus offering good value but investors need to do their own research, especially as analyst coverage is a bit sparse.
KLA-Tencor Corporation is engaged in the design, manufacture and marketing of process control and yield management solutions for the semiconductor and related nanoelectronics industries. It generated 32% ROE and 24% ROI vs industry averages of 13% and 11%. A specialized competitor to aforementioned Applied Materials, KLA-Tencor generates even better margins than AMAT but its shares are priced accordingly, offering no bargain for value investors.
Lender Processing Services, Inc. is a provider of integrated technology and services to the mortgage lending industry, with mortgage processing and default management services in the United States. The Company operates in two segments: technology, data and analytics and loan transaction services. With ROE of 40% and ROI of 11% vs peers' 13% and 10%, LPS is the clear leader in its market. In fact, LPS has been one of the few companies to benefit from the housing downturn as its default management services buoyed overall results to a large degree. In fact, analysts expect revenue to drop off once the housing crisis finally abates. This expectation, along with the company's embroilment in several government lawsuits regarding falsified foreclosure documents, makes the stock too speculative for my conservative preference.
Microsoft Corporation is engaged in developing, licensing and supporting a range of software products and services. It turned up on many of my screens, each time looking attractively priced but my stubborn refusal to pay a penny over $24 has led to missing out on a ~20% gain. If shares should drop near $24, I expect to buy MSFT.
One of the benefits of running screens is coming across investment opportunities that may have passed by otherwise. Staples, Inc. (SPLS), is an office products company, serving customers of all sizes in 26 countries throughout North America, Europe, Australia, South America, and Asia. While returns vs. industry look weak with 14% ROE and 10% ROI lagging the industry's 27% and 16% returns, this classification does not truly reflect Staples' peer group -- its two primary competitors, Office Depot (NYSE:ODP) and OfficeMax (NYSE:OMX) are struggling mightily to compete. However, Staples does face competition from companies like WalMart (NYSE:WMT), Target (NYSE:TGT), Costco (NASDAQ:COST) and other bulk retailers, which may explain the stock's low valuation. However, it is difficult to foresee corporate customers, Staples' most important customer segment, switching to shopping at a warehouse discounter for supplies. Based on FCF valuation, I think SPLS is worth at least $22 and with a stable business position, Staples may offer the most enticing opportunity in this screen.
Time Warner Cable Inc. (TWC) is a cable operator in the United States with systems located in five geographic areas: New York State, the Carolinas, Ohio, Southern California and Texas. One of the giants in its industry, Time Warner's high-debt position is reflected in its returns, with 17% ROE beating peers' 6% but 4% ROI lagging the 5% average for the industry. Time Warner's debt is not too worrisome as cable operators and telecoms, who are increasingly becoming direct competitors to cable, often take on high amounts of debt to build out capacity. Usually these businesses have stable revenue to support their debt. From a cash flow standpoint, TWC looks to be trading around fair value.
Xerox Corporation (XRX) provides a portfolio of document technology, services and software, and the diverse array of business process and information technology outsourcing support. I have written bullishly about Xerox before and the company seems to be executing on its plan to transition to a largely services-based company. I have open naked put positions at $7.50 that are set to expire worthless in a few days, netting a 12% gain. Shares still look cheap though and I may open an outright long position in XRX.
Disclosure: I am long AMAT and short XRX naked put options.