2012 has turned out to be a banner year for shareholders of Adams Resources & Energy (NYSEMKT:AE), as the stock has risen over 30% in the year's six trading days so far:
(Click chart to expand)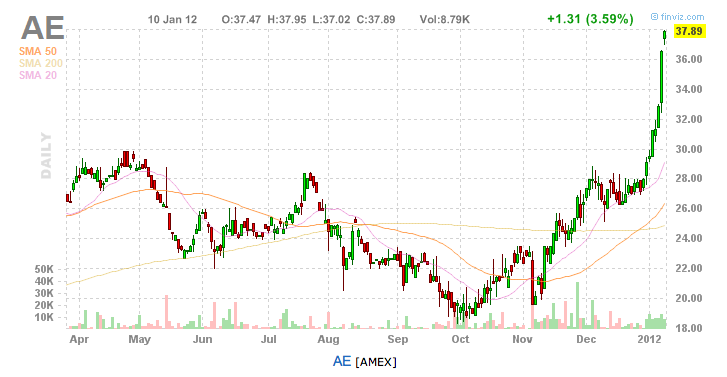 Chart courtesy finviz.com

Since a curious 15%, one-day, no-news drop in early November, the stock has nearly doubled, but the reasoning behind the more recent, steeper breakout is unclear. Strong third-quarter earnings in November, accompanied by a dividend raise to 57 cents (paid annually), definitely helped the stock. But the stock's 2012 action has been astounding:
| | | | | |
| --- | --- | --- | --- | --- |
| Date | Cl. Price | Change | % Chg. | Volume |
| 1/3/12 | 29.51 | + .40 | 1.35% | 13,100 |
| 1/4/12 | 31.30 | + 1.79 | 6.07% | 9,200 |
| 1/5/12 | 31.34 | + 0.04 | 0.13% | 9,900 |
| 1/6/12 | 32.89 | + 1.55 | 4.95% | 9,700 |
| 1/9/12 | 36.58 | + 2.69 | 8.18% | 12,800 |
| 1/10/12* | 37.70 | + 1.12 | 3.06% | 9,241 |
* -- as of 2 PM EST
data courtesy Yahoo Finance

Note, too, that volume has been strong, but not exceptionally so; the 3-month average daily trading volume for the stock is 8,300 shares, according to finviz.com. (The thinly traded stock has a float of just over 2 million shares.) Yes, volume is above average -- but hardly at a level that would imply institutional investors and/or traders moving into the stock en masse. As such, market rumor of an acquisition or other major news seems an unlikely catalyst.

What is clear for investors, though, is that the trade in AE has likely been missed. Even at its trading price of $37.70 as of this writing, the company's fundamentals look strong. Trailing twelve-month earnings are $4.88, giving the company a P/E below 8. The company boasts $8.40 per share in net cash, and the annual dividend provides a yield just over 1.5%.

But AE's recent earnings have stemmed from a strong increase in margins, primarily due to the spread between Texas oil and its counterparts sourced overseas. The spread has narrowed from all-time highs around $20 over the past few months, down to about $10 as of this writing. This has allowed AE to purchase gasoline from its home base in South Texas, and profitably ship it to "more advantageous markets," as the company put it in its 10-Q.

As the spread narrows, so will AE's margins, and profitability. The company is drilling new wells and expanding volume, but it simply cannot expect to maintain its recent earnings levels going forward. Even the company admitted so in the most recent 10-Q:
The expanded level of volumes and margins within the crude oil marketing operation is presently continuing for the short term outlook. Industry competitors are aware of the present opportunity and are actively seeking to capture such advantage. Over the course of the mid-term time horizon (12 months from current date) management anticipates crude oil marketing margins returning to their historical levels.
Should margins weaken, and the company return to more normalized earnings levels -- such as the $2.05 per share earned in 2010 -- it seems unlikely to support such an elevated stock price. Even the coming fourth quarter looks likely to disappoint, as crude spreads have narrowed and the company's (admittedly) much smaller natural gas operations will likely be hurt by the recent fall in natural gas prices to a multi-year low.

The recent breakout may be motivated by short-term factors as yet unknown to the retail investor, or it may simply be the market adjusting to what had been a seemingly undervalued stock. If it's the former, and there is a potential takeover or other near-term catalyst, investors are likely faced with a classic "buy the rumor, sell the news" situation. Longer-term value investors, meanwhile, should realize that the company's still-sparkling fundamentals carry some real downside risk. It's always frustrating to see a stock on your screen skyrocket before you have a chance to pull the trigger. But, in the case of AE, it appears to be too late.


Disclosure: I have no positions in any stocks mentioned, and no plans to initiate any positions within the next 72 hours.