By Mark Bern, CPA CFA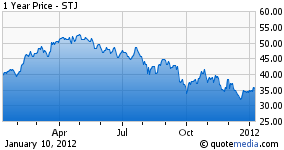 St. Jude (NYSE:STJ) is a leader in cardiology device development, manufacture and distribution. The stock is currently trading at a valuation well below its historical levels and at a discount to its growth rate. The dividend also provides a 2.4% yield and should grow annually by about 10% on average over the next few years. I expect earnings to average growth of 10% per year or better.
St Jude has increased its market share in the implantable cardioverter defibrillator market since 2001 and has a solid pipeline. I believe the company's success is due to superior management execution as both sales and margins have consistently expanded. I expect 2011 to be the 14th consecutive year of growth in earnings per share and the 15th consecutive year of growth in revenue per share. Cash flow is also setting records each year and 2011 should be the 14th consecutive year of growth as well.
From 2001, the net profit margin has increased from 15.1% to 19.1% and I expect that trend to continue as management continues to focus on efficiency improvements while continuing to introduce life-extending products. The market that the company serves is growing due to the aging population in the developed nations around the globe. St. Jude derives 51% of revenues from outside the U.S.
As if the consistent growth wasn't enough, the company instituted a dividend in 2011 with a payout ratio at a very manageable 25% level. The P/E ratio is currently 13 on a trailing twelve month basis and less than 10 on a forward basis. Historically the P/E has ranged between 11.1 and 36.5, averaging about 23. It is reasonable, in my opinion, to expect the P/E to expand into the 16% - 18% range considering its consistent growth rates and the addition of a dividend.
These quality shares could easily double in price over the next five years.
Disclosure: I have no positions in any stocks mentioned, and no plans to initiate any positions within the next 72 hours.