Google (NASDAQ:GOOG) has had upward momentum for some time but lately it has hit some resistance. More news about a 10% increase in the workforce and some negative news about the difficulties with the acquisition of Motorola Mobile (NYSE:MMI) may have given some traders something to think about. Notice the price weakness in this hourly price graph provided by Barchart:
(Click charts to expand)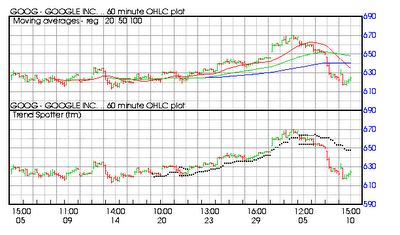 Google Inc. maintains an index of Web sites and other online content for users, advertisers, and Google network members and other content providers. It offers AdWords, an auction-based advertising program; AdSense program, which enables Web sites that are part of the Google Network to deliver ads from its AdWords advertisers; Google Display, a display advertising network that comprises the videos, text, images, and other interactive ads; DoubleClick Ad Exchange, a real-time auction marketplace for the trading of display ad space; and YouTube that provides video, interactive, and other ad formats for advertisers. The company also provides Google Mobile that optimizes Google's applications for mobile devices in browser and downloadable form; and enables advertisers to run search ad campaigns on mobile devices, as well as Google Local that provides local information on the Web; and Google Boost for small businesses to participate in the ads auction.
In addition, it offers Android, an open source mobile software platform; Google Chrome OS, an open source operating system; Google Chrome, a Web browser; Google TV, a platform for the consumers to use the television and the Internet on a single screen; and Google Books platform to discover, search, and consume content from printed books online. Further, the company provides Google Apps, a cloud computing suite of message and collaboration tools, which includes Gmail, Google Docs, Google Calendar, and Google Sites; Google Search Appliance that offers real-time search of business and intranet applications, and public Web sites; Google Site Search, a custom search engine; Google Commerce Search for online retail enterprises; Google Checkout to make online shopping and payments streamlined and secure; Google Maps Application Programming Interface; and Google Earth Enterprise, a firewall software solution for imagery and data visualization. Google Inc. was founded in 1998 and is headquartered in Mountain View, California. (Yahoo Finance profile)
Factors to consider:
Barchart technical indicators:
Only an 8%

Barchart

technical buy signal
Trend Spotter hold signal
Although below its 20-day moving average it is still above its 50- and 100-day moving averages
Only 7.20% off its 1-year high
Relative Strength Index 45.92%
Barchart computes a technical support level at 607.34
Recently traded at 622.56 with a 50-day moving average of 614.75
33 Wall Street brokerage firms have assigned 38 analysts to run the numbers on this company
Analysts project revenue will increase by 33.20% this year and another 22.80% next year
Earnings are expected to increase by 24.60% this year, an additional 19.10% next year and continue for the next five years at an annual rate of 19.10%
Add revenue is still the company's bread and butter but sales of smartphone are beginning to add up
You decide if the 10% increase in payroll is good or bad
The P/E ratio of 17.5 is about a 20% premium to the market P/E of 14.5 - not too out of line for a growth stock
Analysts consensus for price growth over the next five years is around 26% - 28% annually
General investor interest:
I still use the readers of Motley Fool to determine what the individual investor is thinking.
With 17,297 readers following the stock it has the 2nd highest number of readers expressing an opinion
86% of those voting think the stock will beat the market
90% of the more savvy All Stars voted 90% for the same result
Fool notes that the last 46 financial articles they reviewed were all positive
Financial strength rating A++
Some columnists with positive comments are Jim Cramer, Charles Payne and Gary B Smith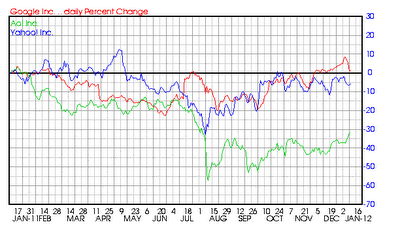 Summary: Google has double-digit forecasts for increases in revenue and earnings. Both long- and short-term investors should look at the stock's recent weakness as a caution signal. The reasons for the weakness haven't become clear but the market thinks something is there. Wise investors might want to put in stop loss orders and track the 14-day turtle channel or the 50-day moving average to determine when to move those stop losses: