By Brendan Gilmartin
Overview
Citigroup (NYSE:C) is scheduled to report 4Q 2011 earnings before the opening bell on Tuesday, January 17. The results are expected to come through at approximately 8:00 a.m. EST with a conference call to follow at 11:00 a.m. Citigroup, a Dow component, has the potential to impact the broader market indices, including the S&P and Dow Futures.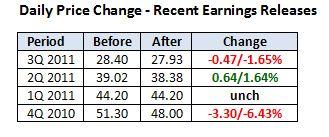 Outliers & Strategy
Citigroup typically provides two separate figures for Earnings Per Share – Earnings Per Share from Continuing Operations and Net Earnings Per Share. Earnings Per Share from Continuing Operations is typically the figure that compares with consensus estimates.
Citigroup's earnings follow results from JP Morgan Chase (NYSE:JPM) on Friday, January 13.
Citigroup is expected to post earnings of $0.51 per share (High: $0.74 / Low: $0.30), up from a split adjusted $0.40 per share in the prior year. Revenues are seen rising a mere 1.4% from 2010 to $18.62 bln. (Source: Yahoo! Finance).
Citigroup shares are currently trading at a steep discount to tangible book value of $49.50 per share (as of 3Q 2011).
Recent News
01/10: Barclay's lowered its 4Q 2011 EPS estimate on Citigroup from $0.89 to $0.71, according to a report on Reuters.com. The firm cited low interest rates, global economic uncertainty, and difficult capital market conditions. The price target was cut to $46.
01/05: Citigroup's efforts to sell its OneMain consumer finance division (formerly CitiFinancial) to private equity investors failed, according to a report in the WSJ.
12/14: According to a report in Barron's, JP Morgan Analyst Juneja is upbeat on Citigroup shares. Juneja believes the shares have been beaten down on concerns over the eurozone fallout and weak emerging markets, but has a strong capital position and could return capital via share repurchases in 2012.
12/06: Citigroup CEO Vikram Pandit made the following assertions at the Goldman Sachs U.S. Financial Services Conference:
Market conditions are "challenging", while the banking industry faces "significant changes in the economic, regulatory, and competitive landscape."
Despite the uncertain environment, Citigroup is executing on its strategy and remaining vigilant in risk management.
Citigroup is benefiting from exposure to faster-growing emerging markets.
Technical Review
Citigroup shares have climbed more than 35% off the 52-week low of $21.40 back in early October, pushing the stock toward $30 resistance – a level it failed to overcome last month. However, Relative Strength Index is pointed higher and nearing the key 70-level and the improving MACD is reflecting improving momentum. Furthermore, a break through $30 leaves little in the way of resistance up through the late-October highs near $34. Finally, the shares recently broke out of a descending triangle earlier this year, supporting further upside if the pattern matures. Should earnings disappoint, look for support at the 50-Day SMA near $28, followed by $26. (Chart courtesy of StockCharts.com)
Summary
Citigroup shares are advancing ahead of its 4Q 2011 earnings release, thanks to an improving macro backdrop, its strengthening capital position, compelling valuation, tighter risk controls, and exposure to international and emerging economies. However, concerns continue to linger over recent disruptions in the eurozone, lower interest rates, regulatory changes, and longer-term macro uncertainty. Against this backdrop, some are thinking that the earnings release could be an opportunity to book profits, unless results significantly top consensus forecasts.
Disclosure: I have no positions in any stocks mentioned, and no plans to initiate any positions within the next 72 hours.
DISCLAIMER: By using this report, you acknowledge that Selerity, Inc. is in no way liable for losses or gains arising out of commentary, analysis, and or data in this report. Your investment decisions and recommendations are made entirely at your discretion. Selerity does not own securities in companies that they write about, is not an investment adviser, and the content contained herein is not an endorsement to buy or sell any securities. No content published as part of this report constitutes a recommendation that any particular investment, security, portfolio of securities, transaction or investment strategy is suitable for any specific person.