Russell Investments has released a new series of indexes based on investment disciplines as they understand them to be practiced by active portfolio managers - such as GARP, equity income, aggressive growth, contrarian and others. They also publish a set of indexes that track key performance factors such as Beta, volatility and momentum.
Russell also sponsors new ETFs based on those disciplines and performance factors. The role of those ETFs would be to obtain what Russell says is a consistently applied, rules-based exposure to specific disciplines and performance factors without the method drift that is possible with active managers.
So far those new ETFs are seeking investor adoption, but ultimately, we think they will provide an interesting way to construct or augment the domestic equity portfolio allocation.
The table below provides the one-year, three-year and five-year total returns for the new indexes (as of November 30, 2011), as well as for several Russell market-cap and growth and value style indexes. The related ETF for each index also is listed in the table.
One-Year, Three-Year and Five-Year Total Returns:
Click to enlarge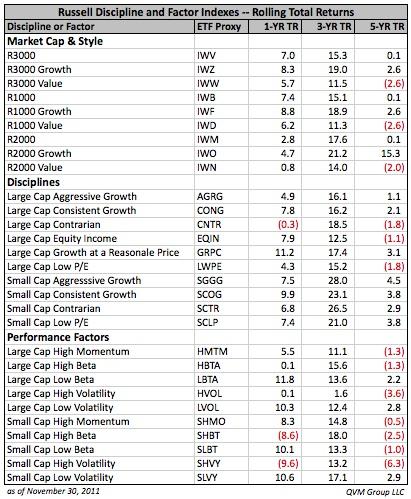 This table provides the same information, but with the total return expressed as the difference between the index return and the return of the broad market Russell 3000 index (proxy IWV).
Click to enlarge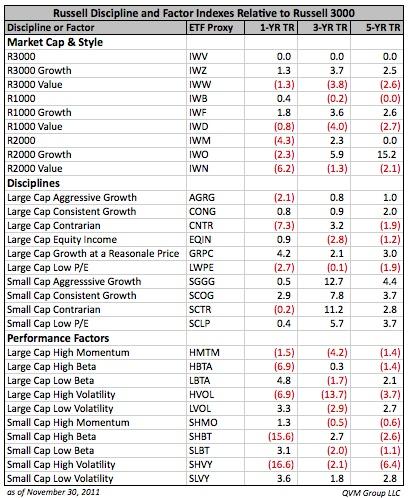 Among the large-cap disciplines, "consistent growth" (proxy CONG-OLD) and "growth at a reasonable price" (proxy GRPC) outperformed the broad market over one year, three years and five years.
Among the small-cap disciplines, "aggressive growth" (proxy SGGG), "consistent growth" (proxy SCOG) and "low P/E" (proxy SCLP) outperformed the broad market for the three periods.
Among the performance factors, "small-cap low volatility" (proxy SLVY) outperformed the broad market for the three periods.
Index Portfolio Attributes:
This last table provides the yield, the P/E excluding negative earnings, historical and projected long-term earnings growth, and related historical and projected PEG ratios (PEG = P/E divided by earnings growth rate).
Click to enlarge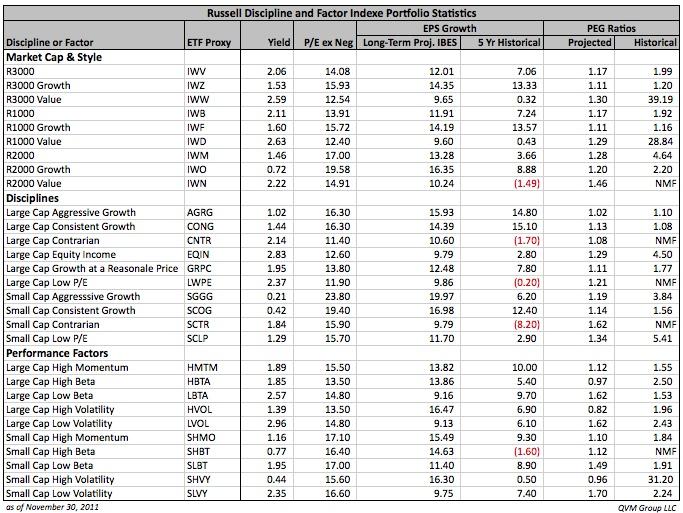 The market-cap and style ETFs are generally actively traded. The discipline and performance factor ETFs have yet to exhibit significant trading volumes, but we think should be kept in mind as they develop a following.
Disclosure: QVM has long positions in some of the identified market-cap and style ETFs as of the creation date of this article (January 10, 2012).
Disclaimer: This article provides opinions and information, but does not contain recommendations or personal investment advice to any specific person for any particular purpose. Do your own research or obtain suitable personal advice. You are responsible for your own investment decisions. This article is presented subject to our full disclaimer found on the QVM site available here.