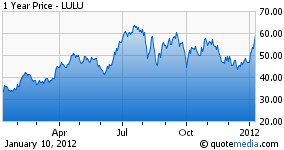 Shares of athletic retailer Lululemon (NASDAQ:LULU) jumped 12% on Tuesday after raising guidance for the fourth quarter. Shares traded above $60 throughout the day for the first time since mid-September, and closed at their highest level since that time. At its high point in trading, shares were just $2.24 off of their 52-week and all time high.
Here's what the company announced before Tuesday's bell:
Company raises revenue guidance from a range of $327 to $332 million to a new range of $358 to $363 million. Analysts were expecting $334.47 million before the announcement.
Company raises EPS range from $0.40 to $0.42, to new range of $0.47 to $0.49. Analysts were expecting $0.42.
Company raises same store sales guidance: Previous range was low to mid teens, new guidance is low to mid twenties.
Great quote from CEO Christine Day:
"Our work throughout the year building our inventory position is driving our success in the fourth quarter. Guests have responded exceptionally well to the robust assortment and bright color palette for holiday, and momentum continues with the new spring product offerings."
Now that we have the new guidance for the fourth quarter, we can adjust our numbers for the full year in 2011. Given the new midpoint of $361.5 million, full year revenues should come in around $990 million, give or take a million or two. Analysts were expecting $963.5 million, and the new number gives us year-over-year growth of about 39%. In terms of earnings per share, the company should report $1.24 based on the midpoint, compared with expectations for $1.18. Last year's number was $0.79, so this would be growth of 57%.
Now, these numbers show a strong holiday season for Lululemon, and I think we can adjust our 2012 numbers a bit for continued growth. I am currently raising my 2012 expectations for revenues from $1.24 billion to $1.27 billion, and my EPS number from $1.48 to $1.50.
The last time I analyzed Lululemon was when the company reported a mixed third quarter result. When they initially reported, the stock dropped into the low $40s, but rebounded nicely throughout that day. The stock has done well since then, reaching into the $50s.
So why do I say wait for a pullback? Well, the stock has become rather rich for me at the moment. Last week, Goldman Sachs added the name to its conviction buy list, and the stock rose nearly $4 to $51. It's almost $9 higher since then, including Tuesday's gains. At Tuesday's high, the stock had bounced nearly 50% off of the lows it set after reporting last quarter's results.
Let's look at the valuation versus Nike (NYSE:NKE) and Under Armour (NYSE:UA). Here's how the P/Es were, as of my last report, and as of now.
| | | | |
| --- | --- | --- | --- |
| Then | LULU | NKE | UA |
| Trailing | 44 | 21 | 49 |
| Forward | 32.5 | N/A* | 35 |
*Number not recorded in last article but was in mid-teens.
| | | | |
| --- | --- | --- | --- |
| Now | LULU | NKE | UA |
| Trailing | 53 | 21 | 45 |
| Forward | 40 | 17 | 32 |
As you can see, the valuation has become rather expensive lately since the price has increased substantially, while earnings expectations have not increased that much. At last report, Lululemon was cheaper than Under Armour, but now it is more expensive. It is considerably more expensive than Nike.
While today's news was positive and we will see estimates rising, I don't think they will rise enough to justify the recent gains we've seen. Given the recent note from Goldman, most of today's news should have already been priced in. Lululemon's margins and expected growth are slightly more than Under Armour, but not enough in my opinion to justify a P/E that's 25% more.
Now, before I make my overall recommendation, I would like to begin with the disclaimer that I love the company and I think this is a great company long term. I said in my previous article that I couldn't recommend the name at $47 until I saw a better quarter. Well, it appears we got that quarter here. Thanks to the great numbers, I'm going to raise the price point that I think you can enter at from the low $40s to the low $50s. However, given the name at nearly $60 now, I think that you have to short the name for at least a few points. Again, I'm not saying this is a long term short, nor do I think this is a bad company. All I'm saying is that we've run up too much, and I cannot recommend you get in at these elevated levels. I cannot justify the valuation here, so I would be short for now. Once we get under $54, you can start buying again.
Disclosure: I have no positions in any stocks mentioned, and no plans to initiate any positions within the next 72 hours.