We'll preface this article by saying that we use a combination of fundamental and technical factors in our investment decisions. Our core analysis is usually based on fundamentals, but we use technical analysis to confirm our fundamental analysis as well as the timing of our investment decisions.
We use the technical rankings discussed in this article as part of our analysis and we wanted to share this list with Seeking Alpha readers. Investors should use this list in conjunction with their fundamental analysis for a particular stock.
StockCharts Technical Rankings
Each day Stockcharts.com publishes its StockCharts Technical Rankings ("SCTR") for the S&P 500. The SCTR is a numerical score that ranks a stock within a group of stocks. The methodology for these rankings comes from the wisdom of John Murphy, author of many books on technical analysis. Stocks are assigned a score based on six key indicators, which cover different timeframes. These indicator scores are then sorted and assigned a technical rank. Using SCTR tables, investors can sort stocks according to their technical rank which makes it easy to identify the technical leaders and laggards within a specific group.
The indicator score is unique and powerful because it accounts for several timeframes. It is not tethered to one specific timeframe. A stock must score well with all indicators and all timeframes to earn a top indicator score and technical rank. The indicator score puts more weight on the two long-term indicators, which makes sense because the long-term trend is the strongest force. The weightings decline as scoring moves to the short-term indicators.
SCTR Calculation
Each stock is scored based on six different technical indicators. These six indicators can be subdivided into three groups: long-term, medium-term and short-term. The list below details these indicators, the relevant timeframe and the weightings. For a full description on how the SCTR is calculated click here.
Long-Term Indicators (weighting)
Percent above/below 200-day SMA (30%)
125-day Rate-of-Change (30%)
Medium-Term Indicators (weighting)
Percent above/below 50-day SMA (15%)
20-day Rate-of-Change (15%)
Short-Term Indicators (weighting)
3-day slope of PPO-Histogram (5%)
14-day RSI (5%)
Current Technical Rankings for the S&P 500 (as of 1/9/12)
The SCTR shows how a stock is performing relative to its peers, not a benchmark index. Indices, such as the S&P 500, are dominated by large-caps and may not truly reflect the market as a whole. Instead of benchmarking to one index, SCTR sorts all stocks within a specific universe, such as the S&P 500, S&P MidCap 400 or S&P SmallCap 600. In this regard, investors can see how Apple (NASDAQ:AAPL) is performing relative to Amazon (NASDAQ:AMZN), IBM (NYSE:IBM) and the rest of the stocks in the S&P 500.
Below is a list of the 10 strongest stocks in the S&P 500 based on the SCTR (as of 1/9/12).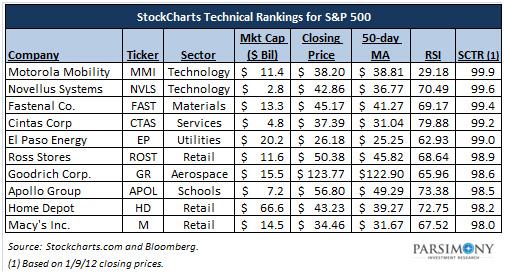 Click to enlarge
Tactical Strategy / How to Use These Rankings
As discussed above, the SCTR shows how a stock is performing relative to its peers. That said, it is a useful tool to use if you are trying to choose which stock to buy among several different candidates.
For example, let's say after detailed fundamental analysis you decide that you want to invest in a home improvement retailer based on the current state of the housing market. Both Home Depot (NYSE:HD) and Lowe's Companies (NYSE:LOW) look similar from a fundamental standpoint, but you are having trouble deciding which one to pull the trigger on.
For a situation like this, it is helpful to look at the SCTR to see which stock currently has the stronger technicals. As shown on the SCTR list above, Home Depot is currently the 9th ranked stock in S&P 500. Conversely, Lowe's is currently ranked 43rd.
Let's take a look at both charts to see what the difference in rankings really means.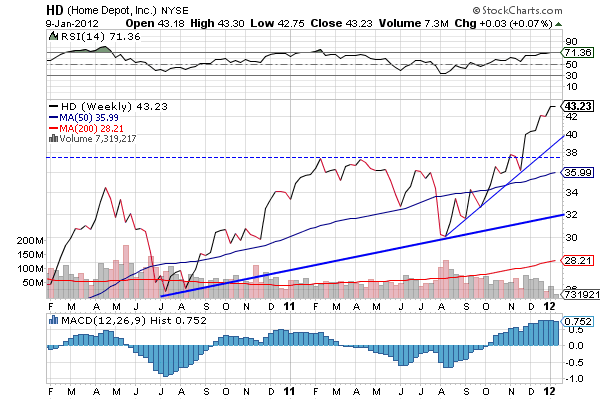 Click to enlarge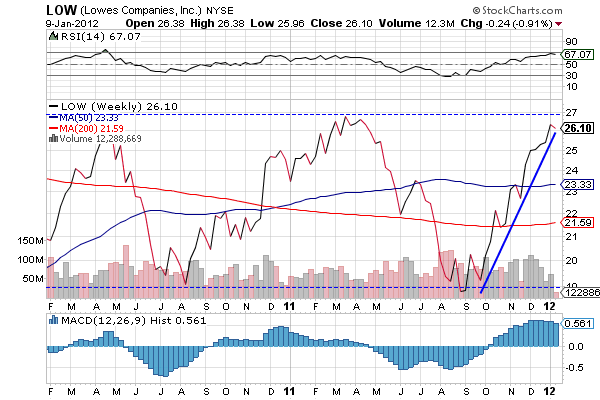 Click to enlarge
As you can see from the weekly charts above, both HD and LOW have been in a strong uptrend since August 2011. However, if you look at the performance of each stock over a longer timeframe, it's easy to see that HD's long-term trend is much stronger (including a strong breakout in November 2011). While LOW has been just as strong over the short-term, the stock has actually traded in a range ($19.00-$27.00) for the past two years.
In addition, LOW's peak to trough volatility has been much higher. From the March 2011 peak to the September 2011 trough, LOW declined approximately 30%. Conversely, HD declined less than 20% over that same period.
Based on a technical comparison of these two stocks, HD is currently the stronger stock to buy right now.
Disclosure: I have no positions in any stocks mentioned, and no plans to initiate any positions within the next 72 hours.