Investors are not exactly suffering for a lack of choice in oncology-related drug and biotech plays. From giants like Roche (Nasdaq: RHHBY.PK) to pure-plays like Celgene (Nasdaq: CELG) and emerging names like Medivation (Nasdaq: MDVN) or Seattle Genetics (Nasdaq: SGEN), investors could spend all day reading up on companies focused on developing drugs for the multi-billion-dollar oncology market.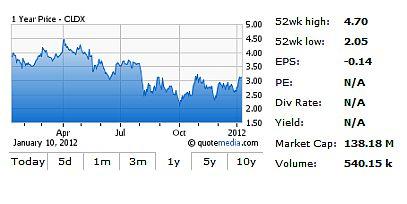 Amidst all that interest, Celldex Therapeutics (Nasdaq: CLDX) has to some degree fallen into the cracks and gone unheralded. With a Phase 3 drug for brain cancer, a potential Phase 3 candidate in breast cancer, and a relatively deep pipeline, it would seem that Celldex deserves more than a sub-$100 million enterprise value. Surely there are risks and tribulations ahead, but risk-tolerant investors may want to consider these shares before trial data and partnerships move the stock from these levels.
An Unconventional History
Celldex was once part of Medarex (which is now owned by Bristol-Myers Squibb (NYSE: BMY)), but spun out as a private company in 2005. Going public via the acquisition of AVANT Immunotherapeutics and later acquiring Curagen, Celldex moved the focus of the combined companies from Avant's origin targets of bacterial vaccines (for disease like cholera and dysentery) to what it has today - a number of targeted oncology immunotherapeutic vaccines and antibodies.
Taking A Shot At An Under-served Cancer
Celldex is not starting off in the kiddie pool; instead, the company is targeting a a very difficult-to-treat type of cancer called glioblastoma (or glioblastoma multiforme). The most common sort of brain cancer, glioblastoma is notoriously difficult to treat and median survival times are on the order of 14 months from initial diagnosis. Of those who are diagnosed in stage 3, only 14% make it to five years and 4% make it if the diagnosis occurs at stage 4.
Celldex is approaching this cancer with an unconventional approach. Rindopepimut (also known as CDX-110) is an immunotherapeutic vaccine, but it is not the same sort of vaccine as the well-known Provenge from Dendreon (Nasdaq: DNDN). Rindopepimut contains a small (13 amino acid) protein fragment that induces the production of specific antibodies that essentially flag the tumor cells to the patient's immune system and target them for destruction. As such, it is not nearly so patient-specific as Provenge and should be easier to produce (and sell).
Some Good, Some Bad With Rindopepimut
Rindopepimut seems to be quite effective in targeting certain types of glioblastoma and slowing the progression of the disease with relatively benign side-effects. A Phase 2b study (that lacked a randomized control) saw over 12-month progression-free survival, with two-thirds of patients progression-free at eight and a half months. By study-end, the overall survival was over 24 months.
Investors need to be very careful about this next part. Those results compare quite well with historical responses of 6.4 months (progression-free) and 15.2 months (overall) and standard-of-care responses of 6.9 months and 14.6 months, but it can be very misleading to draw survival benefit conclusions from historical data (as opposed to an actual randomized control arm). So, rindopepimut is absolutely worth further study and is an encouraging candidate, but there's still room for disappointment.
Investors also need to realize that rindopepimut will only be targeted (initially) at those glioblastoma patients who are positive for EGFRvIII – a mutant form of the epidermal growth factor receptor that we all have. Roughly one-quarter to one-third of glioblastoma patients test positive for this, but investors should realize that Celldex is pursuing a more limited indication. Success in EGFRvIII-positive glioblastoma will likely lead to some small trials in broader patient groups, but that's a subject for a later time.
The Big Bad
The worst data point on Celldex is the fact that Pfizer (NYSE: PFE) partnered with the company in 2008 to develop CDX-110 and then ended that partnership in 2010. Some on the Street have argued that Pfizer saw enough to believe that the drug either didn't work or didn't have enough market potential. That may well be true, but it may instead be true that Pfizer was busy with the integration of Wyeth and that in its large-scale restructuring a drug like this just no longer fit in with its priorities.
Celldex has certainly posted some encouraging data since Pfizer punted and the company has begun a Phase 3 study called ACT IV. This double-blind study will enroll 374 patients and is being powered to demonstrate 30-50% improvement in either progression-free survival or overall survival. Without going into a long statistical dissertation, the study design seems reasonable and robust (there's a back-up plan to extend the study and enroll more patients if the placebo response is stronger than expected). While there is a possibility of an early end to the study if the efficacy is good enough (the first interim look will be in 2015), investors should not expect data until 2016 or a filing until 2017.
Celldex has also begun another study of CDX-110 (ReACT) that will run as a Phase 2 study of 95 seriously ill (stage IV) patients that have failed prior standard of care therapy. Seventy patients will get Avastin, with half then also getting CDX-110 or a placebo. Twenty-five patients, having already been refractory to Avastin will get Avastin and CDX-110. The study will track normal endpoints like progression-free survival and overall survival.
The Breast Cancer Opportunity
Celldex investors will also soon learn if there's potential in CDX-011 (an antibody drug conjugate) in breast cancer. Early stage data was mixed (9.1 week progression-free survival), but the drug showed a notable response in triple-negative breast cancer (17.9 week PFS), a very hard-to-treat category. Here too the addressable patient population is relatively small – triple-negative breast cancer is about 15% of the total and some of these do respond to other agents – but their alternatives are not good.
Celldex should be releasing the data from the Phase 2B EMERGE study in the first half of 2012 (perhaps at ASCO). If positive, a Phase 3 study could be underway in late 2012.
Multiple Shots On Goal
Like much more well-known onco-biotechs Seattle Genetics and Exelixis (Nasdaq: EXEL), Celldex is looking to build a platform therapy company around its oncology immunotherapeutics. Beyond CDX-110 in glioblastoma and CDX-011 in breast cancer, Celldex does have multiple other drug candidates. CDX-011 could also get a further examination in advanced melanoma, though the efficacy of Bristol-Myers' Yervoy and Roche's Zelboraf have raised the bar for new compounds. Elsewhere, CDX-110 could get tested out in head/neck cancer and/or non-small cell lung cancer.
Celldex no longer lists CDX-1307 in its active pipeline (it was under investigation in bladder cancer), but CDX-1401 (another vaccine) is in trials, as is the antibody treatment CDX-1127. Behind these are three addition compounds in preclinical studies
A Crowded Market?
Glioblastoma is generally thought to be a market worth about $3 billion to $4 billion, with the EGFRvIII-positive subtype representing about a third of that. Even if safe and effective, Celldex may not have the market to itself. Roche is trying Avastin and Tarceva in glioblastoma, and other Big Pharmas like Merck KgA, Pfizer, and Bristol-Myers are at work here as well.
What's more, there are two approaches in the clinical quite similar to CDX-110 in many respects. Amgen (Nasdaq: AMGN) is trialing AMG 595 in brain cancers and tiny Northwest Biotherapeutics is also trying to advance a cancer vaccine candidate in glioblastoma.
Look For Partners
Although the Pfizer partnership did not go as hoped, investors should expect the company to look to partner its lead programs. As Dendreon has proven, it is difficult to go it alone when it comes to selling a drug. Moreover, many investors would dearly love to see the "blessing" that a Big Pharma partnership implies. The record of small biotechnology companies pursuing successful Phase 3 oncology trials is dreadful and though a partnership would certainly mean "splitting the pie", it would likely do wonders for how this stock/company/pipeline is perceived.
The Bottom Line
I value Celldex on the assumption of $400 million in sales of CDX-110 in 2020, discounted back at a 30% rate. I currently place no value on CDX-011 in breast cancer, nor assign any value to the pipeline. This results in a fair value north of $6, though it clearly assumes clinical and regulatory success for the drug. If Celldex can capture a larger share of the EGFRvIII-positive GBM market, or more of the GBM market in general, or demonstrate viable efficacy in breast cancer, there is easily the potential for this stock to triple.
Clearly this is not for the faint of heart; most drug candidates fail and most biotech investments ultimately lose money. But for those investors willing to take on the risks, Celldex could be a major winner in the years to come.
Disclosure: I am long OTCQX:RHHBY.