Last month I wrote an article about shorting stocks. There were some good points in it which need to be brought out today as some speculators consider shorting Sirius XM Radio (NASDAQ:SIRI) as it continues to edge higher in price. Andrew Feinburg wrote a wonderful article in the November 2011 Kiplinger about shorting. He admits a lot of people consider shorting to be "un-American", and as he points out, it can be extremely expensive if you make a mistake:
Many otherwise savvy investors simply don't (short), either because they don't know how or because they fear they'll end up on the wrong side of a one-time juggernaut like Netflix (NASDAQ:NFLX) and lose $60,000 on a $10,000 investment.
According to Feinburg you should never short a stock just because you think it is overvalued, but rather because there is something drastically wrong with that company. I know there are some Sirius Bears still around that think the stock is overvalued at anything over $2 a share. And most of them are basing their ideas on the same things.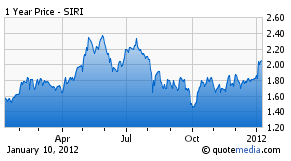 First, the P/E Ratio of 50 based on the share price of $2. That is enough to scare a lot of investors. However, with a closer look we see that according to Yahoo Finance the forward looking P/E is 28.57. And this number is not considering the news that the company beat the 2010 sub count by 20% which will have a dramatic effect on earnings for not only Q4 of this past year, but also for all of 2012. So far none of the analysts have revised their numbers upward based on last week's new information.
The debt is 2.7 billion. Another number that might scare a lot of investors. But this should not present a problem given the estimated free cash flow for 2012. According to Mel at the November 1, 2011 conference call:
And it gets better. Our 2011 guidance calls for our free cash flow to increase 75% next year versus 2011 to approximately $700 million, driven by improved operating results and lower capital expenditures. Let's put this in perspective. In 2012, we plan to grow our cash generation to nearly $2 million every day. That's including weekends and holidays. Truly an astounding statistic, which will obviously represent the best free cash flow in the history of the company.
And he has continued to reiterate this number. So based on his conservative nature and last week's news, this number will probably be even higher. Maybe a lot higher. Most Sirius investors want to see this money used to pay down this debt.
Still thinking about shorting Sirius? As I pointed out in another Seeking Alpha article last month, the stock has been on a steady incline for three years since the merger. Compare it here to the S&P:
SIRI vs. S&P 500
In my opinion, to short something with such a steep upward trend would be very dangerous. But there are still some who will. I am already seeing people online and on Twitter saying that they already did.
Just look at the volume of 200 million shares sold Thursday and Friday of last week, and see that the average price paid for those shares was around $2 each. Monday and Tuesday the volume was about 135 million with the price ranging between $2.00 and $2.09. That means over 335 million shares of Sirius XM stock have been bought at an average price of $2.02 over the past four trading days. Now consider all of the other shareholders who held their shares all the way up to $2.09. That forms a pretty strong bottom.
Many people feel that the stock is in a "short squeeze", meaning that a lot of the investors who own options on the 290 million shares that have been shorted are having to cover their bets which sends the stock price even higher. And some of them are probably panicking right now trying to decide what to do. Yet, there still are a lot of people who will risk shorting it now just because they think the price is too high. Like Feinburg said in his article, this is the worst reason to short a stock. The reason to short a company is when there is a lot of bad news about it. Sirius has only been bursting with good news.
Good news at a time when the economy has been in trouble. The Howard Stern announcement, the new Apple (NASDAQ:AAPL) App for Sirius XM internet on Apple gadgets, the new Lynx which is portable and can be used for satellite reception or WiFi internet radio, 2.0 and the addition of new channels including Latino, the used car deals, and the fact that subs for 2011 are up 20% over 2010 - all of this will push earnings way up. And did I mention they are a monopoly? These are reasons to go long on Sirius XM, not to short it. Still want to short it?
What part of "you can lose $60,000 on a $10,000 investment" did you not understand?
Disclosure: I am long SIRI.