A Lot of events are happening these days for Barnes & Noble (NYSE:BKS).
In my article dated January 5th, I indicated that the company can pursue two different lines of action for the near-term: One option is to spin off or sell its Nook business altogether, whereas the second option is to raise cash and fast by means of a stock offering or a rights offering.
On January 9th, the company's actions implicitly hinted at the first option. Barnes & Noble decided to promote its nook by offering steep discounts to its customers on one of its two tablets when they sign up for a one-year subscription to the Nook editions of either The New York Times or People magazine. By pursuing this line of action, Barnes & Noble hopes to increase the value embedded in their brand prior to a potential future sale of it.
The market applauded and BKS jumped by more than 4%, in light of this tremendous 'inspiring' offer by the company, not because shareholders expect a swift revival but merely because the sword of imminent dilution, by means of a stock offering to raise cash, was temporarily relieved.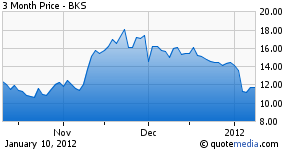 I cannot overstate this enough: BKS is by no means on its way to riches by pursuing this line of marketing. What it is actually doing is participating in a 'race to the bottom' competition with rivals who have much deeper pockets like Amazon.
On January 5th, I published my article: 33% Profit in 15 days. In it, I recommended to buy to close half of our short position and leave half of our remaining short position still in the trade. On our trade, we booked a 33% profit in 15 days.
I reiterate my short recommendation on BKS for our remaining 50%.
Disclosure: I am short BKS.