In September 2011 I wrote an article which looked at how Fortune Magazine's Top 10 Stock Picks for 2011 were faring, and whether they were on track to outperform the S&P 500 (as they did in 2010). The Top 10 stock picks included Mosaic (NYSE:MOS), Agrium (NYSE:AGU), Dow Chemicals (NYSE:DOW), Transocean (NYSE:RIG), Royal Dutch Shell (NYSE:RDS.A), Lennar (NYSE:LEN), East West Bancorp (NASDAQ:EWBC), Royal Caribbean (NYSE:RCL), Entropic (NASDAQ:ENTR) and Apple (NASDAQ:AAPL).
With year end complete I have again grouped the stocks in the order they were published in Fortune Magazine, and provided an update on market capitalization and net change in share price, summarized in the table below:
2011 Fortune Magazine Top 10 Stock Picks
click to enlarge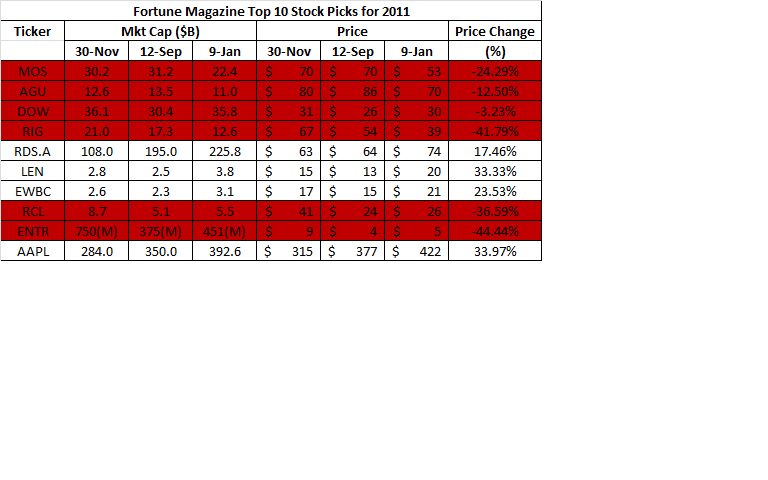 In terms of their performance, I will focus primarily on the current change in share price, as this is the factor that has changed most significantly. The clear outperformer of the stocks selected was Apple, which increased by $107 (34%) per share and continued to grow despite the death of its co-founder Steve Jobs. The other outperformers were Lennar by $5 per share (33%), East West Bancorp which increased by $4 per share (24%), and Royal Dutch Shell which increased by $11 per share (17%).
And as I wrote in September, the big challenge remained as to whether the six stocks trading at a significant loss would be able to recover and become profitable picks, or worst case, break even. Five of the six stocks delivered significant losses. The biggest loser is Entropic, dropping -44%, but recovering some ground from September when it was down -55%. Transocean's continued to slide finishing the year down -42% losing $28 per share. Royal Caribbean's market capitalization dropped by $3.2 billion losing $15 per share (-37%). The Mosaic Company closed out -24% lower, and Agrium finished -13% lower. Dow Chemicals had a marginal loss of -3%.
Overall, the performance shows the importance of diversification within stock selection, and the added importance of finding a 'stalwart' stock. Including AAPL in the overall result, an equal weighted portfolio covering all stocks would deliver a return of 7.34% for the Fortune Top 10. If you remove AAPL from the equation though, the return changes to a disappointing -13.99%. Looking deeper, the overall performance value may have finished in the black, but the volatility amongst the stocks throughout the challenges that 2011 posed is poles apart to say the least. Four of the 'tips' delivered negative returns in excess of 24% (two of which were greater than 40%) – sizable differences to test the patience of any fund managers.
In terms of the S&P500, how did it fare? On 30 Nov 10 it was trading at 1,180.55 - reaching a 52 week high of 1,363.61 on 29 Apr 11, and as I wrote this, it was sitting at 1,278.02, which represents a gain of 8.2%. Last year's S&P500 returned a performance of 9% versus Fortune Magazine's Top 10 returning 16.7%. It would appear that in a tumultuous trading year, investment in an S&P 500 fund would have delivered a marginally better return, with less exposure to specific stock volatility. It will be interesting to see how Fortune Magazine's Top 10 picks for 2012 perform this trading year.
Disclosure: I have no positions in any stocks mentioned, and no plans to initiate any positions within the next 72 hours.