I recently spent some time digging through data on sales of gold (GLD), silver (SLV), and platinum (PPLT) American Eagle bullion coins by the United States Mint. While delving into the nitty-gritty of the coin sales, I noticed a few fascinating details that might be of interest to precious metals investors. But before I share some of the interesting details, I have a question to ask:
What do you think this dressed-down chart illustrates?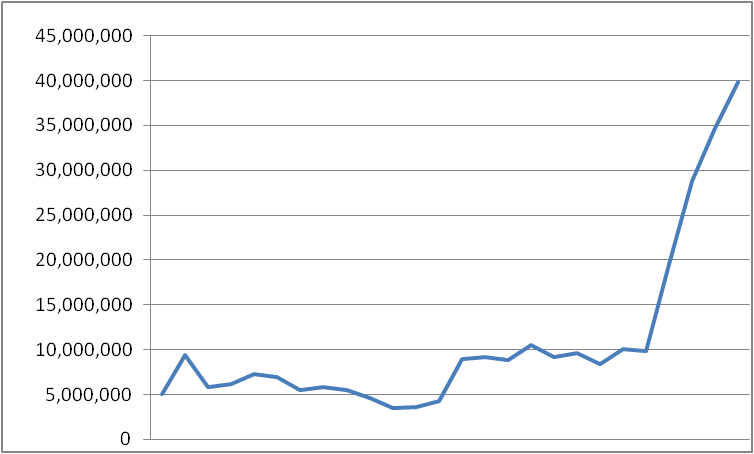 (Click to enlarge)
No, it's neither a chart of Apple (AAPL), nor an inverse chart of Netflix's (NFLX) price action over recent months. It's also not a chart of the accumulated losses suffered by Treasury (TLT) bears since the summer of 2011. Rather, it is a chart of the total number of ounces of American Eagle silver bullion sold by the United States Mint on an annual basis from 1986 through 2011. One of the fascinating things about the near-vertical line on the right side of the chart is that the massive sales of silver bullion by the Mint stand in sharp contrast to sales of gold (IAU), which have actually seen a decline since 2009.
Sales of American Eagle gold bullion, after reaching 1,435,000 ounces in 2009, declined 14.95% in 2010, and then another 18.07% in 2011 to 1,000,000 ounces. However, it should be noted that the 1,000,000 ounces sold in 2011 is still well above any of the annual totals from the pre-crisis part of the last decade. On a different note, the 2009 total of 1,435,000 ounces wasn't even enough to eclipse the top two years of annual sales in 1998 and 1999, when the Mint sold 1,839,500 and 2,055,500 ounces respectively. I found it surprising that despite a crisis during which the world's financial system was on the brink of collapse, gold couldn't reach new highs in 2008 or 2009 in terms of ounces sold by the U.S. Mint.
Silver, on the other hand, keeps setting record after record. In 2008, sales of silver American Eagle bullion absolutely exploded higher, nearly doubling from 2007 levels, and shattering the previous all-time high of 10,475,500 ounces in 2002. Then, from its level of 19,583,000 ounces sold in 2008, the Mint proceeded to sell 28,766,000 ounces in 2009; 34,662,500 ounces in 2010; and 39,868,500 in 2011. Amazingly, despite the vicious declines in the price of silver since its April 2011 peak, sales of American Eagle silver bullion by the U.S. Mint continued full-speed ahead.
From May through the end of the year, the Mint sold another 24.6 million ounces. The total from those eight months alone would be the fourth highest on record if it were its own calendar year. Furthermore, not since February 2008 has the U.S. Mint sold fewer than 1,000,000 ounces of silver in a single month. Before then, it was a regular occurrence to sell fewer than 1,000,000 ounces of silver American Eagle bullion in a month. Moreover, during the first two business days of 2012, the Mint sold 3,372,000 ounces of silver Eagles, just shy of the 3,393,000 ounces it sold in all of November and December 2011 combined!
Why is it that U.S. Mint sales of gold American Eagle bullion have lagged those of silver? Did it have something to do with the on-again, off-again suspension of sales by the Mint that simply hit gold harder than silver? If so, why wouldn't a build-up of demand during the suspension period have carried over afterwards?
Perhaps the reason for the drop in gold sales is that demand for gold and silver American Eagle bullion is ultimately driven by retail investors, and as the price of gold has gone higher over the past few years, retail investors began to favor "poor man's gold" (silver) in greater numbers. If this is the case, the next question we should ask is whether the shift to silver was driven by American Eagle gold bullion prices becoming unaffordable for investors or whether it was driven by a belief that silver was simply too cheap relative to gold and should therefore be bought.
If the demand for silver was driven by gold prices being too expensive for retail investors, it should be noted that American Eagle gold bullion coins are sold not only in one ounce increments, but also in one-half, one-quarter, and one-tenth ounces. While a one-tenth gold Eagle, plus the large premium attached to the coin, is certainly not going to be as cheap, in dollar terms, as an ounce of silver, it does at least provide an alternative to buying a one ounce gold coin for currently more than 50 times the price of an ounce of silver.
In addition, the U.S. Mint currently charges Authorized Purchasers (AP) of one-quarter ounce gold American Eagle bullion coins a 7% premium above the spot price of gold. The Mint also charges APs a $2 premium on silver American Eagle bullion coins. With silver currently at $30.00 per troy ounce, it means the Mint is currently charging APs a 6.67% premium to spot, roughly in line with the premium for the one-quarter ounce gold American Eagle. Therefore, if an investor moved from gold to silver American Eagle coins because the price of gold in dollar terms was too expensive, that investor now has a cheaper (although one-quarter ounce of gold is still many times the price of silver) alternative to buying a one ounce gold coin; and, the alternative comes at a similar premium. Of course, as the coins make their way from the Authorized Purchasers to dealers across the country, the premiums of a one-quarter ounce gold Eagle and a one ounce silver Eagle might change relative to each other.
If, on the other hand, investors moved away from gold American Eagle bullion coins into silver American Eagle coins because they believed silver was simply too cheap to ignore relative to gold, then the gold-to-silver price ratio is something investors should keep an eye on. It is fascinating that sales of silver did not seem to slow over any multi-month period leading up to silver's April 2011 high around $50 per ounce, nor in the months that followed. Therefore, the collapsing gold-to-silver price ratio in early 2011 didn't seem to convince those investors buying the coins that silver had become expensive relative to gold.
A couple other reasons contributing to the continued record breaking run of sales of silver American Eagle bullion coins and the drop off in sales of gold American Eagle coins could be the following: some investors might be favoring the more volatile of the two (silver), as a way of leveraging up their precious metals exposure. Also, perhaps there is simply a large hedge fund or two that will no longer be deterred from purchasing an asset they believe to be sound money and/or manipulated in price.
Whatever the reasons are for the amazing record-breaking run of American Eagle silver bullion sales by the U.S. Mint over the past few years, one thing is certain: tremendous volatility in prices has not appeared to deter buyers in the least. Also, when considering whether the chart in the beginning of this article might represent a bubble, keep in mind that even at $50 per ounce, 39,868,500 silver one ounce coins would cost just under $2 billion, and $2 billion of sales for one year is just a blip on the radar screen of the world's financial system.
In fact, when totaling up all the silver American Eagle bullion ever sold by the Mint from the program's inception in 1986 through the end of 2011, the number of ounces is 281,145,500. At silver's modern-day high of roughly $50 per ounce, which silver has obviously not averaged over that time period, the total dollar amount sold would only be slightly over $14 billion. This is a completely trivial amount in the grand scheme of the investing world.
The American Eagle Bullion program is just one slice of the physical market for precious metals. Yet the fact that such a small amount of dollar sales (for gold and silver) could cause the U.S. Mint to institute sales suspensions due to overwhelming demand helps to illustrate just how much prices and even premiums could spike if there were ever a run on the physical market. Even just a fraction of the dollars floating around the coffers of portfolio managers demanding physical delivery of precious metals could cause such a run. If that money ever started to move into the precious metals markets in earnest, Silver Wheaton (SLW), Newmont Mining (NEM), and Barrick Gold (ABX), among other miners (GDX), would certainly have their work cut out for them.