Pfizer (NYSE:PFE) has delighted investors this year as it has posted 20%+ gains over the past years. It just recently reached new 52-week highs. It seems like the stock is being properly valued by the market. Here are six points to look at while considering the case for investing in Pfizer:
Valuation: Pfizer's trailing five-year valuation metrics suggest that the company is fairly valued. Pfizer's current P/S ratio is 2.5 and it has averaged 2.6 over the past five years with a low of 1.9 and a high of 3.7. Pfizer's P/B ratio is 1.9 and it has averaged 1.9 over the past five years with a low of 1.3 and a high of 2.6. Pfizer's P/E ratio is 15.0 and it has averaged 15.0 over the past five years with a low of 9.8 and a high of 23.5. On a multiple basis, this is a company that trades around $20 and could trade for $30.
Price Target: The consensus price target for the analysts who follow Merck (NYSE:MRK) is $23. That is upside of just 7% from PFE's current price levels. This is very limited upside as analysts are usually bullish on stocks.
Forward Valuation: Analysts forecast that Pfizer will earn $2.31 per share next year. With a current stock price of $21.57, that is a forward P/E multiple of 9.3. Although there are no direct comps because of patents and proprietary products involved, it makes sense to look at what other large drug stocks are trading at. Abbott (NYSE:ABT) is trading 11.1 times next year's earnings. Lilly (NYSE:LLY) is trading 11.7 times next year's earnings. Merck is trading 10.0 times next year's earnings. PFE is trading below the mean forward P/E for the four large-cap drug stocks.
Earnings Estimates: Three out of the past four earnings reports, PFE beat EPS estimates by just a penny. The other beat was a 6-cent beat. Analysts seem to have a good grip on Pfizer's income streams so upside from earnings announcements may be limited.
Free Cash Flow: PFE generates significant free cash flow and has averaged nearly $14 billion over its past three fully reported fiscal years. The company has used that cash for business expansion as well as the return of capital to shareholders. Pfizer has paid out over $6.5 billion in dividends on average over the time period. In the first 9 months of 2011, the company generated free cash flow of nearly $14 billion and has bought back nearly $5.8 billion worth of stock and paid out $4.7 billion in dividends.
On December 12, the company boosted its share repurchase program and dividend. The board declared a 22-cent first-quarter 2012 dividend, an increase of 10% from 20 cents a share. The first-quarter 2012 cash dividend will be the 293rd consecutive quarterly dividend paid by Pfizer. The board also authorized a new share repurchase program for up to $10 billion in addition to the amount remaining under the current repurchase program. The company's dividend yield is now 4%.
Price Action: PFE has been strong this year, up more than 20% over the past year. After posting a strong rally in the first half of last year, the stock tumbled over the summer before bottoming at about $16.50 a share. The company has since rallied above the price levels achieved in the first half of last year to new highs at $22 a share. PFE has pulled back since reaching new highs of $22 a share. The stock is now 5% above its moving day average, which sits at $20.25. The first level of support is at $21 a share followed by above $20.
(click chart to expand)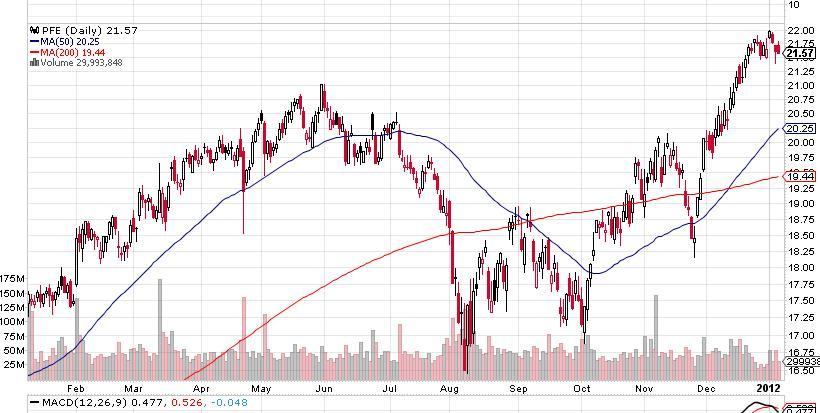 Click to enlarge
Conclusion: Pfizer's stock has been on a roll this year but it seems like it could be getting ahead of itself although it is the most undervalued relative to other large-cap pharma stocks. It is comforting to see that the company is not misusing its cash and is returning it to shareholders in the forms of dividends and share repurchases. For yield chasers, this may be a good opportunity with Pfizer's 4% dividend yield.
Disclosure: I have no positions in any stocks mentioned, and no plans to initiate any positions within the next 72 hours.