"We remain optimistic about the prospects for our Industrial business over the final quarter of the year and on into the early part of 2012"

-- Thomas Gallagher, CEO Genuine Parts (While discussing quarterly earnings performance of Genuine Parts on 18th October 2011)
Genuine Parts Company (NYSE:GPC) is a large cap stock and distributes automotive replacement parts, Industrial replacement parts, Office Products and Electrical and Electronics Material through its distribution centers in the U.S., Canada and Mexico. The company's latest quarterly revenue stands at USD3.2B, representing a 3% growth over prior quarter's revenue.
Latest Quarterly Performance Analysis:-
Genuine Parts Performance for third quarter 2011 was excellent owing to solid contribution/growth from/of all of its four business segments. Automotive and Industrial group are the largest operating segments and contributes about 49% and 33% of total company's revenue. The entire business segments grew satisfactorily except Office products. Office products decelerated modestly to 3% from 5%,since the beginning of the year 2011. The overall performance is as given below:
Three Months Ended on Sep. 30

2011

2010

Change (%)

Automotive

1.61

1.48

9%

Industrial

1.09

0.92

18%

Office Products

0.45

0.43

3%

Electrical/Electronic Material

0.14

0.12

22%

Discounts/Incentives etc.

-0.01

0.00

69%

Total

3.29

2.95

11%
Source: Latest Earnings Report (Company Website), all figures are in USDB
The key performance indicators are as given below: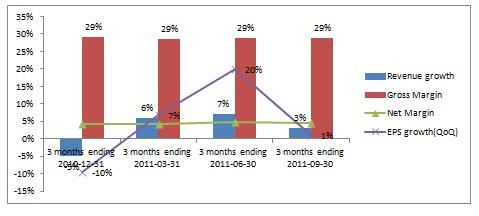 Source: Latest Earnings Report (Company Website), Finance Google website
Strengths:
1. Consistent Margins: Since last four quarters, Gross and net margins remained more or less constant at 29% and 4% respectively. (Average of four quarter)
2. Extensive Distribution Network: Genuine Parts has solid distribution network across U.S. In 2010,Company operated 58 domestic NAPA (National Automotive parts Union) automotive distribution centre located in 39 states and approximately 1000 domestic owned NAPA auto parts stores located in 42 states. For Industrial parts, it has 488 branches, 9 distribution centre and 46 service centers. It has solid network of distribution centers for other segments as well.
3. Refined Inventory Management: On an average it has about USD$2.3B worth of inventory on its balance sheet. Over last ten year losses to company from obsolescence has been insignificant and this is due to implementation of refined inventory classification system which helps determine optimum auto parts inventory level.
4. New Market Expansion: Company has acquired 30% stake in Exego group, the leading automotive distributor in Australia and New Zealand. This strategic initiative positions the company for significant long-term growth opportunities in Australia and New Zealand, as well as the potential for targeted growth in Asia
5. A good dividend stock: At current share price of USD61.78, its dividend yield is 2.91%It has strong track record of increasing the dividend for over fifty years. 2011 annual dividend of $1.80 per share represents a 10% increase from $1.64 in 2010 and represents a payout of approximately 60% of our 2010 earnings per share
6. Good Leadership Team: Leadership team has launched new initiatives to help increase market share and increase prices. Current ongoing cost saving initiatives resulted in USD$30M of savings through September this year. Reviewing pas key decision and future company focus, it is clear that leadership team has been committed to deliver values to shareholders.
Valuation: I did not do a detailed valuation and thus recommend a comprehensive analysis to arrive at appropriate intrinsic valuation. However some quick analysis which may help are as given below:
| | | | |
| --- | --- | --- | --- |
| | P/E | P/BV | P/S |
| Genuine Parts | 17.87 | 3.35 | 0.79 |
| Advance Auto Parts (NYSE:AAP) | 15.14 | 6.67 | 0.85 |
| AutoZone (NYSE:AZO) | 16.31 | NA | 1.6 |
| W.W. Grainger (NYSE:GWW) | 21.23 | 5.22 | 1.69 |
| Industry | 17.64 | NA | 0.66 |
Source: Finance Yahoo (as on 6th January 2012)
Based on P/E value, Genuine Parts does not look cheap. Ms. Mary Brown, Director at GPC, sold 1500 shares at $61.27 on 3rd January, Mr. Robert Loudermilk, another director at Genuine parts, bought 2,973 shares at $49.79(5th Aug 2011). Perhaps a purchase point around $49 might be a good entry point. Readers are recommended to do a deep research in order to find appropriate entry point.
Risk Analysis:
Management is not able to increase prices: In 2011, Management was not able to increase its bill rate to clients owing to contractual commitments and competitive pressure. In the absence of double digit growth or economic slowdown, a flat price structure will result in a lower gross margin.
Weak Performance of Office Product Segment: In latest quarter, the overall growth of this segment was just 3%, lowest growth rate in last four quarters.
Increased cost of Copper Price: The operating margin of electrical segment decreased to 6.9% from 7.3% in 2010.The decreased margin was mainly due to increased copper prices.
Economic Slowdown: Overall market slowdown will result in lower demand and thus lower supply of automotive components which will hurts its expected growth prospect in 2012.
In sum, a good dividend stock, investors who like a stable stock (low beta) with good cash flow may consider this one.
Disclosure: I have no positions in any stocks mentioned, and no plans to initiate any positions within the next 72 hours.