Permanent portfolios have been popular and very effective in the past 15 years. In Permanent Global Portfolio ETF Plan, it describes Harry Browne's original portfolio:
In his "Fail-Safe Investing" book, Harry Browne proposed this one-size-fits-all portfolio that he called the 'permanent portfolio.' His theory has been discussed in numerous articles like this. A mutual fund PRPFX was constucted and named after his theory. The following consists of the portfolio's components.
25% in U.S. stocks, to provide a strong return during times of prosperity. For this portion of the portfolio, Browne recommends a basic S&P 500 index fund such as VFINX.
25% in long-term U.S. Treasury bonds for deflation protection.
25% in cash in order to hedge against periods of "tight money" or recession. In this case, "cash" means a money-market fund.
25% in precious metals (gold, specifically) in order to provide protection during periods of inflation. Browne recommends gold bullion coins.
We use VFINX, VUSTX, VFITX, VFISX, CASH and GLD for the above components. Investors can compare the model portfolios in this plan with this static portfolio.
PRPFX is a well known mutual fund that implements the permanent portfolio concept. From its recent report (pdf), the following describes its portfolio structure:
Portfolio Structure
Gold 20%, Silver 5%
Swiss Franc Assets 10%
U.S. and Foreign Real Estate and Natural Resource Stocks 15%
Aggressive Growth Stocks 15%
U.S. Treasury Bills, Bonds and Other Dollar Assets 35%
Mebane T. Faber's article in seekingalpha.com describes a way to using timing (10 month moving average) on a static diversified endowment portfolio:
Endowment Model
20% US Stocks (S&P 500) VFINX or SPY or VTI
20% Foreign Stocks [MSCI EAFE] VGTSX or EFA or VEU
20% US 10Yr Gov Bonds VUSTX or IEF or EDV
20% Commodities [GSCI] QRAAX or DBC or GCC
20% Real Estate [NAREIT] VGSIX or IYR or VNQ
Each of the above asset is guard banded by 10-month moving average. When a fund falls under the moving average, it is sold and the portion is kept in cash. The model portfolio is P Diversified Timing On Endowment Asset Allocation Model SMA 10 Months With Long Treasury
One can further improve this model by trying to put a 10-month moving average on a similar 'permanent' portfolio by substituting the Commodities portion with Gold GLD. The result is the P Diversified Timing On Permanent Portfolio SMA 10 Months With Long Treasury.
The following compare the performance of the three portfolios and PRPFX.
Portfolio Performance Comparison (as of 1/06/2012)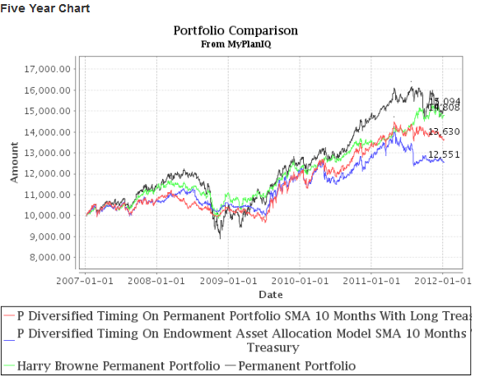 Click to enlarge
See detailed comparison data in this link.
One can see that P Diversified Timing On Permanent Portfolio SMA 10 Months With Long Treasury had very reasonable return (6% in five years) with very acceptable maximum draw down (13% in the last five years). This can be a portfolio for a retiree who is concerned about portfolio volatility. PRPFX's maximum draw down of 27% is bit too steep for many income/safety first investors.

Disclosure: I am long IYR, GLD, TLT.
Disclaimer: MyPlanIQ does not have any business relationship with the company or companies mentioned in this article. It does not set up their retirement plans. The performance data of portfolios mentioned above are obtained through historical simulation and are hypothetical.