The freight railroad industry in the U.S. is highly concentrated with a handful of full of firms dominating the market. With the passage of the Staggers Rail Act of 1980 which deregulated the industry and sparked an era of mergers and acquisitions, the number of Class I railroads dramatically shrank from over 30 to just four. Contrary to the teachings of the free-market capitalism, U.S. Federal regulators and politicians seem to believe in the "four is few and six is many" phrase with respect to one of the main modes of freight transportation in the country.
Click to enlarge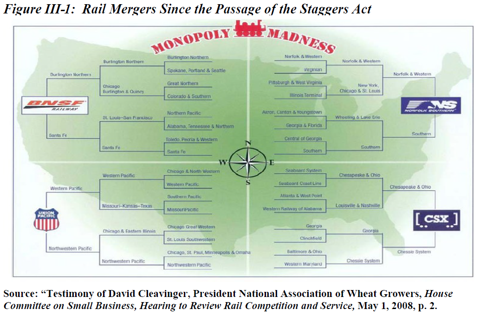 Source: Bulk Commodities and the Rails: Still Crazy after all these years, Dr. Mark Cooper, Consumer Federation of America
The five Class I US-based freight railroads operating in the country are:
BNSF Railway
CSX Transportation (NYSE:CSX)
Norfolk Southern Railway (NYSE:NSC)
Kansas City Southern Railway (NYSE:KSU)
Union Pacific Railroad (NYSE:UNP)
Kansas City Southern Railway is the smallest of the Class I railroads and operates in ten central U.S. states and Mexico with about 6000 miles of track under its control.
The railroad industry can be considered as a oligopoly and for many captive shippers it is actually a monopoly since they are serviced by only one railroad.For example, two-thirds of coal shipped by rail is captive to a single railroad. With over 90% of rail traffic shared among the four rail carriers and healthy competition mostly eliminated, railroads enjoy enormous pricing power.
From an investment standpoint, U.S. railroads offer an excellent opportunity for long-term investment. Among the five US-based Class I railroads, BNSF Railway is privately owned as Warren Buffet's Berkshire Hathaway (NYSE:BRK.A) bought the company in 2009.
The following chart shows long-term performance of the other four railroads:
Click to enlarge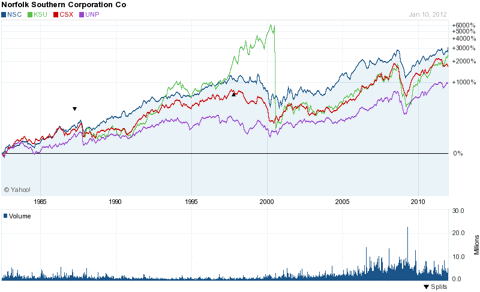 Source: Yahoo Finance
Disclosure: Long NSC, CSX