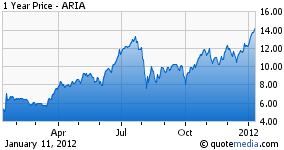 Ariad Pharmaceuticals (NASDAQ:ARIA) is a biopharmaceutical company focusing on the discovery, development and commercialization of small-molecule drugs for the treatment of cancer. The company's lead cancer product, Ridaforolimus, is being studied in multiple clinical trials in patients with various types of cancers. These include metastatic sarcomas, breast cancer, endometrial cancer, prostate cancer and non-small cell lung cancer.
Its product pipeline also includes Ponatinib, a pan BCR-ABL inhibitor in a phase 2 clinical trial for applications in various hematological cancers and solid tumors; and AP26113, an anaplastic lymphoma kinase inhibitor in preclinical studies for the treatment of various cancers, including non-small cell lung cancer, lymphoma and neuroblastoma. In addition, the company focuses on a drug discovery program centered on small-molecule therapies that are molecularly targeted to cell-signaling pathways implicated in cancer.
Ariad licenses its ARGENT cell-signaling regulation technologies to pharmaceutical and biotechnology companies to develop and commercialize therapeutic products as well as conduct drug discovery research. The company has collaboration and license agreements with Merck & Co., Inc. (NYSE:MRK) for the development, manufacture and commercialization of Ridaforolimus. Also, they have license agreements with Medinol Ltd and ICON Medical Corp to develop and commercialize stents and other medical devices to deliver ridaforolimus to prevent restenosis of injured vessels. Ariad Pharmaceuticals, Inc. was founded in 1991 and is based in Cambridge, Massachusetts.
Ariad has just recently made a 52-week high of 14.06. This is the highest the stock has traded in years. Speculation is very high on Ariad, considering they have yet to receive FDA approval on any drugs in the pipeline.
Drug pipeline and stock catalysts include:
NDA filings in the U.S. and Europe of the drug Ridaforolimus.
On October 11th, 2011, Merck and Ariad Pharmaceuticals reported the FDA had accepted for filing and review the New Drug Application (NDA) for Ridaforolimus, an investigational oral mTOR inhibitor under development for the treatment of metastatic soft-tissue or bone sarcomas in patients who had a favorable response to chemotherapy. The FDA assigned a Standard review classification to this application. The NDA for Europe was accepted two months prior.
Merck and Ariad are partnered in Ridaforolimus as part of an exclusive license agreement with Ariad, Merck is responsible for the development and worldwide commercialization of Ridaforolimus in oncology. Ariad intends to co-promote Ridaforolimus in the United States.
The Ridaforolimus Phase 3 clinical was based on 552 progression-free survival (PFS) events in 711 patients. The clinical results consisted of Ridaforolimus (N=347) and placebo (N=364) determined by an independent radiological review committee.
The study achieved its primary endpoint of improvement in PFS, with a statistically significant (p=0.0001) 28% reduction in the risk of progression or death observed in those treated with Ridaforolimus compared to placebo (hazard ratio=0.72). Median PFS was 17.7 weeks for those treated with Ridaforolimus compared to 14.6 weeks in the placebo group. Furthermore, based on the full analysis of PFS determined by the investigator assessment, there was a statistically significant (p<0.0001) 31% reduction by Ridaforolimus in the risk of progression or death compared to placebo (hazard ratio=0.69). In the investigator assessment analysis, median PFS was 22.4 weeks for those treated with Ridaforolimus compared to 14.7 weeks in the placebo group.
In other words, Ridaforolimus has so far been shown to be successful as a sarcoma cancer maintenance drug. While certainly not a cure for this type of cancer, Ridaforolimus has been effective in delaying the progression of the disease, prolonging a patients life.
Ariad received two milestone payments recently from Merck. Ridaforolimus marketing authorization application has been filed (MAA) with the European Medicines Agency (EMA) and accepted. The other milestone was for the NDA filing in The United States, also accepted.
The combined total of these milestone payments is $50 million.
The next drug in the Ariad pipeline is Ponatinib.
Ponatinib is an experimental oral drug candidate for the treatment of chronic myeloid leukemia (CML) and Philadelphia chromosome positive (Ph+) acute lymphoblastic leukemia (ALL). It is a multi-targeted tyrosine-kinase inhibitor. Some forms of CML, those that have the T315I mutation, are resistant to current therapies such as imatinib. Ponatinib has been designed to be effective against these types of tumors.
In other words, Ponatinib is designed to aggressively attack and arrest further progression of certain types of leukemia.
Phase 2 is ongoing, with the trial fully enrolled and all patients evaluable. Seventy-two percent of chronic-phase CML patients treated with Ponatinib achieved a major cytogenetic response (MCyR), including 92% of patients who also had a T315I mutation.
On a very positive note, ARIAD will be accepting "compassionate use" requests on a case by case basis only from trial centers worldwide which participated in the PACE Phase II trial of Ponatinib.
Preliminary clinical data from the pivotal PACE trial demonstrate that 47% of chronic-phase CML patients in the trial achieved a major cytogenetic response to date, including 65% of patients who have a T315I mutation. Approximately half of these patients had no more than a single bone-marrow assessment, while the remainder had two or more assessments.
Ariad 's next drug in their pipeline is AP26113.
AP26113 is a small-molecule targeted cancer therapy developed by Ariad . AP26113 has exhibited activity as a potent dual inhibitor of anaplastic lymphoma kinase (ALK) and epidermal growth factor receptor (EGFR). This compound targets a unique genetic feature of cancer cells and Ariad has started a Phase 1/2 clinical trial of AP26113 based on patients' molecular diagnoses in September 2011.
Many feel that AP26113 has the most promise of all the pipelined drugs. A few doctors I have spoken with have told me AP26113 could potentially be a kind of cure for certain cancers. If it turns out to be a cure, then Ariad will really strike the gold mine.
Now that we have reviewed the Ariad drug pipeline, let's look at the three-year chart and how investors have speculated the potential impact of these drugs eventually making it to market:

In April 2010, Ariad was selling for around $3 a share, As of this writing, Ariad is selling for $13.77 a share. We can clearly see the positive speculation in play here. I see Ariad going much higher in 2012 as we get closer to FDA approval for Ridaforolimus, expected sometime in 2012.
Institutional ownership is very high for this kind of high speculative stock, around 70%. The current market cap on Ariad is around $2 billion which I feel is warranted because of the great potential here. I also like the current management and encourage people to do deeper DD on them.
Recently, Rodman & Renshaw made bullish statements about the potential of its Ponatinib treatment and other drugs in its pipeline, and raised the price target from $15 to $18.
Analysts have put a $23 price target on Ariad. My estimation in 2012 for Ariad is $18 to $23. My longer term estimation is much higher, as I see Ariad over $50 in three years or less.
Because they have yet to have any drug mentioned here approved by the FDA, there is considerable high risk. However, the potential reward from Ariad in the long term could bring back 5 to 10 times the current pps.
For this reason, I recommend it a strong buy for the more risk taking investor.
Other riskier biopharma stocks with potential large gains in the long term on my watch list are:
Dendreon, (NASDAQ:DNDN) Ampio Pharma, (NASDAQ:AMPE) Titan Pharma, (OTCQB:TTNP) Cytosorbents, (NASDAQ:CTSO) Geron, (NASDAQ:GERN) Amarin, (NASDAQ:AMRN) and SIGA Technologies. (NASDAQ:SIGA).
For the long term, my pick with the most potential (risk/reward) is Antares Pharma (AIS). You can refer to my author profile here to read my articles about Antares Pharma and why it is my highest rated small cap pick of 2012.
Disclosure: I am long AIS.