When investing using options, you should use my #1 rule, the golden trinity (fundamentals, technicals, and catalysts). Many new option traders fail simply because they time the stock wrong. The Golden Trinity Checklist helps option enthusiasts avoid such pitfalls. I will use this article to analyze Dunkin' Donuts (NASDAQ:DNKN) stock using this method.
Fundamentals
1.5 billion in debt that matures in 2017
Free cash flow annually around 100mm
Forward P/E 21.12
Rising coffee prices with management having no hedges and no fundamental way to be able to pass on the cost to consumers
The fundamental analysis is bleak at best with high debt maturing soon that will most likely be rolled over at a less favorable interest rate. Higher coffee prices eat into franchisee profits with the inability to pass along rising costs due to being in the middle of the market. Also, the stock is currently trading at a premium to McDonald's (MCD) and Starbucks (SBUX). (Source Yahoo)
Technicals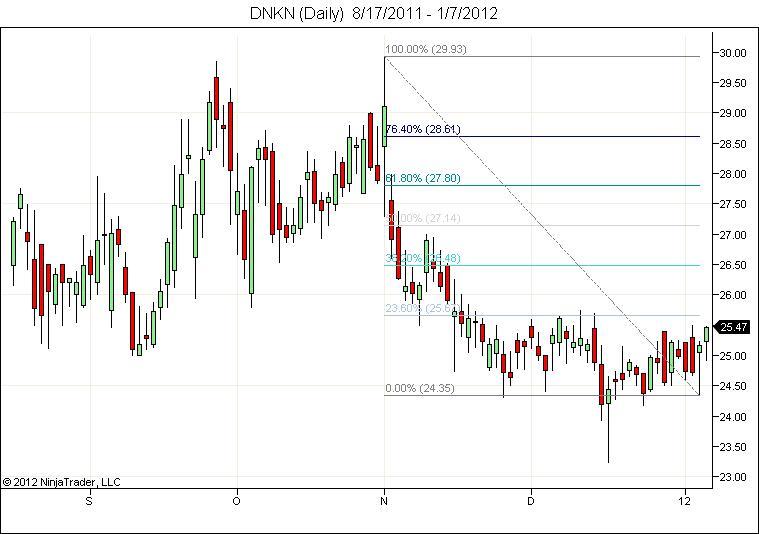 Click to enlarge
The Fibonacci Retracement level of 23.6% is a key level. If it holds at the 25.67 price zone then the stock will most likely drift lower, given the bearish candle sticks breaking below the 0.0% retracement.
If the key price level breaks to the upside then I do not see the stock getting above 26.50 or the 36.2% retracement, but the possibility for major downside is evident due to the lack of support below the 0% retracement.
Catalyst
End of IPO lock-up: January 21 (22.25mm shares)
The ending lock-up will have a huge downward pressure on the stock in the near term. Think about LinkedIn (NYSE:LNKD), Youku (NYSE:YOKU), Motricity (MOTR), and Tesla Motors (NASDAQ:TSLA). With 94% of the stock being held by institutions, it would be very possible to see a rush to protect profits being that the current stock price is well above the $19 issue price. Little buy-side liquidity due to the fact the stock, on average, is trading less than 1 million shares per day will only fuel the selling pressure. (Source Nasdaq)
The Golden Trinity Check list:
Have fundamentals on your side
Use technicals to establish entry and exit points and stock price velocity
Have a catalyst for option trading
Disclosure: I am short DNKN. Investing is risky doing so may cause loss of principle. My article should only be used for informative purposes.