At the conclusion of 2011, I loathed my portfolio for what I felt it had become. If you say a "sea of red," you would only be partially correct. Like most investors, I didn't fare particularly well for one reason or another. But the primary reason for its dismal performance had much to do with just how imbalanced it was. Of course I only had myself to blame for the many myths that I had held on to that forced me to also hold on to sectors that consistently underperformed.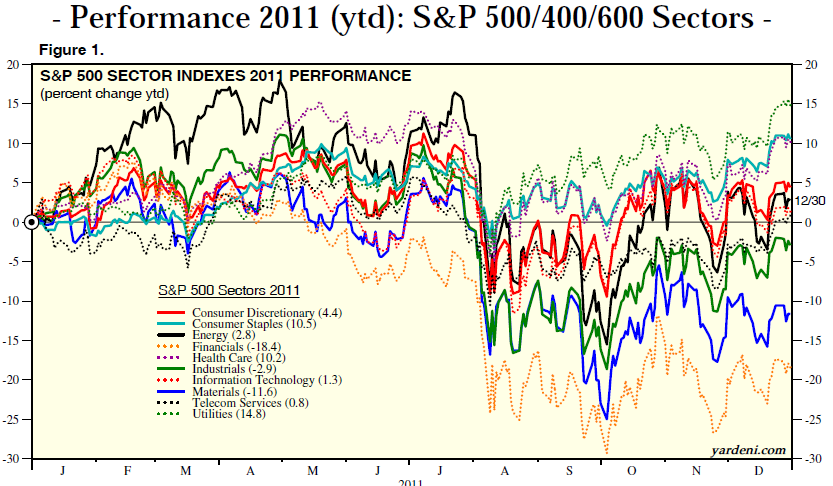 At the end of 2011, I promised myself that not only would I do away with those myths, but I would also exercise balance in my portfolio and consider companies and sectors that had been ignored, yet exceeded all expectations. Although optimism has returned in the market, "safety net stocks" such as utilities and consumer staples will always serve a great need. This is a lesson that I learned too late in the year as I focused too heavily on technology with my Holdings in Cisco (NASDAQ:CSCO) as well as consumer discretionary holdings such as Sirius XM (NASDAQ:SIRI).
This year, I have adjusted my thinking to also place an emphasis on stocks that will always serve a purpose to consumers – some that are non-negotiable, because regardless of market conditions, consumers will always need utilities, toothpaste and the all important healthcare. If you need more reasons to consider healthcare as lucrative for your portfolio in 2012, you should consider that the U.S. has seen two sequential quarters of strong growth in personal health expenditures. As people are starting to live longer, it stands to reason that this trend should also continue.
Abbott Labs (NYSE:ABT)
Abbott Labs obtains a great portion of its profits from pharmaceuticals. Nevertheless, this is a company with excellent long-term growth characteristics and compelling drivers for future growth. The company's new stent platform is capturing share from the rest of its peers, and I believe many investors under-appreciate the quality and growth potential of Abbott's diagnostics franchise. With a solid long-term record of cash flow growth, a good return on capital, no major patent issues and manageable debt, I believe dividend-seeking investors stand to benefit a great deal from the standpoint of excellent income and tremendous growth.
The company recently announced plans to split into two separate public companies, with one focused on pharmaceuticals and the other on medical products. Abbott plans a tax-free distribution of shares of the pharmaceutical company to existing shareholders by the end of 2012. The businesses that are staying with Abbott are projected to have approximately $22 billion in revenues in 2011. These include medical devices, nutritionals for both children and adults, diagnostic products and generic pharmaceuticals sold outside the United States. The company is targeting double-digit annual earnings growth once the separation is complete, an even more ideal reason that it deserves a long look.
Merck (NYSE:MRK) and Pfizer (NYSE:PFE)
Merck and Pfizer are interesting considerations here, because aside from the fact that they pay a respectable dividend, both stocks are sitting at 52-week highs. To me this has always been a sign to wait for the pullback. But with this being a new year and all, well I've gotten a new perspective and as I've said previously, I'm putting behind some old myths.
Having said that, it remains hard to assess where either company is and where they might be going. Despite the positives in the stock, there are some concerns of both companies that are legitimate. Some of which has had to do with limited R&D pipelines. But despite all of that, I continue to believe that over the long-term there will be some value in both stocks.
As big cap drugs have been laggards for several years, investors have plenty of choice in the space. Much of what can be said about Merck can also apply to Pfizer and vice versa. However, Merck in particular offers a solid dividend payout and a relatively stable, if not exciting, business outlook. While drug companies for the most part have spent many years trying to regain investor trust, it may be time to reevaluate them and appreciate them for the cash flow they do still offer.
Boston Scientific (NYSE:BSX)
One of the best turnaround stories in the healthcare sector continues to be that of Boston Scientific. The company is one of the leading producers of medical devices that are used in a range of interventional medical specialties. Its main challenge centers on trying to secure better and decent footing in the drug-coated stent market vacated by Johnson & Johnson (NYSE:JNJ). Many analysts became optimistic of the company when JNJ conceded the market, but Boston Scientific have been unable to prove that it can win in the market.
This is a bet that I am willing to place on a stock that is now trading at $5.30, and only percentages away from its 52 week low. The company needs to show that it can execute and reduce some expenses. That is not often an easy request for firms that rely heavily on R&D. Having said that, with the prospects of this sector as well as my willingness to wait it out, I am inclined to add BSX at current levels.
Disclosure: I am long SIRI, CSCO.