The current online issue* of The Lancet Infectious Diseases presents the results of Vical's (NASDAQ:VICL) Phase 2 proof-of-concept trial for its TransVax therapeutic vaccine. According to the company, TransVax is a first-in-class DNA vaccine designed to prevent reactivation of latent cytomegalovirus, of CMV, or the introduction of the virus through donor cells or tissues in transplant recipients. The product is in late-stage development. Proof-of-concept in achieving CMV viral load reduction has now been shown in susceptible hematopoietic stem cell transplant, or HSCT, patients. CMV is a herpes virus that infects more than half of all adults in the United States by age 40, and is even more widespread in developing countries.
In the paper published by Kharfan-Dabaja MA, Boeckh M, Wilck MB, et al., the authors cited a Phase 2 trial in which up to 80 donor-recipient pairs and 80 unpaired recipients undergoing allogeneic HSCI were planned for enrollment at 16 transplant centers in the United States. Eligible recipients were cytomegalovirus-seropositive, 18-65 years old, without high-risk primary disease, T-cell depletion, previous vaccination for cytomegalovirus, or autoimmunodiseased. Other details pertaining to the methods employed can be found in the paper. The primary outcome was the occurrence rate of clinically significant viraemia resulting in initiation of cytomegalovirus-specific antiviral therapy in the per-protocol assessable population. The study details can be found here.
The results of the study (which were produced using 94 HSCT recipients and 14 paired donors for reasons due to a shortened enrollment period) showed the vaccine significantly reduced the occurrence and recurrence of cytomegalovirus viraemia and improved the time-to-event for viraemia episodes compared with the placebo. Importantly, the vaccine was well-tolerated, with only one participant leaving the study because of an allergic reaction. There was no difference between the two groups vis-à-vis the incidence of common adverse events after HSCT.
Based on the Phase 2 results, Vical's partner, Astellas, expects to initiate a pivotal, multinational Phase 3 trial of TransVax for hematopoietic stem cell transplant recipients, and a Phase 2 efficacy trial of TransVax for solid organ transplant, or SOT, recipients, both in the first half of 2012.
Technical Analysis
As seen in the daily chart below (courtesy StockCharts.com), the stock is hovering just above the 200-day moving average. The MACD chart is negative. As well, on the weekly chart, the stock is sitting just above the 50-week moving average, with a negative MACD chart. One is led to conclude that the smart money still is distributing this stock to weak hands.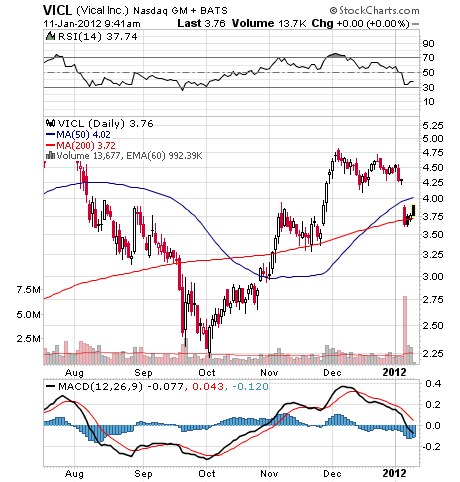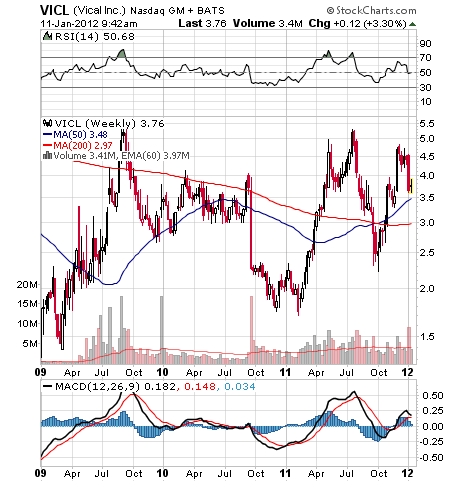 *Kharfan-Dabaja MA, Boeckh M, Wilck MB, et al. A novel therapeutic cytomegalovirus DNA vaccine in allogeneic haemopoietic stem-cell transplantation: a randomized, double-blind, placebo-controlled, phase 2 trial. Lancet Infect Dis 2012; published online Jan 10. DOI:10.1016/S1473-3099(11)70344-9.
Disclosure: I am long VICL.
Additional disclosure: I am long VICL and will not alter my position within 72 hours of the time of publication of this article.