The painful and chaotic year of 2011 has passed, and year 2012 has begun. As investors learned last year, while company-specific factors are important to a stock, macroeconomic factors can have tremendous influence on the valuation of a stock too. At this time of the year, many investors are trying predict changes in economic conditions in the year and rearrange their capital allocations across industries accordingly. As a person with educational trainings and professional experiences across the two sides of Pacific Ocean, I'd like to offer my view on the trends of several major economic factors and their impacts to companies within ten industries in China.
First of all, let me set straight my predictions of selected economic factors in China for this year:
Inflation Growth Rate – As shown in the following graph, China's CPI growth rate started the year at 4.9%, gradually increased to 6.5% in summer, and then continuously decreased to 4.2% in November. Most economists in China expect inflation to further ease to around 3.5% in 2012, a reasonable and unbiased estimate in my view considering the trend of the rate over the past six months.
The wild card, however, is the degree China central government will lower interest rate to pump additional monetary supply to the market. From the speeches of some national leaders lately, it seems that the government is leaning toward making bold moves to ensure economic growth and confidence in stock market. If that's the case CPI growth can certainly stay at or slightly above 4%. Because governments all over the world are printing money to buttress their economies right now, I expect oil-related products and materials to inflate faster than average, because historically, most excessive money supplies go into these two groups.
Note that there is another inflation gauge – PPI – that meant to measure inflation at producer level. Historical data in China shows that PPI growth can be higher or lower than CPI growth for any given month, but on a yearly basis the two indices match pretty closely. Since there is no strong evidence suggesting that PPI growth will be higher or lower CPI for next year, to simplify my analysis I'll just use CPI growth estimate to represent inflation at both consumer and producer levels.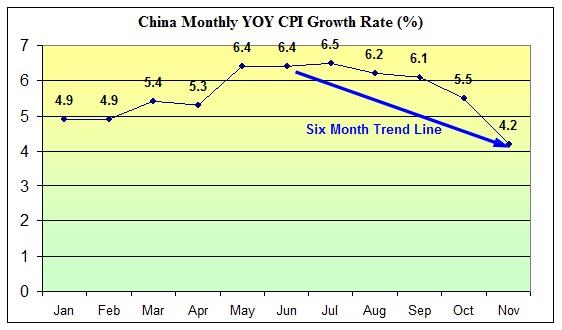 Interest Rate and Bank Reserve Requirement – most people know that China's central government was in a stifling monetary tightening run for almost a year from December 2010 to November 2011, sending benchmark inter-bank lending rate to 5.6% and bank reserve requirement to startling 21.5% in November 2011. The super high bank reserve requirement put most banks in China in a "lending drought" for half year or longer because they have used all their lending quota before summer. As a result, companies wishing to borrow money last year had to resort to private lending house and exorbitant annual interest rates of 50% or higher!
Contrary to most American investors' understanding, the lending drought not only affected small to mid size companies, but also large companies, including state-run enterprises. (This video summarizes the situation very well.) Under this circumstance, investors' demand on some strong Chinese companies to borrow money to finance growth last year was really a muted point, and the hypothesis that if a company does not leverage up to finance highly accretive expansion plans there must be a serious problem in the company is a complete fallacy. Companies with good growth opportunity may and should refuse to leverage up if they have to pay over 50% on interest charges a year.
In a quick turn of policy, it announced first cut on bank serve requirement effective on December 5, 2011. Most economists expect that China central government will further cut bank reserve requirement by 50 basis points in the first quarter of 2012 and several times more throughout the remaining of the year. With the aim at curing the aforementioned lending drought right now for all companies and the president of China making recovering investors' confidence in the stock market as one of the primary goal for year 2012, I agree that the central government will lower bank reserve requirements by several notches. The goal will to unfreeze at least one trillion RMB of lending capacity at major banks, to allow companies with legitimate and good use of capital to borrow at below 10% annual interest rate, for the benefit of the economy.
As for a benchmark interest rate, it is not so clear cut. Some economists are seeing a stable level at least for the short term in order to make sure that inflation pressure is well controlled, while some economists such as the ones in Goldman Sachs and HSBC are seeing rate cuts in 2012. I am tilted to the camp of interest rate cuts because as I can remember in the past China central government always cut interest rate while lowering bank requirement and because at this point inflation is seen to be falling, not rising, in 2012, even under moderately accommodative monetary policy.
Domestic Consumption and Retail Sales – China central government started turning its focus from expanding export to expanding domestic consumption in 2010. As a result, domestic consumption and retail sales both enjoyed strong growth in 2011. Total retail sales increased by about 17% year over year in 2011. Seeing continued softness in export this year. China central government ministries are teaming up to implement strong measures to further boost domestic consumption this year. For next year, economists in China State Information Center is expecting retail growth to maintain the same growth rate of 17% this year. If China central bank does lower reserve requirement and interest rates by several notches, I think it is likely that domestic consumption and retail sales will both grow even faster this year.
Export & Import – China's monthly trade surplus shrank dramatically in summer when European debt crisis hit and global stock market collapsed. However, the series has largely swung in a tight range from last August to November. Both export and import experienced additional dip in the last month of 2011. However, I think that this is a random caused by some temporary factors such as colder than normal temperature over the past two months in China and that China central government will be even more determined to increase monetary supply and implement other expansionary measures to boost domestic consumption.
The big rises of Chinese stock indices on 1/10/2011, the day the data was published, proved that most market participants share my view. For the whole year, China Trade Minister is estimating a trade surplus of about $160 billion for 2011, 15% below the surplus of $190 billion in 2010. For the next four years, China Ministry of Commerce is aiming at an average annual growth rate of 10% for both export and import, implying an average annual growth rate of 10% as well for trade surplus.
It is unclear what growth rates the ministry is aiming at specifically for year 2012. Because China central government is putting growing domestic consumption and retail sales and spreading wealth to the huge underdeveloped areas in the north, west, and south-west regions and because I expect RMB to keep on appreciating, I estimate import will grow at a faster pace than export, probably close to 20%, this year, making the trade surplus shrink further.
GDP – All economic factors are interwoven and mutually affected. However, in my view, GDP is really a summary dependent parameter resulted from the changes in all of the aforementioned parameters. Most economists and institutions have predictions for growth of Chinese GDP in 2012 in a range from around 8% at the bottom, around 8.5% in the middle, to almost 9% at the top. Overall I think the range very well represents 95% statistical confidence interval under reasonable assumptions of some other external factors such as possible 2012 GDPs in the U.S. and Europe.
All things considered, I estimate that the actual value will end up being 8.7%, close to the high end of the range of estimates. The main reason is that with foreign account balance being so high and over 60% of the nation still under-developed, China central government has a huge power to exercise to boast domestic consumption and defend GDP growth rate above 8.5% line. Unlike U.S., China is still under a centrally planned economy. China central government has proven to the world over past 20 years that it can and will guide the economy to the desired direction with swift and undeterred deployment of powerful economic tools.
Chinese Currency – Chinese currency, the yuan, or RMB (renminbi), walked on a continuous and almost linear appreciation pace against US dollar in 2011 (and a similar pattern against Europe). The currency appreciated about 5% against US dollar last year. With China central government driving at full speed to boost domestic consumption and balance trade account, I expect the linear trend to continue in 2012 and estimate that the currency will appreciate to about 5.98 yuan per USD.
With estimates to all the aforementioned economic parameters set, I can then interpret the aggregated impacts of the changes in these economic factors to seven selected industries. Note that when I say positive or negative impact to a particular industry I am using an assumption of all other things being equal. Also a positive or negative effect on an industry is relatively speaking compared to last year (2011). Therefore, if an industry was in deep recession last year, it can still be in recession this year even if it is faring a little bit better.
Other external factors such a new regulatory rule heavily for or against a particular industry or major company-specific events can certainly trump the impact of these general economic factors. Also note that the impacts I am going to discuss are to the financial results of the industries and companies within, not the stock prices of the companies. Every investor knows that a company's stock price can deviate from its fundamental for whatever reason in the short term.
Without further due, here are my thoughts on ten industries and companies in the industry:
Oil Exploration, Refining, Wholesaling, and Distribution
Impact: Positive
The industry that stands to benefit the most is oil industry. For oil explorers and refiners, I estimate crude and gasoline price will increase by 10% or more this year. At international level the increase will more than offset the drop in consumption volume due primarily to economic slowdown in Europe. So, outside China I'll say the overall impact is neutral. Within China, domestic consumption can potentially grow even faster this year than last year or at least stay at the same level. Therefore, higher price will directly contribute to higher total sales for crude, gasoline, and diesel in China. The combined effect is still positive for oil explorers and refiners. For wholesalers and distributors of oil products in China, the impact can be even more positive since their sales are all domestic.
Sure, sales to some factories that manufacture export goods might grow a little bit slower due to slowdown in export growth. However, sales to consumers (gas stations) and companies servicing domestic market will grow at fast speed. So, overall sales volume should grow at least as fast in 2012 as in 2011. Considering that average sales price is increasing, total sales amount will grow faster this year than last year. Since operating margin is quite stable for gasoline/diesel wholesalers/distributors, higher growth in revenue naturally mean higher growth in profit.
Another factor in the oil industry's favor is lowering bank reserve requirements and lending interest rates. Because the oil industry is capital intensive, most companies either have already had high amounts of debt on their balance sheets, or may have good use of new borrowing to finance facility/inventory expansions.
Companies in the industry include CNOOC Ltd. (NYSE:CEO), Longwei Petroleum Investment Holding Limited (LPH), China North East Petroleum Holdings Limited (NYSEMKT:NEP), PetroChina Co. Ltd. (NYSE:PTR), China Petroleum & Chemical Corp. (NYSE:SNP).
Educational Services
Impact: Positive
Educational service companies, especially those providing professional trainings, higher education, and foreign language trainings, will be affected quite favorably by general economic conditions as well. The case is quite simple. First, faster urbanization and wealth/income growth for underdeveloped regions mean faster growth in the people who desire professional and higher education. Secondly, appreciating Chinese currency means cheaper cost and higher demand for studying abroad (mostly for bachelor and higher degrees). Sure, consumers in the front-line cities – Beijing, Shanghai, and Guangzhou – will feel some hit of drop in real estate prices and slower income growth. However, Apollo Group Inc (NASDAQ:APOL) has shown that when time is tough more people go back to schools. Since Chinese take education no less seriously than Americans, I think the phenomenon will be roughly the same.
One caution here: Although the industry as a whole is booming, competition is fierce because barriers to entry are low. Other than a couple rare exceptions, such as EDU, most companies have a hard time gaining significant brand recognition and/or differentiation to charge a premium price. Picking the right company to invest in this industry is particularly challenging.
Companies in the industry: ChinaCast Education Corporation (OTCPK:CAST), ChinaEdu Corporation (NASDAQ:CEDU), New Oriental Education & Technology Group (NYSE:EDU).
Mining and Basic Materials
Impact: Slightly Positive
Similar to oil explorers and refiners, with abundant money supply all over the world, mining companies will likely see the prices of their products grow, albeit probably at slower pace than prices of oil products. Similarly, they'll see their sales volume outside China grow slowly, or at worst stagnate, due to overall meager growth in world economy. Inside China, sales volume likely will grow very fast next year due to big demand for constructions in all regions that China central government is targeting for urbanization and modernization. Also similar to oil industry, lowering bank reserve requirement and lending interest rate is an added positive to mining companies.
Companies in the industry: Aluminum Corporation Of China Limited (NYSE:ACH), L & L Energy, Inc. (NASDAQ:LLEN), Sino Clean Energy Inc (SCEI), SinoCoking and Coke Chemical Industries, Inc. (NASDAQ:SCOK), Yanzhou Coal Mining Co. Ltd. (NYSE:YZC).
Online Retailing and B2C
Impact: Slightly Positive
Online retailers likely will fare a little bit better in 2012 than in 2011. Sales likely will grow faster this year than last year, due to accelerated growth in domestic consumption. Companies like Dangdang, that are putting big effort into categories that are the primary focus of the ministry of commerce, such as electrical appliances, will stand to benefit the most. On the cost side, shipping cost will increase noticeably, but the increase will be partially offset by slight drop on costs for in imported goods due to currency appreciation. Overall, I think net margin will still see some improvement due to a significant increase in sales.
Companies in the industry: E-Commerce China Dangdang Inc. (NYSE:DANG), Taobao.com (not traded in the U.S.), 360buy.com (not traded in the U.S.).
Gaming
Impact: Neutral
The online and mobile gaming industry, one of the best performing industries in last decade, has been seeing growth slowing down since 2010. I think the pain will probably continue into 2012, because for online MMO/MMORPGs and casual mobile games, the market in developed regions in China has largely saturated. The next engine for growth will be on underdeveloped regions discussed above. However, the pricing power for gaming companies in these regions will be low, because it is low in people's consumption priority. Therefore, increase in revenue growth in these regions will just about offset the continuous slowdown in revenue growth in developed regions next year.
Companies in the industry: The9 Limited (NASDAQ:NCTY), NetEase.com, Inc. (NASDAQ:NTES), Shanda Interactive Entertainment Ltd. (NASDAQ:SNDA).
Internet Services (Search Engine, Directory, Social Network, Internet Video, etc.)
Impact: Slightly Negative
Two major economic forces are countering each other in this industry this year. On one hand, the stream of new users is flowing into the ocean of the Internet at fast speed from underdeveloped regions this year. On one hand, many companies will cut their spending budget for all forms of advertising this year, because advertising is viewed as a vitamin, not a pain killer. When the future is gloomy or uncertain, companies cut advertising budgets first, before cutting anything else. Because of their cultural value system, Chinese consumers do not believe in advertisements and branding as much as American consumers do, so a cut in ad spending during bad times will be even more dramatic in China than in the U.S. What I am foreseeing is that growth in the usage metrics, such as visitors or page views of web sites, will accelerate this year, while industry revenue will increase only slightly, and profitability may stagnate or fall slightly compared to 2010.
Companies in the industry: Baidu, Inc. (NASDAQ:BIDU), NetEase.com, Inc. (NTES), Renren Inc. (NYSE:RENN), Sina Corp. (NASDAQ:SINA), Sohu.com Inc. (NASDAQ:SOHU), Youku Inc. (NYSE:YOKU).
Telecommunication
Impact: Slightly Negative
Similar to internet services, I think the telecom industry will see a faster increase in user base, only a slight increase in revenue, and no increase or slight contraction in net profit. The reasons are similar but not totally the same. Telecom service providers will get a huge number of new subscribers from underdeveloped region this year. Average per capita spending on communication service in undeveloped regions will be less than that in developed regions, although the difference will probably be smaller than the difference for advertising.
However, because technologies for building telecom networks are fully matured and widely adopted and because more and more people view telecom service as a commodity rather than luxury goods, service revenue and gross profit per customer in developed regions will likely drop, putting further pressure on overall top line and bottom line for the industry.
Companies in the industry: China Telecom Corp. Ltd. (NYSE:CHA), China Mobile Limited (NYSE:CHL), China Unicom Limited (NYSE:CHU).
Electronic Manufacturing
Impact: Slightly Negative
Because most electronic manufacturers in China get a big portion of their revenue from oversea, their top line will be hit by contraction in consumption in developed parts of the world, especially in Europe. An increase in domestic consumption can make up part, but not all, of the loss in export because average unit price and margin is much lower in China than in developed countries.
Companies in the industry: Actions Semiconductor Co., Ltd. (NASDAQ:ACTS), Nam Tai Electronics, Inc. (NTE), Qiao Xing Mobile Communication Co., Ltd. (NYSE:QXM).
Advertising
Impact: Negative
As explained in the internet service industry section, I expect most Chinese companies to cut advertising and marketing budgets this year. An increase in customer base mainly from undeveloped regions will not make up a big drop in average revenue per customer.
Companies in the industry: AirMedia Group Inc. (NASDAQ:AMCN), Focus Media Holding Ltd. (NASDAQ:FMCN).
Disclosure: I am long CEO, LPH, DANG, YZC, EDU.
Disclaimer: I am a completely independent analyst and am not paid by any company I cover or write articles about. However, I may have long or short position in a stock I cover or write about at any time. My ratings and/or analyses of a stock represent only my personal view of the stock and/or my assessment on the probable movement of the stock price in the next 12 months. My ratings are by no means a guarantee of performance on any long or short trades on a stock and should not be relied upon solely when buying or selling a stock. Every investment, no matter how compellingly appealing it seems, involves risk. Investors should do their own due diligence and consider personal risk tolerance, preferences, and needs when making an investment or a trading decision. All materials are subject to change without notice. Information is obtained from sources believed to be reliable, but its accuracy and completeness are not guaranteed.