<< Part II: Youku, Tudou, Ctrip
Renren (NYSE:RENN): Strengthen Core Business; Bring Nuomi To Profitability
Renren needs to focus on strengthening its core competencies in SNS while bringing its group-buying unit Nuomi to profitability.
Over the past trailing twelve month as of 3Q11, Renren's core SNS business exhibited strong operating results:
Activated user base increased 33% to 137 million
Monthly unique log-in users increased 58% to 38 million
Online advertising sales increased 92% y/y
Online gaming revenue increased 24% y/y
Going forward, Renren could continue to strengthen the SNS platform by expanding its social gaming portfolio and continuing to develop sophisticated advertising system similar to that of Facebook, in which ads are delivered based on social networks and user profiles.
Renren's gaming portfolio includes in-house developed, licensed, and open platform. There are over 400 in-house developed and licensed social games on Renren, ranging from arcade, strategy, sports, and role playing. Open platform contains a robust portfolio of over 900 games and allows third-party developers to capitalize on Renren's large user base by creating innovative applications that ultimately enhance user experience and expand Renren's registered user base, resulting in a virtuous cycle.
Renren's improved advertising system could be attractive to both large corporations and SMEs, as they look to better target consumers based on demographics, interests and location, and achieve high ROI on their advertising budget. The management expects the new system to be launched early this year and could be a potential catalyst for the stock. Currently, there are over 42 million SMEs in China that can utilize the platform to market their products and services. The new advertising system will be critical to maintaining Renren's growth momentum over its internet peers.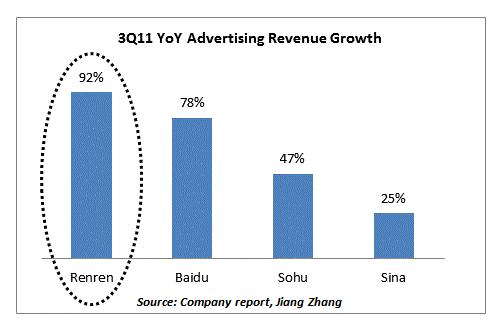 Finally, bringing Nuomi to profitability will be one of the top priorities for Renren. Since Nuomi's inception, the unit has recorded losses and negatively impacted Renren's overall financial result.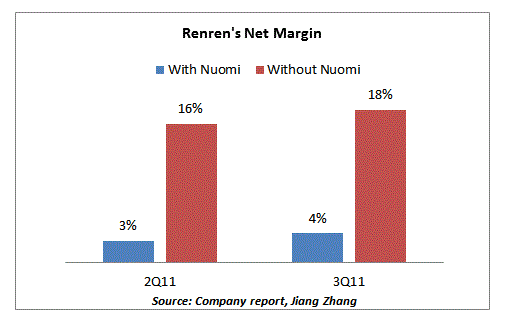 In my Nov.13, 2011, article "Renren Q3 Highlights: Robust Revenue, User Growth But Nuomi Disappoints," I pointed out that Renren is better served by focusing on its core competencies rather than venturing into China's highly competitive group-buying industry that is estimated to have over 5,000 websites. However, poor execution by rival Groupon (NASDAQ:GRPN), and partnership with Focus Media (NASDAQ:FMCN) and HTC will likely help Nuomi withstand competition and become one of leading group-buying sites in China.
Last year, Groupon's Chinese unit, Gaopeng, ignited several public backlashes that involved cheating an iPhone giveaway, offering fake McDonald's coupons, and selling fake Tissot watches. The negative publicity over Gaopeng will likely shift buyers' preference towards leading domestic group-buying sites, such as Nuomi, Lashou, 55tuan, and Ftuan that have bigger brand recognition and have been delivering better user experience than Gaopeng.
Nuomi's partnership with Focus Media to advertise on its LCD and digital poster frame networks located across 95 cities across China will have material impact on its revenue growth in 2012, in my view. Focus Media's Interactive LCD screens will feature Nuomi's local deals that are within walking distance of the commercial or office building and allow the consumers to be constantly aware of the deals even if they are not on their mobile devices or PCs. To obtain the local deal, consumers can use the Q Card and near-field communication feature in their mobile devices to download and purchase the deals.
Finally, in my Dec. 29 article "Renren's HTC Daren: Setting The Bar For Mobile Social Networking," I pointed that Renren's partnership with HTC by introducing its premiere handset will likely expand its LBS initiative and expand Nuomi's industry standing. Currently, over 35% of Renren's users visit the platform via a mobile device. Nuomi can benefit from HTC Daren's LBS feature as it delivers local coupons, discounts and promotions to the users whenever they check in to the device, or group discounts to multiple users once it detects a sufficient number of people are within close proximity to the deal source.
The partnership with Focus Media and HTC will greatly expand Nuomi's reach and will further increase Nuomi's sector-leading conversion rate of 8% and its brand awareness, in my view.
Focus Media (FMCN): Shaking Off The Mud, Entering The Interactive Era
A combination of favorable regulatory policies and new strategic initiatives will drive Focus Media's growth in 2012.
According to Commerce Minister Chen Deming, China is likely to roll out measures to boost consumption and to counter the continued slowdown in the global economy. In addition, the new regulations that ban ads during TV dramas and decrease the number of entertainment programs during prime time will likely benefit advertisers in other media channels, such as online and outdoor advertising. While it is currently difficult to quantify the impact these policies have on Focus Media's top-line growth, a decline in TV advertising is likely to benefit Focus Media, in my view.
Focus Media's LBS advertising will gain traction. According to management, the company currently has installed 40,000 Interactive LCD screens, and refitted 60,000 LCD 2.0 and Framedia poster frames.
For a better understanding of the different screen terminologies, please refer to my December 2, 2011, article "A Close Look At Focus Media's LCD and Poster Frame Network," and for a close look at Focus Media's Interactive LCD Screen, please refer to my December 18, 2011, article "Positive On Focus Media's Growth As It Enters The Interactive Era."
The new Interactive LCD screen is critical to Focus Media's future growth because it transforms viewers into buyers, which is important from the advertisers' point of view. According to Focus Media's internal research, consumer attention rate increased from 45% to 65% under the new screen. Most importantly, the Interactive LCD Screen opens new revenue stream because promotion budget are different from advertising budget. According to management, the ratio of advertising to promotion budget is on 1:1, and Focus Media hopes to capture the promotion budget with the Interactive LCD screens.
For 2012, Focus Media hopes to refit 70,000 LCD 2.0 and Framedia digital poster frames into the interactive screens. These screens will feature just the sensor for viewers to receive promotions using the Q-cards. In the second half of the year, Focus Media expects to refit 30,000 Basic LCD screens in the 20 largest cities across China, specifically in 1,000 of the 2,800 hypermarkets, and 100 of 300 movie theaters. The management currently expects the revenue from the Interactive LCD screen to be approximately $35 million, or 5% of the Pro Forma 2012e revenue. By 2015, I expect the Interactive LCD screens to become bigger revenue contributions as Focus Media transitions further into hi-tech advertising.
Disclosure: I have no positions in any stocks mentioned, and no plans to initiate any positions within the next 72 hours.