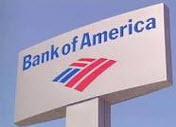 The constant negative headlines out of the eurozone have ground fundamentally sound U.S. bank shares down by 50% or more in some cases this year and most are trading at vastly less than their tangible book values. Ironically, U.S. economic indicators are actually fairly good right now and many banks have projected EPS rates of 20% or better next year.
My top U.S. bank turnaround pick is Bank of America (NYSE:BAC). I have been around long enough to know macro headline risk provides great opportunities to buy sound companies at discount prices. Market sentiment can and will turn on a dime - mark my words. As we all know, in life, timing is everything, and the time is now to buy Bank of America.
This is an extreme contrarian opportunity. Warren Buffett, the renowned contrarian investing expert who has made millions in the market purchasing unloved companies in out of favor sectors at rock-bottom values, bought Bank of America. I know he got a sweetheart deal, but he also bought in at a slight premium to today's current share price. Buffett buys for the long run, and plans on collecting a premium on his stock warrants. He is not merely expecting a return on equity with his special dividend, but a return of equity when Bank of America pays him back his $5 billion and he exercises his warrants.
We simply attempt to be fearful when others are greedy and to be greedy only when others are fearful.
Buffett's famous quote is quite apropos at this juncture. I posit Bank of America is at an inflection point, and are about to see a major comeback, which seems to have begun as we speak.
Warren Buffett invested $5 billion in Bank of America. Bank of America sold Buffett cumulative perpetual preferred stock, which pays an annual dividend of 6%, and gave him a warrant to buy 700 million shares at roughly $7.14 each. Regardless of massive market losses, Buffett said Bank of America is still a "strong, well-led company," and he is "impressed with the profit-generating abilities of the franchise."
Nevertheless, Buffett took a lot of heat for making this bold play. Most investors have been steering exceedingly clear of financials, especially Bank of America. I have a certain affinity for Buffett, the "Oracle of Omaha," as I was born in the great "Gateway to the West" city myself. Furthermore, I am an experienced investor and been through several boom and bust cycles and learned that this strategy works and will make you money. You know Buffett did his homework on the fundamentals. Although Bank of America has been severely hammered due to eurozone headline risk, Bank of America actually has minimal exposure to this risk. Bank of America's estimated eurozone exposure is $100 million while BAC has a $40 billion market cap, $30 billion in cash and is trading at half of tangible book value.
Current Chart
Click to enlarge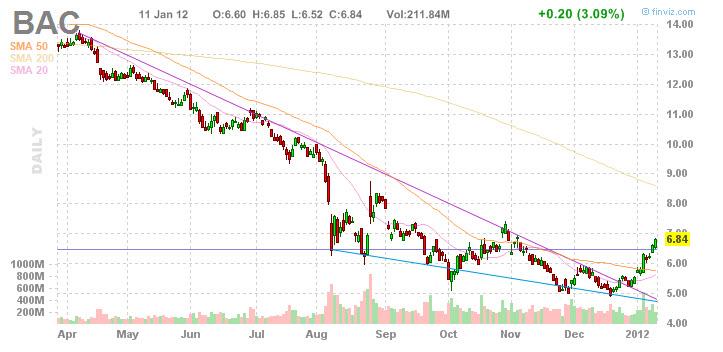 Fundamental Statistics

Analyst Coverage

Charts and tables provided by Finviz.com
Banking Sector Macro Positives
The following are several banking sector macro positives I perceive in the market now.
Bespoke Investment Group sees banks as the surprise sector this year. Citing historical data comparing the performance of the 2000 tech sector to the current financial sector, Bespoke sees a correlation in the numbers and feels the banks could be poised for a significant run in 2012.
Tax loss selling for year-end 2011 added to the extreme weakness in bank stocks, driving these 2011 bank losers to their lowest levels since 2008.
Banks are oversold and under-owned on top of strong fundamentals which inevitably attracts value investors.
The eurozone seems to be taking the proper actions to calm its tumultuous financial markets. Recently bond yields of the eurozone fringe sovereigns that were rocketing higher have sunk vastly lower with the back-door liquidity injections engineered by the ECB.
U.S. banks are well ahead of their European peers in regard to capital requirements. Many have excess capital and excess reserves. The sector is flush with liquidity, capital and reserves.
U.S. banks have improving fundamentals and EPS growth projections. U.S. bank earnings are up 40% this year and EPS growth rates are expected to come in at 20% next year. U.S. banks are trading at low price to earnings multiples even with taking into account lower earnings expectations and are trading at approximately five multiples below normal.
The EU banks will inevitably have to retract certain credit lines to meet new requirements, creating an opening for U.S. banks to take market share.
The U.S. housing market, unemployment situation and economic indicators are all showing signs of life. All these signs of improvement bode well for the banks.
The winds of political change are blowing hard these days. If the Republicans take the 2012 presidential election, the banks will soar.
Conclusion
Bank of America had an abysmal performance in 2011 - ergo they have the highest potential upside in 2012 due to a shift in sentiment which has already started. Bank of America is trading well below consensus analysts' estimates and tangible book value but has compelling fundamental characteristics.
Buying low is not an easy thing to do, I know, but if you have a long-term time horizon, you will most assuredly make money. Markets don't stay down or up for long, or Wall Street wouldn't make any money. Wall Street traders thrive on volatility. Markets fluctuate on a continuum, and we are bouncing along the bottom of it for Bank of America right now - ergo, it's time to load up. The very bottom of the market, during March 2009, was the time to buy, but no one I knew was buying; everyone was running for the exits at the exact time they should have been piling in.
Whenever you find yourself on the side of the majority, it's time to pause and reflect. - Mark Twain
What a great quote from Twain. Let's reflect. A contrarian is one who attempts to profit by investing against the grain, to go against the crowd, because the crowd is usually wrong and always late. A contrarian believes that certain crowd behavior among investors can lead to exploitable opportunities. Pervasive cynicism about a stock or sector can drive the price so low that it exaggerates the investment's perils and belittles its future prospects. Identifying and seizing on these opportunities is a well-known investing tactic utilized by legendary investing experts such as Warren Buffett and Whitney Tilson. I believe Bank of America presents such an opportunity.
Nonetheless, this is only the first step in finding winners for your portfolio. Use this information as a starting point for your own due diligence and research methods before determining whether or not to buy or sell a security.
Disclosure: I have no positions in any stocks mentioned, but may initiate a long position in BAC over the next 72 hours.