Just shut up!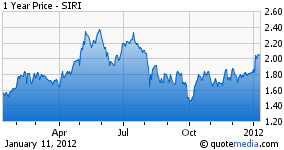 As an avid sports fan, I enjoy watching ESPN for what I consider to be brilliant analysis that is often delivered by an entertaining set. When I am not on my couch watching one of the programs, I usually catch its radio stream on Sirius XM (NYSE:SIR) channel 84 during daily driving or my morning commute. One segment in particular that I enjoy listening to is called "just shut up" on Mike & Mike in the Morning. The show is themed around current events or topics of the day where they often bring to light some idioms or sound-bites that often leave the listener asking "did I just hear that."
These are often comments made by some prominent personalities who may have registered highly on the scale of stupidity. Sometimes, they are "so far out there" that you wish they would just shut up. These are often the ones where the comment is retracted a day later or "the media took it out of context" and then later followed by an apology in a prepared statement. But the premise is not necessarily on the person making the foolish comments, but rather on the frustration felt by me as a listener who just wishes that some people would just "shut up." The same goes for print journalism where sometimes you just are in disbelief of what you've just read.
I expressed some similar frustrations one month ago when I realized that there continues to be some stories that just won't go away – stories specifically regarding Sirius XM. Whereas last month, it was about the supposed "imminent acquisition" by Liberty Media (LCAPA) (it seems there's always something in March to wait for), this time however, the issue surrounds Sirius XM's value or perceived lack thereof. To those critics, I would like to respectfully ask that you just shut up.
Seeking Alpha contributor Paulo Santos wrote what I thought was an excellent bear case for the stock. I read it and re-read it and being the logical thinker that I try to be, the fact of the matter is, there weren't many things that I could realistically dispute. Except that none of the points were really material to the company's performance - to the extent that it has grown and exceeded expectations in spite of the perceived obstacles. It seems every bear is quick to tell Sirius XM what it is unable to do on the practice field except they forgot to factor in what it has done during real game situations – sort of reminds me of a guy on the Denver Broncos who is now telling all of his critics to "just shut up."
As stated before, Paulo made some good arguments and I understood his thesis as it relates to what constitutes a "bargain." But it is the same old argument that bears have been saying for quite some time. As with Amazon (NASDAQ:AMZN) and other perceived expensive or high P/E stocks that continues to fly off the shelves, Sirius requires a new way to thinking. As they are, Sirius is delivering on these growth expectations that support both its high P/E and its perceived non-bargain valuation. But there should be a distinction between the company and the stock and it seems that when it comes to Sirius, it has to play by a separate set of standards – particularly by those who don't fully appreciate its story.
To Paulo's credit, he mentions the issue of dilution, which is correct. And I think Sirius knows this and is one of the reasons why the company has recently discussed the possibility of a stock buyback. It is this same discussions that prompted prominent analyst Barton Crockett of Lazard Capital to hint that the stock could possibly hit $4.00 if the company repurchases enough shares. He made the following points:
The satellite radio company offers "an unusually resilient growth story," with "robust EBITDA growth" even in difficult economic scenarios. We also see a call option on long-term share repurchases that could double equity value beyond our price target.
Crockett writes that in his base model, assuming a muted economy, the company's adjusted EBITDA can jump to $1.5 billion in 2014, from $751 million in 2011. Of the increase, $300 million of that reflects a 12% rate hike that just became effective on January 1. Another $200 million is from cost cuts related to a General Motors (NYSE:GM) contract reset that starts in Q4 2013. And $250 million is from growth in new subs.
But it seems for every person that looks at what Sirius XM is - there are many who wish to discuss what it is not and what it is unable to be. For every obstacle that is presented, the company jumps over it and is then told to jump over another - remarkably, it does. Bears bring up the issue of debt - well Sirius has and will continue to pay down these debts while also in the process of refinancing several that are coming due. The next obstacle is that the company is losing subscribers. Well, not only is Sirius gaining subscribers each quarter, it's breaking records and increasing guidance each time.
Another obstacle previously noted is the issue of dilution, when the company talks about a stock buyback to reduce the number of outstanding shares, these same bears are quick to say that it is misusing cash and should pay down debt. Also, Sirius' fundamentals continue to be a popular topic. Well, the last time I checked, its fundamentals have never been better. Oh did I forget how the competition from Pandora (NYSE:P) was going to take away all of its subscribers? Now that the fear of increased competition has dissipated, it defaults to the old tired argument that the stock is expensive.
Summary
Please, just shut up!
Disclosure: I am long SIRI.