Market Opinion: The S&P 500 broke out of its 1280 resistance line today and rallied up to 1290 intra-day. However, we're not convinced that this market move upward is going to last very long (i.e Feb. 18). We have two gaps now that need to get filled. The first gap is at 1255 (Dec. 30 close) and the second is at 1280 (yesterday's close). The market pays attention to gaps, and I believe we will revert to both of these price levels in the future.
Today we entered a Feb. 18 136/137 bear call spread on the SPY, a good move if you think the market will not break out above 1350 on the S&P by mid-February. Originally we were a fan of the 135/136, but premiums were just too great to pass up on the higher strike spread. We recommended the trade due do the data we found on Dec. 30 when we calculated an implied max up on SPY of $131.31 for Feb. 18.
As for specific stocks, we're still in favor of bear call spreads on Netflix (NASDAQ:NFLX), especially since higher strike options became available today and that Merrill Lynch/BAC downgraded the stock to underperform. We now favor the 120/125 bear call spread but for a sell limit of 1.20. Salesforce.com (NYSE:CRM) is still showing signs of breaking down, the Feb. 18 120/125 bear call spread is the best way to play the stock.
As for Google (NASDAQ:GOOG), today's action certainly showed that: (A) Volatility did not drain as we anticipated in the stock, and (B) the stock should hold $620. Right now the best way to play GOOG is with a Jan. 20 555/550 bull put spread for a sell limit of 0.40.
If you're interested in Mastercard (NYSE:MA) we think the best way to play it right now is with the weekly Jan. 13 340/335 bull put spread for a sell limit of 0.50. We're still not a fan of Apple (NASDAQ:AAPL) to the long side because the stock has not given us any entry opportunities, the only trade we can see is the Jan. 20 440/445 bear call spread for a sell limit of 0.45. Amazon (NASDAQ:AMZN) continues to trade under strong resistance at $180. We cannot make any recommendations on the stock because although we do not believe it will collapse under $170, we also do not believe it will break above $190 before earnings. We think Dollar Tree (NASDAQ:DLTR) will hit $80 before it reaches $85.50. We have no trade suggestion for this stock until it reaches $80.
Daily Data: Synnex Corp. (NYSE:SNX)
Synnex Corp.( a business service company) just reported and beat EPS estimates (1.37 vs. 1.14) today. The company forecast inline EPS numbers for next quarter with slightly below expectations on revenue. The company rallied 1.74% today and popped another 4% in after-hours after reporting. For those interested in the stock here's the historical Dec-Feb option expiration date performance to gauge the future range of where it may trade next.
Click to enlarge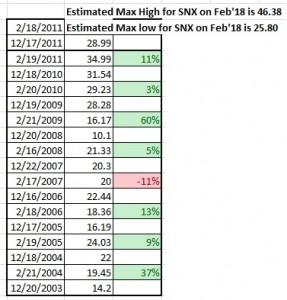 As you can see with only one negative return since inception in this time frame the stock has a very bullish bias. Unfortunately, I cannot say the stock is going much higher as it's already up 10.69% since Dec. 17 (December option expiration date). Now given that the implied max low on the stock is 25.80 for Feb. 18, I cannot suggest a safe trade below the $25 level because premiums just don't exist there anymore. However, I think it's safe to say this stock will not experience a negative return over the Dec-Feb option expiration time period given how good earnings were, and technically because the stock is in a strong upward channel. Given the data above combined with the option premiums available I can only suggest the following trade on this stock:
Click to enlarge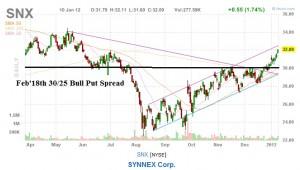 Option Trade: SNX - Sell Feb'18th 30/25 put spread (Bull Put Spread)
Size - 10% of Giorgio's Corner Portfolio Size = (2 spreads)
Entry: Sell Limit: 0.60
Stop Loss: 1.70
Exit Price: 0.00
Max Return: 13.63%
(Note: Returns do not include commission. Max Return is calculated as Return at Risk not Return on Margin.)
Chart Data courtesy of Finviz.com.
Disclosure: I am long GOOG, AAPL. I do not own any positions in NFLX, CRM, AMZN, SNX, MA, DLTR.
Additional disclosure: I am short SPY.