Staples (NASDAQ:SPLS) is the leading global office products company, operating over 2,000 stores in 26 countries. Staples runs three business segments: North American retail (Q3 2011 - 40% sales, 10.7% operating margin), North American delivery, which serves business/corporate customers (39% sales, 9.5% operating margin) and international (20% sales, 3% operating margin).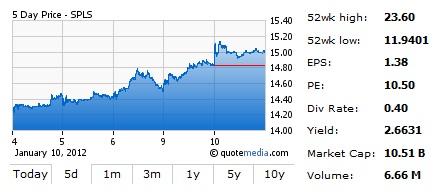 With market share at 10% of the world's office products market, SPLS more than doubles the share of its nearest two direct competitors, OfficeMax (NYSE:OMX) and Office Depot (NYSEARCA:OPD). However, Staples also has to deal with competition from discount retailers selling office products, such as Wal-Mart (NYSE:WMT), Costco (NASDAQ:COST), Target (NYSE:TGT) and Amazon (NASDAQ:AMZN). Additionally, electronics retailers like Best Buy (NYSE:BBY) compete in the sale of computers and office equipment, while copy and print shops such as FedEx (NYSE:FDX) are competitors in the high-margin office service shops.
Perhaps it is these concerns -- along with the weakness in European and Australian markets, which comprise the majority of Staples' international business -- that have shaken investors' confidence in the stock, as shares trade 20% within 52-week lows. This skepticism may present an opportunity to investors willing to overlook possible short-term issues.
With over 60% of sales centered in a mature US market, investors are rightly concerned with how Staples will fare in a tight economy as governments, businesses and consumers alike continue to watch spending. While results would suffer a definite hit should economic conditions deteriorate, especially in North America, Staples has several levers to pull which should allow it to deal with a downturn in the near-tearm while positioning it to grow in the long-term.
While the company's North American retail stores are its largest and most profitable segment, Staples' corporate segment -- North American delivery (NAD) -- is probably the lynchpin of its business. NAD serves the small-business to the mid-market up to the Fortune 1000 companies. These customers are stickier than retail customers, who often jump locations and brands as it suits them. Staples is especially strong in the mid-market area, where customers have more resources than small business but not enough size to negotiate down prices. In contrast, Office Depot is largely dependent on small businesses, who have sizably cut back in the past few years.
Also, Staples' superior salesforce has allowed it to build a strong contract business which is winning clients from competitors in a no-growth environment. The continued integration of the Corporate Express acquisition should improve margins. If a double-dip recession occurs in the US, I would expect NAD to suffer declines but so probably would competitors. Ultimately, I'd expect Staples to be better-positioned than peers to grow out of the downturn.
On the North American retail side, same store sales were down slightly in the US in the most recent quarter, and competition here is fierce in general as Staples has to fend off not only Office Depot and OfficeMax, but also Wal-Mart, Target, Costco and other retailers. The intense competition highlights the fragmented nature of the market and as the largest player in the space, SPLS could take share from competitors. In fact, OMX and ODP have both struggled of late in part with analyst speculation that one (ore more) will eventually cease to be viable. But Staples isn't resting on its laurels -- it is investing in more service offerings like Tech and Copy & Print centers, which are higher margin businesses while also upgrading/updating its product mix by implementing mobile centers in select retail stores, moving to smaller stores while maintaining sales efficiency and even selling iPads in Canada.
With much of Europe on the cusp of recession due to the euro crisis, and Australian business already suffering, Staples international segment has already suffered hits to top and bottom lines. As such, much of this downturn is already priced into the stock so if management is able to steady the ship overseas, the international segment turns into a positive for the stock. Even if international business should drop into a loss, it only accounts for 20% of sales and less than 10% of profits. Also, while its business in high-growth countries like China, Brazil and India are in nascent stages, if Staples manages to gain a foothold in those markets akin to what it has elsewhere, the potential for growth is massive. I think of it as a free option -- not a real consideration in the investment decision process, but a possible lottery ticket down the line.
Of course, the primary consideration in my investment decision process is always valuation, and on that score, SPLS looks cheap.

The company has averaged $1.1B free cash flow over the past 5 years, during which we've suffered the worst financial crisis and recession in a generation. SPLS is on track to generated over $1B FCF again this year. The company also managed to grow sales in each of those years and averaged a 10% FCF yield on assets. Even assuming a fairly draconian no-growth scenario, I value the shares at $20-22. Throw in a manageable $1B net debt position that's equal to 0.5x EBITDA and a 2.8% dividend and SPLS looks to present upside of 35% - 50% total return with a below-average risk profile financially and operationally compared to its direct peers.
Below-average risk doesn't mean no risk -- there are potential pitfalls lurking in our investment. The most obvious risk is a double-dip US recession that will affect results for the worse but I do not view this as a major threat. Analysts are always seeking perpetual growth which is somewhat unrealistic. After all, the ups and downs of a business cycle is a part of business life so results will fluctuate. Staples has the balance sheet and resources to withstand even a prolonged recession so this is not a big concern unless the downturn somehow structurally damages the company or its market.
A larger concern would bigger competitors like AMZN, WMT, COST, FDX making concerted efforts to expand in the office products market. The industry is already intensely competitive with little-to-no differentiation other than price so attempts to gain share could lead to price wars that would pressure margins. However, Staples seems well-positioned to compete in such an environment. Its large store base drives sales of its in-house products at 10-15% discounts to national brand equivalents. These in-house products are higher-margin, despite a lower sticker price. Also, Staples.com is the #2 biggest online reseller, behind Amazon, and management indicates there is room to grow its online scope. Unless one of its competitors enacts some sort of transformational business model, I feel comfortable that Staples can maintain or even grow its current market position.
Other possible risks include the large amount of goodwill ($4B) carried on the balance sheet. At 29% of total assets, an impairment here would materially affect shareholder equity. In addition, Staples leases all of its locations with the exception of its corporate headquarters so unlike other retailers like Sears and Target, there are no real estate assets here to backstop valuation in the event my assessment is wrong.
All in all, SPLS shares are selling at enough of a discount to compensate investors for these risks. I'll be looking for Staples to maintain an annual average FCF run rate above $1B while maintaining its competitive position. If it executes on this front, shareholders should eventually be rewarded.
Disclosure: I have no positions in any stocks mentioned, but may initiate a long position in SPLS over the next 72 hours.