In the universe of small-cap, oil and gas service companies there are plenty of options from which to choose. As the underlying market of North American drilling activity should continue to be strong over the next few years, oil service stocks should continue to have a nice tailwind. While currently low natural gas pricing has reduced the rig count and overall activity for this sub-sector, overall rig growth will continue as a jump in oil drilling has more than offset the decline in natural gas activity.
For the year 2011, rig count in the U.S. and Canada increased from 2,188 on 1/7/11 to 2,361 on 1/6/12, according to Baker-Hughes (NYSE:BHI) a large-cap oil services company, and this number includes 25 and 42 offshore rigs, respectively. A breakout of the North American rig count is below:
| | | | | | | |
| --- | --- | --- | --- | --- | --- | --- |
| | 2012 Total | 2011 Total | 2012 Oil | 2012 Gas | 2011 Oil | 2011 Gas |
| USA | 2002 | 1691 | 1191 | 811 | 789 | 902 |
| Canada | 359 | 497 | 199 | 160 | 307 | 190 |
| Total | 2361 | 2188 | 1390 | 971 | 1096 | 1092 |
During 2011, land rig count in the U.S. grew by 18% and by -27% in Canada. Most notably, 2011 marked the first time in two decades the U.S. oil rig count matched or exceeded the U.S. natural gas rig count, and by a wide margin. As long as natural gas prices stay depressed and oil prices remain high, expect this trend to continue.
Below is a graph courtesy of wtrg.com of historic rig counts oil/gas in the U.S. by type from Dec 1991 to Jan 2012: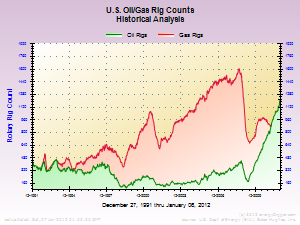 Another interesting graph is a deeper "Mr. Peabody's Way Back Machine" review of overall U.S. rig count during the past 40 years versus the price of oil (1973 to 2012), thanks to a Baker-Hughes graph: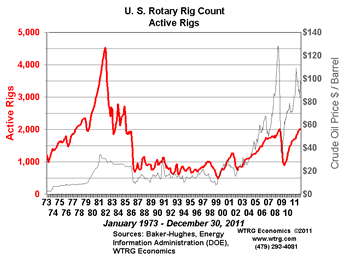 These graphs indicate a healthy underlying marketplace for oil services companies in general, and the outlook is for more of the same. Three interesting small-cap oil and gas services companies are RPC Corp (NYSE:RES), GasFrac (OTC:GSFVF), (GFS.TO) and Team Inc (NASDAQ:TISI).
RPC Corp
RPC Corp is a niche product and service provider focused on the well completion process. Its specialty is pressure pumping for hydraulic fracing, tools and equipment rentals, and coiled tubing. The growth driver is the expansion of its pressure pumping capabilities. The company has been expanding its hp capacity and is now doubled over the past few years. This is driving revenue from $980 million in 2010 to $1.7 billion anticipated in 2011 and $2.1 billion in 2012.
During 2011, RPC spent $422 million in capital expenditures, up from $187 million in 2010, and $68 million in 2009. With the delivery of another round of new units in the first quarter, further expanding capacity, cap ex is expected to be around $344 million this year and to decline into the mid-$200 million range. Less than a quarter of the company's capacity is older than five years. Capacity is expected to reach a high of 665KHHP by June of this year, up 25% from 531KHHP at the end of the third quarter.
About 60% to 80% of capacity is under contract through June to December of this year, and the drilling market remains robust for re-signing in the newer plays of the Niobrara, Utica, Mississippian and Tuscaloosa. The balances of the rigs are offered in the spot market, mainly in the Permian basin. In 2012, prime drilling activity in the U.S. will be in the Bakken, Eagle Ford, Permian and Utica. The Haynesville will continue to experience reduced activity in a sub-$4 gas market, and represents about 22% of RES revenue.
RPC currently trades at $21, has a market cap of $3.09 bil, and pays an annual dividend of $0.40 for a current yield of 2.0%. There are 148 million shares outstanding and debt is a very manageable $140 mill. EPS are expected to grow by 23% a year, with 2011 expected at $2.14, 2012 at $2.55, and 2013 at a flat $2.65.
Insiders hold about 78% of shares, greatly reducing the tradable float. There are pros and cons to such large insider holdings, but generally it is considered a positive attribute as retail investors and management are both on the same page to grow shareholder value.
More information is available in the latest investor presentation (registration required).
GasFrac Energy Services
A large percentage of RPC's revenue is generated from hydraulic fracking services used in shale oil and shale natural gas drilling. Canadian-based GasFrac Energy Services takes the opposite end of the spectrum, offering fracking services utilizing liquefied propane gas rather than water as its medium to move sands down the well. The gel formula was developed jointly by Chevron (NYSE:CVX) and Halliburton (NYSE:HAL) and is offered to GasFrac on an exclusive basis in Canada, while on a non-exclusive basis in the US. GasFrac developed the injection machinery to effectively utilize the propane gel and has several patents pending on the process. Over the past few years, GasFrac has been perfecting the process, testing with various well owners and is ready to greatly expand its business.
The process injects the propane gel that delivers the sand or ceramic material to fracture the shale and release the oil/gas. While more expensive than the water method during the drilling process, the site and material cleanup is substantially less costly as there is no water disposal or flare-off issues. The gel converts from a liquid to a gas down the well and is recovered with the initial well production. Some well owners have the ability to separate the oil and the gas at the wellhead, recycling the gel-turned-propane for another job. The company has developed a portable recovery unit for those clients who cannot accomplish this task on site and will reduce the overall expense of the process.
Most importantly, the company and its clients have demonstrated improved well results with the use of gel propane, reducing the initial services cost disadvantage over water fracking. As various States and the Feds continue to review the impact of water fracking, the gel propane process has been favorably received as a viable alternative.
2011 was not a good year for GasFrac. As with most Canadian oil services, it is at the mercy of the weather in the spring drilling season, and the unfavorable drilling conditions lasted substantially longer than normal. The company continued to take delivery of additional fracking units, with the anticipated completion of this round of equipment expansion pausing at 10 units.
GasFrac has completed over 400 jobs this year, with an additional 350 expected for completion in the fourth quarter. Husky Energy (OTCPK:HUSKF) (HSE.TO) recently signed a long-term agreement for services on a Canadian field that may eventually have upward of 2600 well sites. Husky will represent 20% of current capacity booked for the next 3-years. One reason given for the award was the well production advantages utilizing the GasFrac process. The company has recently introduced its gel propane services in the US, initially concentrating on Texas. The company will soon have 10 fracking units in the field. Analysts anticipate 2,000 jobs in 2012 and 3,000 jobs in 2013.
One downside of the process is the highly flammable nature of the process. Safety is paramount and the company has experienced two fire episodes at its jobsites, one related to its work.
The founder of the company recently retired and was replace by a long-time oil services executive from HAL. With a strong background in the U.S. energy services market, the new CEO should be an asset to greatly expand into the U.S. shale market.
The increase in capacity will drive revenue from $179m in 2011 to around $440 million in 2012. Earnings per share should respond accordingly, increasing from $0.05 in 2011 to $0.88 in 2012. Anticipated eps in 2013 calls for between $1.03 and $1.25 on revenue of over $600 million. EPS has the potential to continue to grow at 25% annually, based on increasing capacity unit count.
There are 63 million shares outstanding and the balance sheet is clean with $35 million in debt and an unused revolver for $100 million. With shares trading at $7.50, GasFrac has a market cap of $611 million.
Team Inc
Team Inc is the "Mr. Handyman" of pipelines and infrastructure in the refinery, petrochemical, industrial, and power business, specializing in installation, repair and maintenance of high-temperature, high-pressure pipelines. With an estimated 20% market share in a highly fragmented business, TISI has maintained a 20% growth rate in revenue over the past 10 years. While not directly tied to the drilling cycles, Team benefits from an expansion of pipelines, refinery capacity/upgrades, and industrial output. As cheap natural gas offers an opportunity for basic petrochemical companies using natural gas as a feedstock to expand output at globally competitive prices, the need for Team's services also expands.
TISI provides a niche service that is critical to its diverse clients' operational safety and success. The company operates in the U.S., Canada and Europe, and recently reported excellent quarterly earnings, along with raising its guidance. Management forecasts Fiscal Year May 2012 should generate $585 million to $610 million in revenue and between $1.55 and $1.70 in EPS. FY 2013 is anticipated to generate $647 million of revenue and EPS approaching $2.00. Long-term earnings growth should be between 20% and 25%.
Team is well managed with a strong balance sheet and only $74 million in debt. Based on 20 million shares outstanding, and share prices at $30, the company has a market cap of $600 million.
The latest Team investor presentation is here (pdf).
1-year price charts for each - (click to enlarge):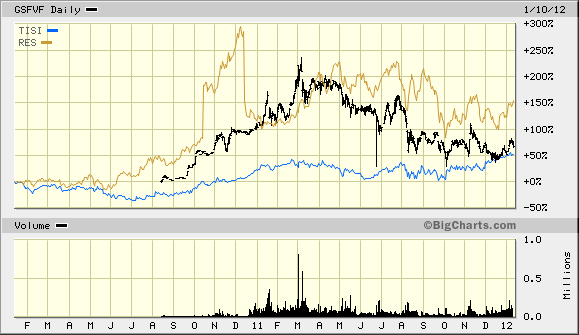 RES is currently trading at $19 with a price target of $27. GSFVF is currently trading at $7.50 with a price target of $16. TISI is trading at $30 with a price target of $35. Earnings per share growth rates for each are expected to be in the 25% range, based on support from a stable drilling market.
The overall risk to RES and GSFVF comes from the uncertainty concerning future government regulations of the fracking industry and how it will affect these companies. TISI is less directly affected by fracking regulations as it focuses on oil field and related infrastructure. Each could also be an interesting acquisition candidate during the heat of an oil services consolidation trend.
Energy investors seeking exposure to small-cap services companies may enjoy researching these companies. TISI seems to be the most conservative, followed by RES, with GSFVF being the most speculative.
Disclosure: I am long OTC:GSFVF.
Disclaimer: As always, investors should conduct their own due diligence, should develop their own understanding of these potential opportunities, and should determine how it may fit their current financial situation. This commentary does not constitute individual investment advice and is not a personalized recommendation to buy, sell or hold securities. Past performance is no guarantee of future returns.