TiVo (NASDAQ:TIVO) shares jumped 10% last Wednesday, on the news the company had settled its long-running lawsuit against AT&T (NYSE:T) for a minimum of $215 million. The stock has tacked on slight gains since then, and closed Tuesday at $10, toward the high end of the $7-$11 range in which the stock has traded for most of the past year.
I have been notably bearish on the stock for most of the year (you can see my previous pieces here), and, in the short term, been right for the most part. The stock has seen bursts of enthusiasm from court wins, three straight earnings beats, takeover rumors, and now the AT&T settlement. But, each time, resistance has held and the stock price faded.
I must give credit where credit is due, however, and admit that my long-term thesis has been called into question. I argued that TiVo, despite a strong net cash balance and coming annual payments from its DISH settlement (totaling $200 million over the next six years), was unlikely to become a profitable company. But CEO Tom Rogers has led a strong management performance over the past year; as mentioned above, the company has repeatedly surpassed analyst expectations for subscriber growth and successfully settled with DISH and AT&T, with both settlements above market estimates. (Maxim Group's Mark Harding had estimated the total for both the Verizon and AT&T settlements to be "at least" $300 million; AT&T alone will account for nearly 75% of that total.) In the most recent quarter, the company turned to net subscriber additions, for the first time since 2007, as management cut new deals with Virgin Media, Suddenlink, and RCN.
In the short term, traders might be interested in again shorting the stock, hoping that the pattern of declines following gap ups continues. As the chart below shows, the stock has simply failed to capitalize on momentum from a number of major movements over the past few months:
(Click chart to expand)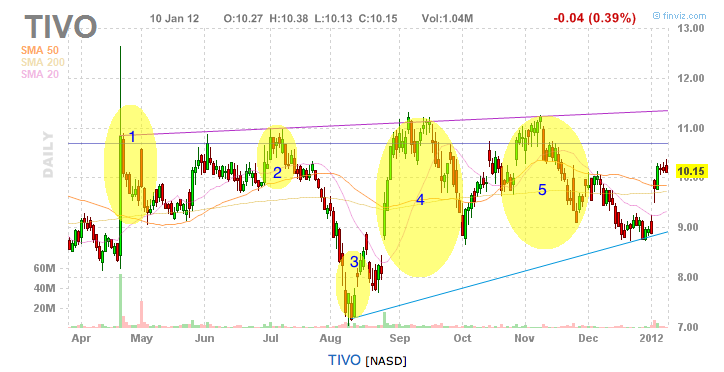 Click to enlarge
chart courtesy finviz.com; highlighted areas represent following:
TiVo wins appeal against EchoStar
Janney Montgomery Scott analyst Tony Wible mentions stock as takeover candidate
company announces $100MM stock repurchase
second quarter results beat expectations
third quarter results beat expectations
But on a valuation basis, shorting the stock now seems a risky play at best. Given the company's recent success at beating analyst expectations, do you want to be short ahead of year-end earnings, due around March 1st? Might the AT&T settlement lead to a similar capitulation from Verizon, whose court defense against TiVo is starting this month? Verizon, according to the AP, released a statement pointing out that the two providers "use quite different technologies, and Verizon believes it has a strong defense to Tivo's case." But the continuing list of TiVo victories, in and out of court, may pressure Verizon to the negotiating table, under terms similar to those agreed to by AT&T.
That said, has TiVo improved enough over the past few quarters to become a viable long play at its current levels around $10 per share? Its balance sheet is certainly strong -- and stronger now. The AT&T settlement puts an additional $51 million into the company's coffers, with the remaining $164 million paid quarterly through 2018, at which point the company's key "time warp" patent expires.
As such, net cash including the AT&T payment should be about $500 million. At Tuesday's close of $10.11, market cap is $1.18 billion (using share count from third-quarter earnings; data on some websites appears to differ), leaving an enterprise value of $680 million.
And therein lies the rub. Yes, the company will book $17 million per quarter in revenue from the AT&T and DISH settlements (the company is booking $11 million quarterly for the annual DISH payments, as noted on the first quarter conference call; I am assuming they will treat the revenue stream from AT&T similarly). Yet the company's loss for the third quarter alone was $25 million. At the midpoint of fourth quarter guidance, TiVo will lose $112 million for the fiscal year, excluding legal proceeds. An additional $11 million from DISH (the company booked three quarters' worth of settlement revenue) and $24 million from AT&T still leaves a $77 million loss should the operating business repeat this year's performance. Add in $20 million for a "meaningful reduction" in litigation spend (from FY12's $35 million) and investors are still ponying up their share of $680 million for a business that is losing $57 million annually. Not coincidentally, that figure is just above the average estimate for FY13 earnings.
Nor can investors expect a near-term return to profitability for the TiVo business itself. Yes, the third-quarter subscriber growth buoyed the stock -- but revenue still fell sequentially. The switch from so-called "Tivo-owned" subscribers -- customers who buy TiVo and its service directly from the company -- to MSO subscribers -- customers acquired through licensing deals with cable companies -- results in a dramatic drop in per-subscriber income. Tivo-owned subscribers created $8.22 in revenue per month in the most recent quarter; MSO subscribers just $1.65. I argued in reviewing third quarter earnings that TiVo would need to quadruple its existing subscriber base to reach profitability. Even with the new settlement, TiVo would need 2.27 million new third-party subscribers at current user revenue levels. At the end of the quarter, it had 910,000 such subscribers. Again, at current per-user revenue rates, TiVo must grow its base by two and a half times -- not including the fact that the company loses money up front on new customers by subsidizing equipment, or that marginal customer service costs accrue for each new account. In addition, the company lost another 30,000 "Tivo-owned" subscribers in the third quarter; 150,000 additional MSO customers are needed to overcome that revenue loss. (The per-user revenue -- known as ARPU -- will rise as the company negotiates better deals and gains more customers per cable partner. However, ARPU has been inflated recently by a legacy deal with DIRECTV, whereby TiVo was paid a minimum monthly licensing fee, as DIRECTV-related customers had dropped below a certain level. This agreement had raised the per-user revenue figures in recent quarters, as the company noted in its conference call, before falling in the third quarter.)
In the meantime, investors have to question the possible longevity of the TiVo product. A new Apple (NASDAQ:AAPL) TV is rumored to be in the works. LG, Samsung (OTC:SSNLF), and Sony (NYSE:SNE) are offering or will offer Google TV. DISH Network's Charlie Ergen is buying up wireless spectrum, potentially looking to offer a complete home and mobile entertainment solution through satellite and wireless devices. Will TiVo adapt? How soon will the move to cloud computing and the ubiquity of high-speed broadband create the convergence that could render DVR technology obsolete?
This has been my bearish argument on TiVo for the past few months: the company's short-term success is just a few minor steps on a very long path toward profitability. Even if the company can reach profitability, how long does it have before a) its "time warp" patent expires or b) technological advances by other providers render the DVR an afterthought? For most of 2011, I argued that investors should bet against TiVo's chances. Their recent success has changed that argument; but the company has yet to go far enough for investors to bet on the stock.
Disclosure: I have no positions in any stocks mentioned, and no plans to initiate any positions within the next 72 hours.