Similar to other diet plans, Weight Watchers (NYSE:WTW) can be effective for people for varying periods of time. The tenet of the system is accountability. The company started out collecting fees at meetings where people share their stories and are weighed in each week to keep track of progress. Additionally, the company sells products at the meetings.
The more recent source of revenue is the online system subscription. The primary purpose of the online system is to keep track of "points" that you consume during the day. People are typically allotted a number of points based on height, weight and diet goals. The advantage of the Weight Watchers plan is that participants can eat whatever type of food they like as long as they stay within their allotted point count each day. Contrast that with weight loss systems like Nutri System (NASDAQ:NTRI) and Medifast (NYSE:MED), who primarily sell their food to program participants, with little in the way of a plan.
As you can see over the past five years, all three publicly listed diet companies have experienced volatility: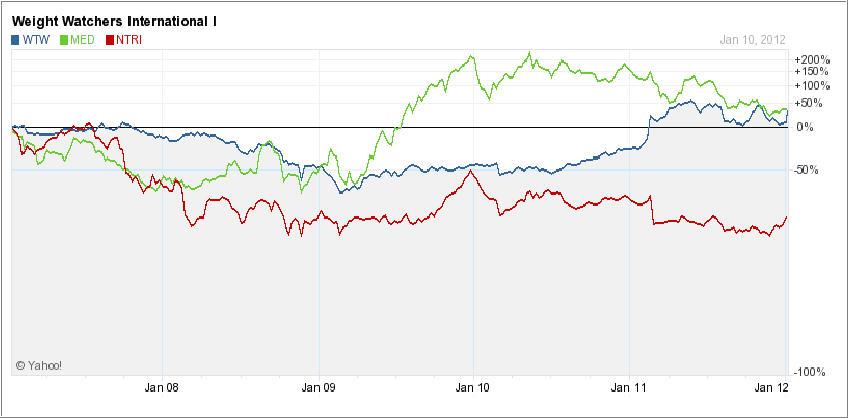 Click to enlarge
It appears Weight Watchers is a more comprehensive system than simply selling food to people who want to lose weight. But more importantly, how sustainable is the company's recent surge in sales and earnings?
Most analysts attribute the increase in plan membership to a rejuvenation of the company's program, mostly a tweak in the way points are counted. I would also argue that hiring spokesperson Jennifer Hudson turned out to be a game changer. Since Ms. Hudson was announced as the company's spokesperson in April 2010, the stock is up 180% vs. a 9% increase for the S&P 500. Jennifer has been the youngest standing spokesperson in Weight Watchers history that I could find. Its entirely possible that her endorsement ushered in a new demographic of younger dieters. On the other end of the spectrum, the company announced in early December that Hall of Fame basketball player Charles Barkley would be a spokesperson, meant to bring more men into a program that has counted women as its primary demographic to date. In what can be counted in the "oops" category, Sir Charles jokingly referred to his sponsorship as a scam during a basketball game he was commentating. Off course, the company brushed the comment off as Charles being his unfiltered self.
The Weight Watchers program relies not only on people to join, but to stay with it. The advent of the company's internet portal can be seen as a double edged sword. Once a customer gets a handle on how the point system works, it takes little effort to be able to calculate points on their own and avoid the $19 per month fee. The meetings rely on people committing to making it every week to weigh in. While this system has people that swear by it, more often than not, after a few weeks of disappointing results and a recurring credit card bill to show for it, many will end their membership and the company loses both the membership fees and product sales from the meetings.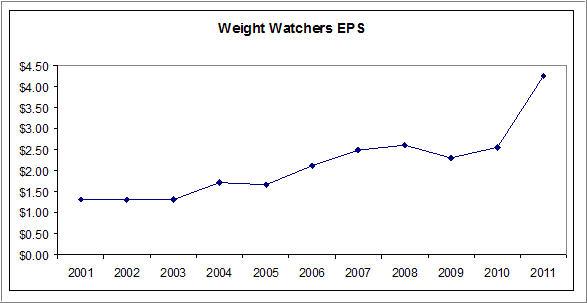 Click to enlarge
To be clear, I am not making a judgment on the system. I have no doubt that it works for many people. However, I am pointing out that it may be difficult for the company to maintain a high growth rate, and for that matter, a high earnings multiple. While 15x projected 2012 EPS estimates may not sound like a rich valuation, the risk that recently won customers may not chose to stay on the plan puts analyst estimates for 2012 in jeopardy.
Disclosure: I have no positions in any stocks mentioned, and no plans to initiate any positions within the next 72 hours.