By Brendan Gilmartin
Overview
Goldman Sachs (NYSE:GS) is scheduled to report 4Q 2011 earnings before the opening bell on Wednesday, January 18. The firm indicated it would provide a press release at 8:00 a.m. EST and host a conference call at 9:30 a.m. Please note that, in past reporting periods, Goldman Sachs reported earnings approximately 15 minutes ahead of the scheduled release time. Goldman's results also have the potential to impact the financial sector as well as the broader market gauges, particularly the index futures, given the investment bank's influence.

Outliers and Strategy
Key measures:
Earnings Per Share (EPS): Goldman Sachs typically provides a "clean" number that is comparable to consensus. The current Street estimate is $1.50 (Range: $0.70 to $3.30) (Source: Yahoo Finance).
Revenues are seen coming in at $6.71 bln, down 22.3% y/y, reflecting concerns over the weaker fundamental backdrop.
Goldman Sachs shares are now trading at 9.7x trailing earnings, below the five-year average of 11.4x, and a mere 7.75x forward profits, versus the S&P multiple of 12.1x.
At a recent $99.69, Goldman Sachs is now trading at a discount to tangible book value ($120.40), well below book value ($131.09).
Recent News
01/11: Citigroup expects Goldman Sachs to deliver a weak 4Q report, citing weakness in the lending and investment banking business, along with regulatory headwinds, according to Barron's. The firm cut its 4Q 2011 EPS estimate from $2.45 to $1.10. The firm also reduced 2012 and 2013 earnings estimates, but maintained a Buy rating as the shares trade at 75% of its $132 target.
01/06: Wells Fargo cut Goldman Sachs from Outperform to Market Perform with a valuation range of $95-$105, based on concerns over the outlook for the global economy in 2012, according to StreetInsider.com. Capital market dislocations are another risk.
01/06: Sanford Bernstein lowered its 4Q earnings estimate on Goldman Sachs from $3.15 to $0.77, according to a report on StreetInsider.com. The firm reportedly cited declining operating trends and weak M&A volume.
Technical Review
Despite the negative chatter weighing on Goldman Sachs, the shares recently held support near the December closing low around $88 – completing an oversold "Triple-Bottom" formation. After recently eclipsing a downward-sloping trend-line, Goldman Sachs looks poised to make a run toward the next overhead resistance level near $105, with potential upside to the late-October highs near $115. Should earnings disappoint, the termination point of the aforementioned trend-line at the 50-Day SMA near $96 is the first area of support, followed by $95 and the recent lows near $88. (Chart courtesy of StockCharts.com).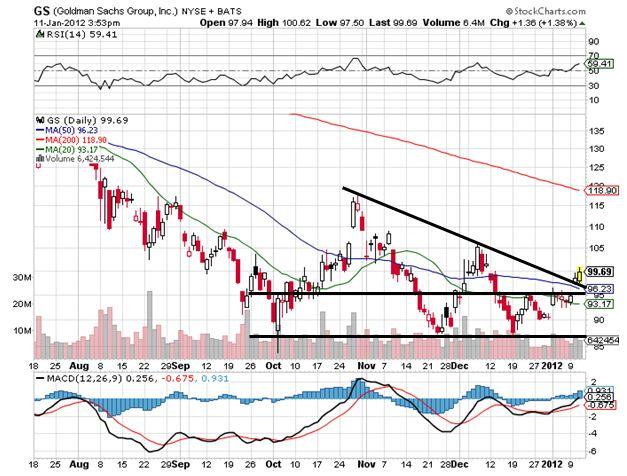 Click to enlarge
Summary
The sentiment surrounding Goldman Sachs continues to grow increasingly negative, with a slew of sell-side firms slashing estimates due to weakening fundamentals, slower investment banking and trading activity, and the more constrictive regulatory climate. Over the past 90 days, the analyst consensus has fallen from around $3.00 per share to a recent $1.50, with many continuing to ratchet down numbers in advance of next week's earnings. Despite the negativity, Goldman is now trading at a steep discount to tangible book value (0.83x) and a mere 7.75x forward earnings, implying much of the weakness may be priced in at these levels. With that being said, Goldman Sachs shares have tremendous upside potential in the event of a positive upside surprise on earnings.
Disclaimer: By using this report, you acknowledge that Selerity, Inc. is in no way liable for losses or gains arising out of commentary, analysis and or data in this report. Your investment decisions and recommendations are made entirely at your discretion. Selerity does not own securities in companies that they write about, is not an investment adviser, and the content contained herein is not an endorsement to buy or sell any securities. No content published as part of this report constitutes a recommendation that any particular investment, security, portfolio of securities, transaction or investment strategy is suitable for any specific person.
Disclosure: I have no positions in any stocks mentioned, and no plans to initiate any positions within the next 72 hours.