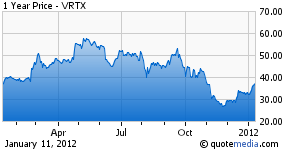 A new year brings along its fair share of resolutions. Optimism over fresh starts isn't limited to our own plans to eat better and exercise more. Companies like Vertex Pharmaceuticals (NASDAQ:VRTX), which is trading 40% off its summer high, have good reason to want to reboot sentiment in 2012. This past weekend, Vertex took its optimistic case to investors, offering updated 2012 objectives.
Vertex has been a bad investment since its Incivek hepatitis C treatment was approved this past summer, a bit remarkable given it's likely to be the fastest drug to reach blockbuster status in history. Vertex has reported 25,000 patients have been treated with Incivek since its approval, up from 17,000 treated in Q3. With a $50,000 price tag, patient growth is kicking off tremendous cash flow.
In 2012, the company plans to further expand Incivek's reach. It's also going to ramp up thanks to its planned global launch of cystic fibrosis drug Kalydeco, which could see approval as early as April. The market for cystic fibrosis is smaller than hepatitis C, affecting about 70,000 people worldwide. About 3,000 have the mutation Kalydeco targets and current treatment options aren't very compelling. As a result, Vertex won FDA fast track approval for Kalydeco in December. It's likely the treatment will carry a high price tag given the cost of other specialty drugs, which suggests it could eventually add $100-$200 million in annual sales.
Vertex stock struggles haven't been a result of its own stumbles. Instead, its drop is tied to the potential threat from an all oral Hepatitis C therapy, in development by Pharmasset Inc.. Pharmasset was bought by Gilead (NASDAQ:GILD) this past fall to strengthen its pipeline. Bristol Meyers (NYSE:BMY) also reinforced the market opportunity in Hepatitis C with its $2.5 billion acquisition of Inhibitex (NASDAQ:INHX), which has a Hepatitis C drug in Phase II.
But Pharmasset isn't alone in developing oral Hepatitis C treatment. Vertex also is working on its own. Data from its Phase I trial may come as early as Q2 with Phase II trials starting shortly after. And that suggests market share losses upon an eventual Gilead product launch may not be as bad as feared. Either way, 2014 - which is the earliest we're likely to see such a competing therapy - remains far enough away to allow Vertex to bank cash and advance other drugs in development.
Vertex saw sales climb from $65 million in Q4 2010 to 659.2 million in Q3, thanks to Incivek. Analysts project an earnings run rate of $4.55 per share in 2012, which means investors are paying only 7.8x 2012 earnings to buy shares. Arguably, its valuation is inappropriate for Incivek and doesn't reflect any potential from Kalydeco or other future programs.
Investors aren't ignoring the valuation, given the stock has rallied from a low of $26.50 in November to over $35 this week. Even so, the stock remains nearly 40% off its summer high heading into what should be a very strong earnings report on February 2nd.
Disclosure: I have no positions in any stocks mentioned, but may initiate a long position in VRTX, GILD over the next 72 hours.