I need my fingers and toes to keep track of the number of articles I come across everyday on the Internet with claims that these "low-priced" stocks are set to soar.
First off, I take exception with defining something as low-priced just because it's less expensive than other options. When you consider value, Guinness at $6.00 a pint is a better deal than a Coors Light draft at $2.50. But, that's just how I roll.
I play Moneyball with stocks. It's not about finding low prices, but unloved stocks backed by companies with real competitive catalysts that can still turn in strong and consistent performances.
In this article, I discuss two stocks under $10 that I actually think present some near-term upside and two to avoid. For the record, as of the beginning of the last hour of trading, Wednesday, 2,288 stocks under $10 exist on the NYSE, AMEX and Nasdaq.
AVOID
Southwest Airlines (NYSE:LUV) and Jet Blue (NASDAQ:JBLU).
Back in the day, these two airlines each carved out nice niches for themselves. Southwest eschewed the notion of using a couple major airports as hubs. And Jet Blue pioneered the idea of bringing amenities like halfway decent television and leather seats to the flying experience, even in coach class. Both airlines consistently rank high in customer service surveys, particularly when it comes to customer complaints and baggage handling.
The landscape changes fast in the airline industry, however. All of a sudden, both Southwest and Jet Blue see a bevy of smaller carriers encroaching on their various niches, while the big boys continue to put on the squeeze through restructuring (e.g., American (AMR) and United Continental (NYSE:UAL)) and better satisfaction scores (e.g., Delta (NYSE:DAL)). Southwest CEO Gary C. Kelly recently warned his employees about this reality.
Add to this another reality that waxes and wanes, but remains a long-term trend - rising oil prices. Simply put, volatility in the oil market will always present a drag on an airline's expenses. I'm just not sure LUV and JBLU can cut the fat to the extent that they become any more attractive than the presently-unattractive AMR and UAL.
CONSIDER
The Wendy's Company (NYSE:WEN).
Late in 2011, The Wall Street Journal printed a story that largely went under the radar. In it, Julie Jargon (love that name) reports, cleverly, that "Burger King, the perennial No. 2 in the burger wars, is about to be beaten out by a pigtailed girl":
Click to enlarge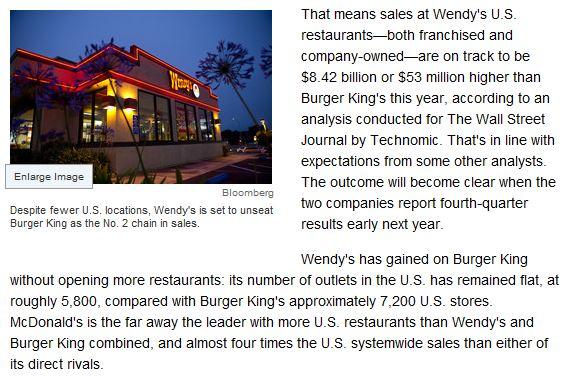 While McDonald's (NYSE:MCD) remains the best investment in the traditional fast food space, WEN deserves, at the very least, a look. The WSJ article basically points out that Wendy's does more than Burger King with less, which leads me to believe the results could come through via the bottom line sooner rather than later.
But, let's be clear, I am not advocating putting my life savings into WEN. Rather it's a speculative play I intend to keep an eye on. The incredible turnaround at Dominos (NYSE:DPZ) comes to mind when I consider Wendy's space and time. While not in as extreme fashion, Wendy's admitted some mistakes, altering, for example, the shape of its burgers and the composition of its fries. These moves, which followed mea culpas, both seem to be working.
CONSIDER
Cumulus Media (NASDAQ:CMLS). I'm prepared to take a long position in CMLS. I like what they're doing, from a cost-cutting standpoint, across the nation. They're blowing up stations that need blowing up and leaving sustainable franchises alone.
The near-term catalyst, however, involves political ad revenue, which is here and will not only stick around, but intensify throughout 2012. Cumulus owns a considerable number of talk stations and produces other formats that target the key demographics political campaigns need to get in front of.
Like WEN, CMLS only deserves a small compartment in the speculative section of a portfolio. Both present much better upside potential than some of the usual suspects that tend to show up, repeatedly, on low-priced stock lists.
Disclosure: I have no positions in any stocks mentioned, but may initiate a long position in CMLS over the next 72 hours.