"I don't compare 'em, I just catch 'em." – Willie Mays
On October 10th here on SeekingAlpha in an article I titled Homebuilders, Hope, and the Fall Melt-Up of 2011 I stated that:
"…a move higher in Homebuilders (outperformance in the industry) would confirm risk-taking is underway as bets increase that the demand for money will rise, pushing interests rates up as a result. Thus, should the ratio follow-through on the upside, it likely would provide just another very real reason for a sudden and violent move back up in risk assets into the end of the year."
This was right around the time when the October rally which was historic on many levels was just about to take off. Yes – I was whipsawed (as many were) following the yield spike in early November of Italy's 10 year rates as far as my consistency on the continuation of the Fall Melt-Up call, but the reasoning for continued higher prices did appear to be correct with hindsight. Listening to the news today, many analysts were noting how strong Homebuilders have been off of the October lows.
The move in outperformance has been stunning. Take a look below at the price ratio of the SPDR S&P Homebuilders Index (NYSEARCA:XHB) relative to the S&P 500 (NYSEARCA:SPY). As a reminder, a rising price ratio means the numerator/XHB is outperforming (up more/down less) the denominator/SPY.
click to enlarge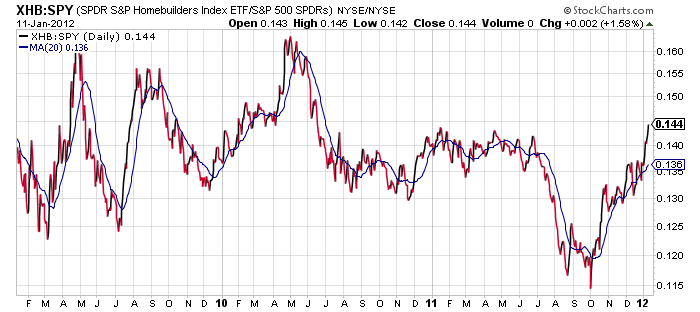 Click to enlarge
Yes – Homebuilders may be just another confirmation that the "Winter Resolution" idea whereby correlations break, volatility drops, and a trend asserts itself may actually be a bull despite my earlier thoughts at the very end of 2011 that further downward prices were to come. The above chart is very bullish. However, is it too late to play Homebuilders themselves? Certainly the comeback has already been stunning. If the anticipated pickup/end of the decline in housing construction is here as markets seem to be signaling, then logically all things lumber related should do well. I say logically because lumber does well when demand for housing picks up. Take a look at the Guggenheim Timber ETF (NYSEARCA:CUT) relative to the S&P 500 and note how severely the group underperformed last year ... and the far right of the chart as well.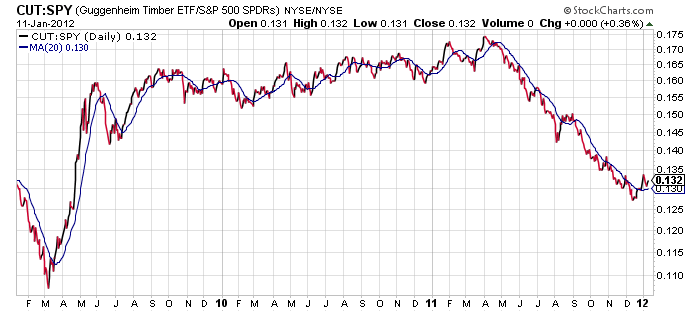 Click to enlarge
Of all the industries I track, I am perhaps most bullish on Timber should the move in housing be real. I suspect a pickup in interest will come for all things-wood, and that stocks such as Weyerhaeuser (NYSE:WY), Rayonier (NYSE:RYN), and Plum Creek Timber (NYSE:PCL) could be the surprise biggest winners by year-end, particularly is 2012 turns out to be the year of reflation as I noted in my recent CNNRadio interview, which can be heard here.
Disclosure: I have no positions in any stocks mentioned, and no plans to initiate any positions within the next 72 hours.
Additional disclosure: The author, Pension Partners, LLC, and/or its clients may hold positions in securities mentioned in this article at time of writing. The commentary does not constitute individualized investment advice. The opinions offered herein are not personalized recommendations to buy, sell or hold securities.