On October 4th, I lamented that I missed out on trading a nice bounce in Eastman Kodak after the company refuted rumors it would file for bankruptcy. When Eastman Kodak (EK) fell as low as $0.37/share last week, I readied myself to take another stab at the "bankruptcy trade."
However, on Tuesday, EK opened up over 25% on news that the company is attempting a restructuring plan in another effort stave off bankruptcy. I wanted to get ahead of this kind of news, but I swallowed my disappointment, waited for a small pullback in the shares, and bought. I posted the trade on my twitter feed with the following explanation:
"Buying into $EK restructuring plans for now. Kind of stock that will soar if market giddiness continues despite overbought conditions, etc.."
Before I could even write this article to explain my rationale in more detail, my position gained 71%. Under the current conditions, it made no sense to just sit on that kind of profit, so I sold it today (Jan 11, 2012). I am providing my rationale anyway because it forms the basis for why I remain interested in buying into any future dips in the stock.
I had three main points at the time. In retrospect, a fourth point further supported my quick action:
Up until Monday, the shares had been priced for bankruptcy. Any news better than that kind of despair should be an immediately positive catalyst. The panic and fear shown in the stock suggested that only pessimists remained.

January has featured soaring gains in many stocks that were left for dead at the end of 2011. EK looked like a laggard just waiting to jump on the coattails of this momentum.

The company is clearly fighting firmly and vigorously for its future, and I admire that. It provides a healthy foundation for positive change, something the stock market clearly did not (does not) believe is possible with Kodak. This further supports a contrary position.

In retrospect, the high short interest in the stock provides a springboard for a squeeze as shorts rush to cover. I am astounded to see that even as late as December 15, 2011, shorts were 25% of EK's float. Granted, anyone shorting at that time, must have been shouting with glee as EK lost upwards of 55% in value over the next three weeks. Still, it strikes me as over-reaching to continue to place such heavy bets on the stock going to zero. I am guessing at least part of the sharp two-day bounce is a result of shorts closing out positions, perhaps belatedly. Note that shares short are 57M while trading volume over the last two days was 128M shares.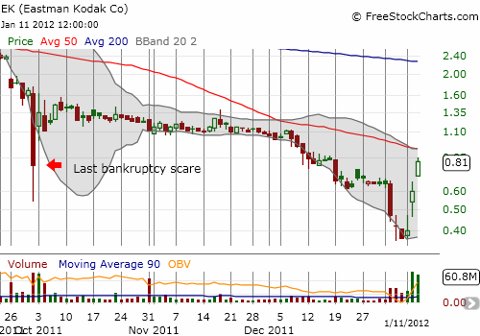 EK experienced an impressive 2-day bounce but still has a long way to go to recover losses from the last bankruptcy scare
The news is certainly grim for Kodak. For example, the Associated Press produced the following dire statistics on the heels of Kodak's announced realignment:
"[Kodak's] payroll has plunged below 19,000 from 70,000 a decade ago, and it hasn't had a profitable year since 2007."
In "Kodak Buys A Little Time," Marketwatch expresses its skepticism that Eastman Kodak can avoid bankruptcy. Indeed, the company's statement sounds like a lot of standard cost-cutting and rearranging chairs on the deck of the Titanic. However, Marketwatch, and some other critics, write/talk as if Kodak is still trying to figure out how to make a business of "traditional photography." From my perch, Kodak management seems to clearly understand the challenge ahead, but they are struggling to catch up from a late start. Pension costs, especially in the United Kingdom, and outstanding patent lawsuits are additional overhangs for Kodak.
So what is Eastman Kodak's hope? That is, besides winning a major payday through patent litigation against the likes of Apple (NASDAQ:AAPL) and HTC? Again, according to the Associated Press:
"Kodak is hoping that printers, software and packaging will produce more than twice as much revenue by 2013 and account by then for 25 percent of the company's total revenue, or nearly $2 billion."
The company "just" needs to survive long enough to get there.
In the meantime, I projected EK would hit at least $1/share by the end of the month. With the current momentum, it could get to $1 by the end of next week. Overcoming such a hurdle would make a great first goal so that the company can avoid delisting from the New York Stock Exchange. I now prefer to wait for the stock to stabilize and form some kind of base before contemplating a re-entry.
Be careful out there!
Disclosure: I have no positions in any stocks mentioned, but may initiate a long position in EK over the next 72 hours.