Bristol-Myers Squibb (NYSE:
BMY
) has a well-defined BioPharma strategy, uniquely combining the strengths of a traditional pharmaceutical company – such as its global reach and integrated commercial and manufacturing capabilities – with the advantages of agility and entrepreneurial thinking that are the hallmarks of successful biotech companies.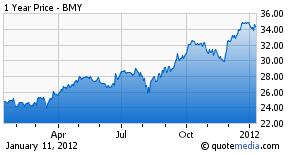 A key element of the BioPharma model is a streamlined and flexible approach to business, including the processes underlying selective integration – working with third parties to improve and enhance the company's abilities.
"The quest to bring new medicines to patients is a long and expensive one, and we recognize that we can't do everything ourselves," says Elliott Sigal, M.D., Ph.D., chief scientific officer and president, R&D."
As a result, the company will continually look for selective transactions to expand our String of Pearls. At the same time, we have partnered some of our programs with other large companies – in a manner very similar to biotechnology companies – extending our commercial capabilities. These 'peer to peer' alliances will, where appropriate, continue to be part of our approach.
Key to the success of their 'String of Pearls' strategy is the cultural change that is ongoing within the company. Bristol-Myers Squibb is becoming more agile, entrepreneurial and accountable. String of Pearls is helping to drive that cultural change. As the company acquires biotech companies, technology and expertise, this culture is infused ever more deeply throughout the organization.
Investment Case
BMY has several agreements with small biotech companies to bolster its pipeline. The initial offer to buy the remaining shares of cooperation partner Imclone, of which it owned 16.6%, was topped by Eli Lilly (NYSE:LLY). The blood-thinner drug Plavix that is co-marketed with Sanofi-Aventis (NYSE:SNY) is the best selling medicine for BMY and its patent is protected until 2012 in the US and most other countries. Sales of its second biggest drug, the antipsychotic Abilify, continue to be solid. The HIV drug Atripla marketed with Gilead Sciences (NASDAQ:GILD) also shows good growth potential. In 2009, BMY bought the Biotech Firm Medarex for USD 2.4 billion increasing the exposure to oncology treatments.
BMY has many co-operations: with AstraZeneca (NYSE:AZN) on two late-stage diabetes compounds, with Pfizer on Apixaban, an anti-clotting agent and on a metabolic disorders program and with Isis Pharmaceuticals on cardiovascular disease. These co-operations are not limiting other options for BMY though.
The company reported Q3 2011 earnings that were above expectations and guidance is raised to USD 2.25-2.30 per share. Sales were at USD 3.5 billion for quarter and are up by double digits, which is very good for a pharma maker in the current environment. Better than expected sales of drugs that are going off patent (Plavix + 8%, Abilify + 14%) also on better demand from Emerging Markets (foreign sales now at USD 2 billion) and good sales momentum for new drugs as well as a lower USD rate were the main drivers. HIV drugs also did well at + 5%. New drugs continue to do well with Yervoy, a new cancer drug, selling USD 121 million in its second quarter on the market.
BMY has a very strong balance sheet with some USD 7 billion in cash. There is share buy back program in place worth USD 3 billion; part of this reflects the proceeds of the sell off of Mead Johnson Nutrition.
The announcement of buying the US biotechnology company Inhibitex (NASDAQ:INHX) or USD 2.5 billion or USD 26 per share, a premium of 163% on Friday's closing price for the stocks, is a good move for BMY as the company also recognizes the huge potential for vaccines in the years ahead. Inhibitex is a maker of vaccines with specialization in Hepatitis C or HCV. HCV is a rapidly spreading virus with a market value for vaccines of around USD 3 billion rising to come USD billion in 2020. Especially in emerging markets, the virus spreads quickly and no medication is available. Vaccines are and remain a very large growth market, but only a few companies have the know-how to make and develop them successfully. BMY is one of them.
Final Conclusion
Bristol Myers Squibb is already in most high growth treatment areas and the acquisition of Inhibitex makes the portfolio even better. The company is actively pursuing co-operations and licensing agreements and has a real drive to succeed as a pure pharma maker. R&D spending is therefore not cut to the bone but is efficient and successful. While also suffering from patent expirations (Plavix and Abilify), the company has been early in making the transition towards a valuable biotech and vaccines portfolio (String of Pearls-strategy). The outlook keeps improving and the company has now some 55 clinical trials going in Phase III. Shares are still attractively valued and a price tag of USD 40 would be more realistic.
Disclosure: I have no positions in any stocks mentioned, and no plans to initiate any positions within the next 72 hours.