On Wednesday, January 11, 2012, Two Harbors Investment Corp (NYSE:TWO) a mortgage real estate investment trust or mREIT, announced it priced a public offering of 34 million shares of common stock at an offering price of $9.17 per share. The mREIT's closing price the day prior was $9.50 and it closed on Wednesday at $9.25, a 2.63% decline. See a recent chart of TWO below: (Click to enlarge)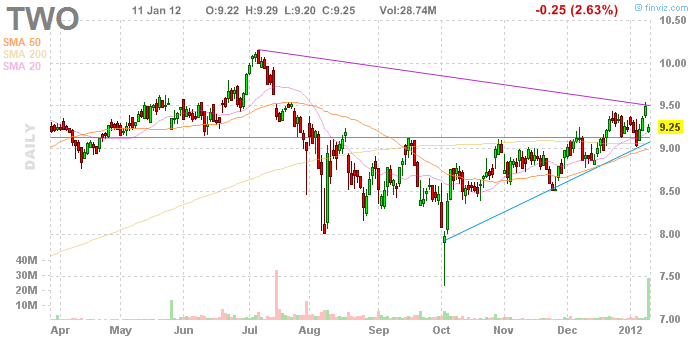 Click to enlarge
Two Harbors also announced that it provided the underwriters with a 30-day option to purchase up to an additional 5.1 million shares to cover over-allotments, if any. The offering is expected to close on or about January 17, 2012 (next Tuesday). Credit Suisse (NYSE:CS) was the lead book-running manager for the offering, with Barclays Capital (NYSE:BCS) and J.P. Morgan (NYSE:JPM) acting as book-running managers.
Two Harbors stated that it intends to utilize the proceeds generated from the transaction to make additional acquisitions of residential mortgage-backed securities or RMBSs, residential mortgage loans, real estate and other real estate-related assets, and for other general corporate purposes.
Two Harbors last priced a secondary offering on July 15, 2011, when it sold 42 million shares, with a 6.3 million over-allotment option. The mREIT also announced a secondary on May 25, 2011, for 20 million shares (3 million over-allotment), and on March 11, 2011, for 25 million shares (3.75 million over-allotment).
In 2010, the company issued two secondary offerings, first in April and again in December. Such secondary offerings are common for mREITs, which are required to pay out at least 90% of their income to shareholders in order to avoid taxation at the corporate level.
Other well-known agency mREITs include agency mREITs Annaly Capital Management (NYSE:NLY) and American Capital Agency Group (NASDAQ:AGNC), as well as hybrid/non-agency mREITs such as Chimera Investment Management (NYSE:CIM) and MFA Financial (NYSE:MFA). Like CIM and MFA, TWO is a hybrid mREIT that holds both agency and non-agency RMBSs. The company also indicates that it generally holds five to ten percent of its portfolio in non-RMBS financial assets.
Most of these mREITs use secondary offerings somewhat regularly. Mortgage REITs are generally the sub-type of REIT that most frequently offers shares through a secondary. Mortgage REITs have become of interest to an expanding group of investors over the last few years for multiple reasons, but primarily due to the lofty yields that many mREITS offer and also due to the perceived limited risk within agency REITs.
Secondary offerings can be either dilutive or accretive to actual share value, depending on how productive the REIT is at using the acquired funds. Nonetheless, secondary offerings also often help mREITs maintain their lofty dividends. Though this secondary does reduce the book value per share, the additional capital should help TWO acquire discounted paper and hopefully maintain its dividend. TWO presently provides a 17.7% yield, and maintained a 40-cent quarterly payout through 2011.