Supervalu (NYSE:SVU) fell 12.5% yesterday. Investors interpreted its earnings report as poor, and, indeed, the report showed third quarter (of fiscal 2012) net losses of $3.54 per share on a GAAP basis. However, this apparent loss is actually due to "non-cash goodwill and intangible impairment charges" of $3.78 per share. Excluding this irregular charge, net earnings were $0.24 per share, identical to third-quarter 2011 results. The overreaction to this charge by some affords an excellent investment at a remarkably good price for wise investors.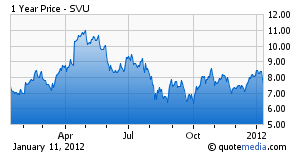 Net earnings for the quarter were the same as last year, as lower sales offset higher gross profit margins and as lower selling and administrative expenses. This pattern is expected to continue for the duration of the year, as the company expects fiscal 2012 earnings of $1.20 to $1.30 per share, slightly below fiscal 2011 earnings of $1.39. These numbers exclude impairment charges.
Even at reduced earnings, Supervalu trades at a remarkably low price/earnings multiple of 6. This is significantly cheaper than any of its competitors. Kroger (NYSE:KR) and Safeway (NYSE:SWY) both trade at a P/E of 12, and Wal-Mart trades at a P/E of 13. Whole Foods (NASDAQ:WFM) trades at a P/E over 30. At an estimated annual growth rate of 15%, it would take Whole Foods twelve years to reach Supervalu's current level of earnings. All Supervalu must do in order to be a highly profitable investment is to stabilize earnings and to stop sales from falling.
Supervalu has already taken steps to stabilize earnings. It poached its new CEO from the ranks of Wal-Mart. Craig Herkert served as Wal-Mart's CEO of the Americas from 2004 until he became Supervalu CEO in 2009. Since his arrival, Supervalu has paid down significant debt, focused on hyper-local retailing to give store managers more autonomy in stocking decisions, and significantly scaled back promotions in order to provide a more constant value for shoppers. This, incidentally, is the same strategy Wal-Mart adopted after it saw promotions weren't as effective as its every day low price policy. Both hyper-local retailing and scaled back promotions have already led to promising same-store sales gains where these policies have been implemented.
Ultimately, investment in Supervalu is best thought of as a turnaround situation. A recent Seeking Alpha article described Supervalu as a leveraged buyout opportunity for individual investors: a great characterization. Supervalu generates a ton of cash. Free cash flow excluding interest expenses was $3.61 per share. The current share price is a mere 2.0 times free cash flow excluding interest expenses. Interest expenses are substantial though decreasing, from $622 million per year in 2009 to $547 million in 2011. Long-term debt is also decreasing, from $7.0 billion in 2010, to $6.35 billion in 2011, and management expects another $525 to $550 million in debt reduction in fiscal 2012.
Supervalu is a highly profitable company experiencing some turnaround pains. It recorded an unusually high nonrecurring and non-cash impairment this quarter, and the stock has fallen significantly because of it. However, these are primarily accounting issues. Supervalu remains a cash-generating machine, and steps taken since Craig Herkert's 2009 arrival suggest a clear path to growing profits. In the meantime, value investors can obtain this high quality company at an amazing price, for amazing profits down the road.
Disclosure: I am long SVU.