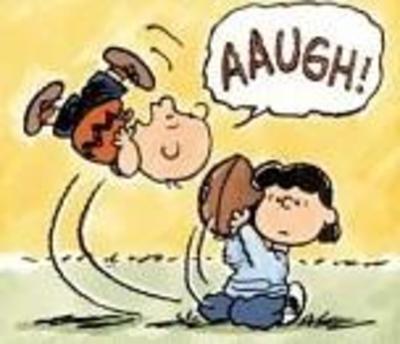 It's like the old story of Charlie Brown and the football.
Before Thanksgiving we're told not to expect much from holiday sales. Then the season starts, the crowds build, there's even some scattered violence by people trying to buy things, and the story changes. Throughout December we're told sales are great, but then January rolls around and, along with our New Year's hangover, we get the news that the results were just what was expected before Thanksgiving.
So it is again. The Commerce Department calculates December sales rose just 0.1% from a year before, after a 0.4% gain in November. Analysts had been expecting a 0.3% gain, so it's likely a lot of people just did their shopping early. Jobless claims were also up last week, to 399,000.
While I wrote earlier this week about possible tech stocks to be shorted, it seems most shorts are higher (or lower) on retailers. American Apparel APP is a favorite short at the Jutia Group. The post-Christmas crash of Sears SHLD has been followed by calls to short Zagg ZAGG, Barnes & Noble BKS and Best Buy BBY.
Yesterday, here at Seeking Alpha, Kapitall offered a list of 15 highly-shorted stocks that insiders are buying but no retailers were on the list. Meanwhile one of the best hedge funds of 2011, Evergreen's Australian hedge fund, credited its return, in part, to short sales on retailers. Luxury retailers like Tiffany TIF and Coach COH are also popular shorts.
The real story here is seasonable predictability. Some time in the next few months we'll realize that we've overdone to the down side, things will go along as normal for several months, and around Thanksgiving of 2012 we'll all get excited again. If you are a heavy trader you can make money on these patterns, guaranteed, but if you're an investor they will drive you mad.
Disclosure: I have no positions in any stocks mentioned, and no plans to initiate any positions within the next 72 hours.