E-Trade (NASDAQ:ETFC) has a robust brokerage backed by memorable ads with a talking baby, and a terrible bank enduring ongoing losses in the billions. Performing a sum of the parts analysis enables us to split out the two core aspects and form an opinion on the fundamental value of the business.

The Brokerage - A $5.5B Diamond In The Rough
E-Trade has a strong technology focused trading platform backed by years of advertising to build a brand and a good brokerage operation. This business is subject to the fluctuations of the stock market, but delivers strong cashflow. Projecting the first 9 months of the year forward, E-Trades brokerage should deliver $330M of net income this year after of tax and corporate costs.
Comparable companies are TD Ameritrade (NASDAQ:AMTD) and Charles Schwab (NYSE:SCHW) trading and 18.1x and 15.4x net income respectively. If we put E-Trade's brokerage on average of the two multiples (a 16.8 p/e), we arrive at a valuation for the brokerage of:
$330M x 16.8 = $5.5B of brokerage value
Cash and Debt
Determining E-Trade's corporate cash and net debt is straightforward, from the September 2011 SEC filing there was $438m of corporate cash and $1,490 of corporate debt, so that's essentially $1B of debt.
Superficially, that sounds interesting, E-Trade's entire market cap is $2.5B, and we have a valuation of $4.5B but, of course, we haven't got to quantifying the banking losses yet.
Banking Losses - $1.4B
It would be an understatement to say that E-Trade's loan portfolio is not pretty. E-Trade has $12.5B of home equity and 1-4 family home loans on its balance sheet. The majority of these loans are from 2005-7 made across the US but primarily in California and the height of the housing bubble. Weighting for the year of vintage using the Case-Shiller home price index the average house price in E-Trade's portfolio is down about 20% from when the loans were issued. That simple back of the envelope math gets you to $2.5B in losses and E-Trade have already taken $4B in charge-offs on these loans, which gives you a sense of the credit quality. The reason is in part that I'm using the current loan number whereas many of the original loans have now been paid down or charged off. However, despite these large charge-offs, there are still ways to go. The chart below shows charge-offs per quarter and the current run-rate is $150M/quarter, as an investor in E-Trade the decline is good, but you want to see net charge offs at zero.
click to enlarge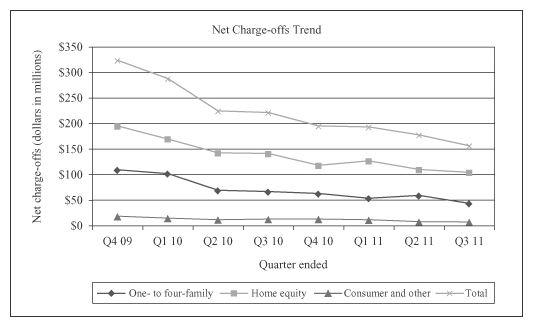 One way to size the future cost of these loans is to sum all the non-performing loans (more than 90 days delinquent) - $966M and the special mention loans (notably poor credit quality and 30+ days past due) - $458M and you get $1.4B in future losses on the loan portfolio. Perhaps this seems conservative, but bear in mind the $4B of losses that have already occurred. E-Trade's current allowance for additional loses is $0.8B, so this estimate is significantly higher than E-Trade's own.
Deferred Tax Asset - $0.7B
Perhaps the only advantage of lending money to home buyers at the peak of the housing bubble is you ultimately end up with significant losses for tax purposes. E-Trade values these as a $1.4B deferred tax asset that should reduce their future tax burden over the next 17 years, subject to various caveats. I will reduce this figure by half from $1.4B to $0.7B to be conservative, in part because parts of the deferred tax asset are in different parts of the corporate structure making it harder to use the asset fully. It is nonetheless reasonable to expect E-Trade to pay a lower tax rate going forward, because of this and that should be reflected in the valuation, since the brokerage is valued on a post-tax basis.
Sum of the Parts Valuation
| | |
| --- | --- |
| Component | Value |
| E-Trade Brokerage | $5.5B |
| Corporate Net Debt | ($1B) |
| Banking Losses | ($1.4B) |
| Deferred Tax Asset (@50% of stated value) | $0.7B |
| Total Equity Valuation | $3.8B |
E-Trade's current market cap is $2.6B, therefore $3.8B suggests 46% upside from the current $9 share price to $13.1
Sensitivities
I have not included the bank as a source of value beyond the losses. These banking assets do generate income, and this could be a source of upside for the stock, though it is hard to credit

E-Trade with a valuable banking operation given the scale of losses that have been incurred.

The banking losses are significant driver of the stock price, an increase (reduction) of $500M in total banking losses moves the stock price up (down) $1.8
Deferred tax assets are notably hard to value, removing this entirely would move the target price down $2.5 and taking at its full face value would move the target price up $2.5.
Conclusion
E-Trade is not a stock for the risk averse and is very much a value play. However, we are past the worst on loan losses and the value of the underlying brokerage operation should start to come through allowing the stock to appreciate as a result. I believe $13.1 is a reasonably price target but the stock could easily trade -/+ $2 either side of that figure ($11 to $15) dependent on the actual losses on the loan portfolio.
I believe that at the current $9 price there is sufficient margin of safety to invest in the stock.
Disclosure: I am long ETFC.