Actively managed funds with high fees are known to be one of the worst drags on retirement portfolio returns over time. The typical actively managed U.S. mutual fund charges about 1.5% per year in expenses. On top of that, there is constant turnover as portfolio managers trade in and out of stocks. This means capital gains taxes for any holdings that are sold at a gain. So on top of the 1.5% annual expense, investors are paying higher taxes and also get dinged on the bid/ask spread for all of the trades that take place inside the fund.
Over a long time frame the hit a portfolio takes due to high fees is astonishing. I looked at just how bad it can be using our free, publicly available calculator called Comparing Investment Fees. I assumed the portfolio started out with $100,000, has an annual return of 6% per year, while the investor contributes $1,000 per month over 40 years. The results are presented below.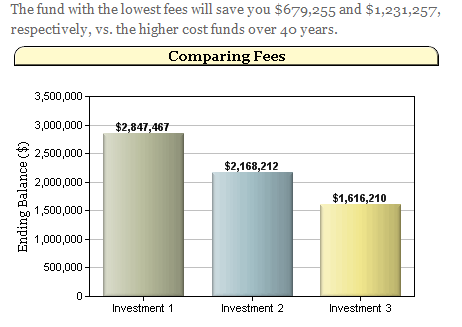 In the example above, Investment 1 is an ETF that charges only 0.1% per year. Investment 2 charges 1% per year, and Investment 3 charges 2% per year. The difference over 40 years between the first fund and the third fund is over $1.2 million! The power of compounding can work for an investor when it comes to total returns over time, but it can also work against an investor when it comes to high fees.
There are so many alternatives to high-cost funds these days. Just last year Vanguard, the pioneer in low-cost index funds, reduced the expense ratio on their S&P 500 Exchange Traded Fund (NYSEARCA:VOO) to an unimaginably low 0.06%. There are many other options for index funds and ETFs out there that will save you a lot of money.
I am also a big believer, especially today, in stock selection. The days of buying an equity mutual fund and walking away are over for many investors. They are looking to build their own fund for the long-haul.
There are a lot of good companies out there today, but also many companies with too much debt and very little in the way of dividends. I have been a big proponent of companies with high dividend yields, consistent dividends over time, and low debt. I also like to invest in companies that make things we actually need and will therefore see sustained demand over time. A few that fit this category and are wonderful investments in a retirement portfolio are as follows:
Johnson & Johnson (NYSE:JNJ)
Ticker

Dividend Yield

5 Yr Growth
Rate of Dividends

Debt to Equity

JNJ

3.5%

10.6%

29.8%
Merck (NYSE:MRK)
Ticker

Dividend Yield

5 Yr Growth
Rate of Dividends

Debt to Equity

MRK

4.4%

0.0%

31.5%
Sysco (NYSE:SYY)
Ticker

Dividend Yield

5 Yr Growth
Rate of Dividends

Debt to Equity

SYY

3.7%

9.3%

55.8%
Procter & Gamble (NYSE:PG)
Ticker

Dividend Yield

5 Yr Growth
Rate of Dividends

Debt to Equity

PG

3.2%

11.4%

51.5%
So if you are tired of high cost funds eating away at your portfolio's value, look for lower cost ETFs and/or build your own retirement portfolio with solid dividend paying stocks that have shown an ability to maintain their dividend over time.