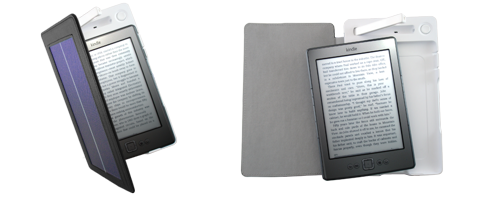 A rising tide lifts all boats, even the SS Energy Conversion Devices (NASDAQ:ENER). This is a thin film solar company with oodles of promise.. a few years ago. The company has been bleeding red ink for some time and has traded below a buck for many months. It's now a lotto ticket play, albeit with much better odds.
The stock got a big boost yesterday along with the entire solar sector on the report out of Germany and it's also getting a boost on news that it will power a solar powered cover for Amazon's (NASDAQ:AMZN) Kindle e-reader made by SolarFocus Technology.
The SolarFocus Kindle cover uses ENER's proprietary thin film solar technology to charge the internal battery as well as the reserve battery within the cover used to power an LED reading light. The cover was revealed at the big CES show in Vegas this week.
"The SolarKindle Lighted Cover is a great example of the success of United Solar's Open Solar™ initiative, which allows our strategic partner, SolarFocus, to leverage the differentiation of our unique high-performance, lightweight and flexible solar cells," said Chris Bala, Vice President of Sales-Open Solar. "This innovative product represents just how easily UNI-SOLAR technology can be integrated seamlessly and cost effectively into everyday applications."
Shares of ENER have nearly doubled in price in just two days. That's the potential reward you get with penny stocks, but it's not without considerable risk. To minimize risk it's best to initiate positions in these on the pull backs off a big move. In this case, ENER becomes an attractive trade should it retrace to the .30 – .40 level.
Disclosure: None