Hewlett-Packard (NYSE:HPQ) elected to keep its personal computer division. In terms of operating margin, it's the weakest link. Margins for the personal systems group were 5.9%, way below the rest of HP. That's a big drop from the last time I reported: that division was almost 200 basis points higher.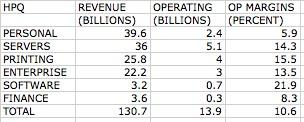 (from 10K)
Still, in comparison to its competitors, HP's personal computer margins looks stellar.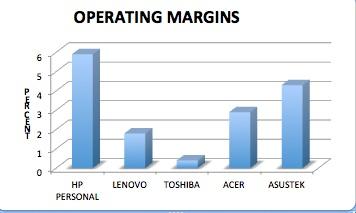 HP's problem: This is a low margin business facing cutthroat pricing. Its rivals are content with much thinner profits. PCs have become a commodity business.
That's being played out in the marketplace. Gartner is reporting HP is ceding share to Lenovo. Last quarter, HP sold 16% fewer PCs than a year ago while Lenovo's numbers were up 23%.
Expect HP's personal computer margins to continue to deteriorate as the company gets battered by the competition.
It doesn't help that Apple (NASDAQ:AAPL) can command much higher prices and still take market share.
Perhaps, HP should reconsider its options and spin off its personal computer group before it drags down the rest of the company.
Disclosure: I am long AAPL.